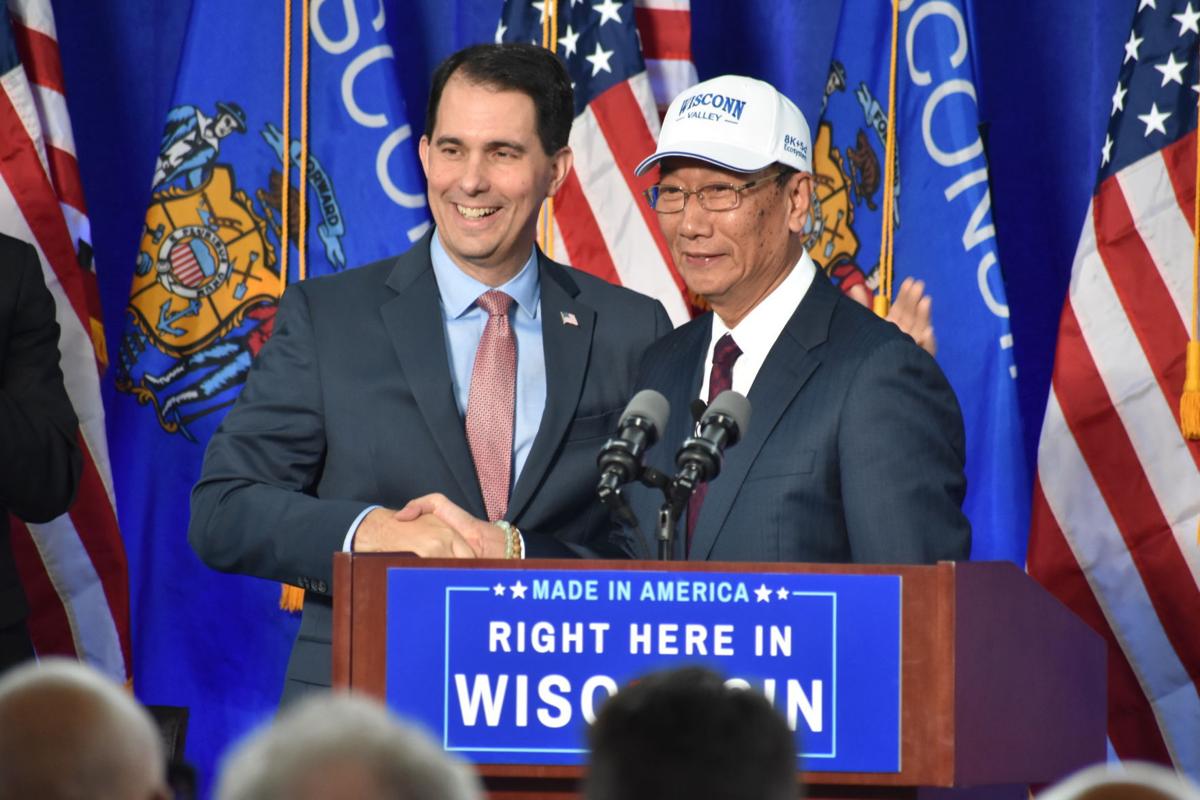 MADISON – Arguably Gov. Scott Walker's political swan song is the Foxconn Technology Group development in Mount Pleasant, of which Governor-elect Tony Evers was highly critical during the gubernatorial race.
With Walker on the way out and a new governor coming in, what does that mean for the project? More specifically, what does it mean for the Wisconsin Economic Development Corp.?
The WEDC was instrumental in bringing Foxconn to Racine County and is the main agency in charge of verifying information from Foxconn in order to award the tax credits to the company.
During the campaign Evers said he would "disband" the WEDC and if he tries to follow through on that promise, it will likely take some time.
"No matter what Tony Evers said about the WEDC, he can't eliminate it," said Assembly Speaker Robin Vos, R-Rochester. "He can propose to eliminate it, but the Legislature would have to go along."
Although some may have hoped Evers would make some changes regarding the $2.85 billion tax credit package passed by the state to lure Foxconn to Wisconsin, any amendments will likely be a fight in Madison.
"We are not going to allow Tony Evers to come in and screw up the Foxconn package," Vos said. "I will never let that happen. It is too important to our region, it is too important to our state and I feel like we already, in good faith, negotiated and worked on this deal with one of the world's largest corporations, and just because we had an election, doesn't mean Wisconsin is going to break its word."
The previous procedures and oversight of Foxconn, Vos said, are still in place and will likely remain until changes are made.
"We changed no environmental rules, so everything is still in place," Vos said. "The only thing that is out there is the animosity and the political issues that were raised by partisan Democrats in the election."
'Good corporate citizens'
During the campaign Evers said that "just about anyone could've cut a better deal with Foxconn than Scott Walker did."
When asked what state agencies he would be put in charge of oversight of Foxconn, Evers criticized the WEDC.
"I don't trust them with a $4 billion giveaway like the one to Foxconn," Evers said. "As governor, I'll disband WEDC and I'll replace it with a state agency that, unlike WEDC, is accountable to taxpayers. That's critical."
Evers did say he hopes Foxconn is "good corporate citizens" of Wisconsin, but the state will have to "hold Foxconn's feet to the fire going forward."
But now that he's going to be the new governor, questions linger as to if Evers will follow through and try to "disband" the WEDC.
The Journal Times submitted multiple questions to the Evers campaign, after Walker conceded the loss, about what changes, if any, would happen to the Foxconn project and state oversight.
Britt Cudaback, deputy communications manager for the Evers campaign, stated: "As Tony mentioned on the campaign trail, he believes he can work with Foxconn to ensure they're being good corporate citizens to our state by working toward good-paying, family-supporting jobs, a diverse workforce, protecting our environment, and good stewardship of our natural resources."
Vos said he hopes Evers focuses on the good the project is doing to the region and he hopes Evers "stops appealing to the worst common denominator in the Democrats, which is anger at success from Gov. Walker."