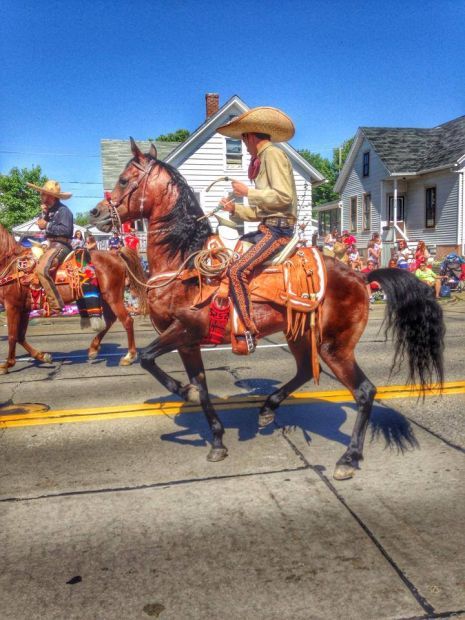 RACINE — La Tapatia dancing horses will be trotting along Racine's streets during next year's Fourth Fest, said the restaurant's owner.
After reported mistreatment of the horses and some of the owner's family members during this year's parade, Lauro Davalos Sr., 60, owner of La Tapatia, 1951 Mead St., met with two Fourth Fest officials Tuesday to discuss what had occurred and to reach a resolution.
The Davalos family posted on the restaurant's Facebook page Saturday that they would not be participating in the parade next year due to poor treatment by an apparent parade volunteer this year, though they later stated that they wanted to speak with parade organizers before officially dropping out.
Davalos met with the officials, including incoming Fourth Fest President Jake Lovdahl, who agreed to give the horses more space in the upcoming parade, Lovdahl said.
"Fourth Fest of Greater Racine does not want anyone to feel like that when they participate in the parade," Lovdahl said. "It's supposed to be a fun day."
The Facebook post stated that the supposed volunteer, a female, wanted the horses to run, which made one horse fall, though Davalos said the horse is fine. She also reportedly yelled at Davalos' children and grandchildren, and she reportedly pointed at him, made a slashing motion across her neck, and told him he wouldn't be back next year.
Lovdahl could not confirm if the woman volunteered at Fourth Fest nor did he name the woman. He said he will be speaking with staff and volunteers and was glad to get the Davalos' side of the story.
Davalos said that he does want to pass judgment, nor does his wife.
"It's not right to name names," said Davalos' wife, Linda. "Everything is OK now."
Davalos has participated in the parade for more than a decade and said this is the first time he has had any problems.
"What happened, happened," he said in Spanish, adding that he is excited to participate in Fourth Fest next year, and looks forward to sharing his "passion" with the community.
Cara Spoto contributed to this article.