CALEDONIA — For the first time after almost 20 years, Peggy Lynn Johnson-Schroeder has a tombstone that actually has her name on it.
Her grave marker had read "Jane Doe" since she was interred three months after her body was found in July 1999 in a cornfield in Raymond.
It now reads: Peggy Lynn Johnson-Schroeder.
Below her name the headstone reads: Beloved daughter, sister and niece, your life was a blessing, your memory a treasure.
"We went from a Jane Doe to an actual name," Pastor Anthony Balistreri said during a blessing Wednesday morning at Holy Family Catholic Cemetery, just north of Five Mile Road on the west side of Highway 31. Balistreti, the chaplain for the Racine County Sheriff's Office, spoke after the engraved stone was placed by Jim Anspaugh, owner of Meyers Racine Monument Works, 3120 Kinzie Ave.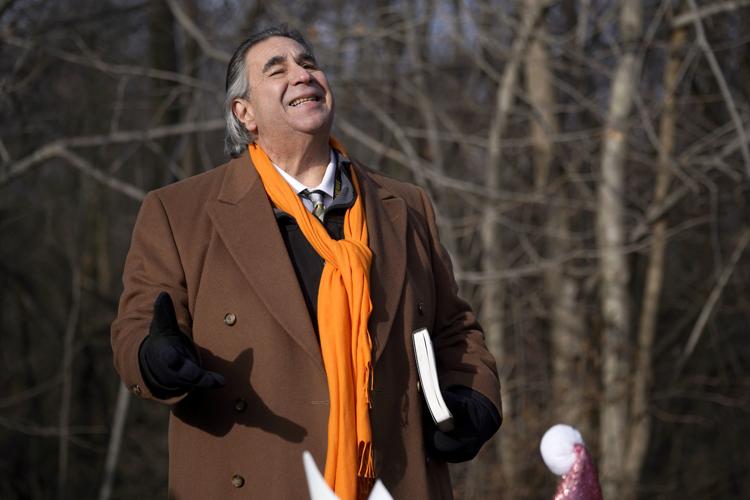 "We want to bring some closure for Peggy," Sheriff Christopher Schmaling said before Balistreri's blessing.
Johnson-Schroeder was 23 when she died. A retired nurse, Linda LaRoche, now jailed in Florida, faces the potential for life in prison for the killing if she is convicted.
A sister without a name
The Sura family, of Racine, has been waiting for this closure for decades. Renee and Selena Sura both attended Wednesday's blessing, choking back tears the whole time.
Renee Sura said that her daughter, Selena, 18, has been lovingly following the story for years. She has long thought of Peggy as a sister, even before Selena learned her name.
"She has always been her Jane Doe," Renee said.
When Selena was young, Renee told her about the two baby Jane Does buried in Graceland Cemetery, 1147 West Blvd., near the Suras' home.
"They're not nobody. They're a somebody," Renee taught her daughter of the importance of remembering the deceased, even if they're nameless.
When they visited Johnson-Schroeder's grave soon after, Selena felt immediately connected.
"I had no idea who she was … I'll be her family for now," Selena said of how she felt over the past 15 years, even before she knew Peggy's name.
Johnson-Schroeder's body is scheduled to be reburied on March 4, what would have been her 44th birthday, next to her mother, Diane Schroeder, in Belvidere, Illinois.
How can I help?
To help pay for the headstone, donors can send checks to Draeger-Langendorf Funeral Home, 4600 County Line Road, Mount Pleasant. To donate, make checks payable to Draeger-Langendorf. In the memo section, write "Peggy Johnson-Schroeder headstone."
Get local news delivered to your inbox!
Subscribe to our Daily Headlines newsletter.