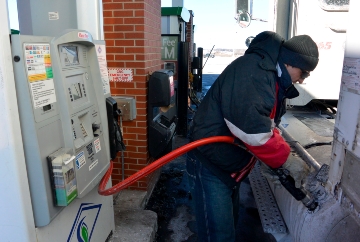 RACINE COUNTY — Compressed natural gas is rapidly gaining speed in commercial transportation as a cheaper, cleaner fuel.
Companies such as Time Transport, a general freight hauler at 5231 East Frontage Road, Mount Pleasant, are making big moves into CNG and dumping diesel trucks.
Company Vice President Mike Buchmeier said the company acquired its first CNG cab in March and by now has gotten or ordered 26. It is running almost exclusively with CNG now.
"I've been waiting for this for a couple of years," Buchmeier said. The turning point came last year when cabs with 12-liter CNG engines were introduced. Time Transport had some 9-liter engines, but they aren't big enough to pull the heaviest loads, he explained. The 12-liter engines can.
On Tuesday, Time Transport experienced a freak fire with one of its CNG trucks on Interstate 94 that incinerated it down to the chassis. No one was hurt. But even that didn't put Buchmeier off CNG.
"I've looked at this daily for a year, and I have never seen a problem like this," he said afterward. "... I've seen many, many more diesel trucks burn up than CNG ones." And he said all the safety mechanisms worked exactly right.
Buchmeier is far from alone in the trucking industry's burgeoning love affair with CNG. According to the State Energy Office, its use more than tripled from the first half of 2012 to the same period last year.
Ryan Burch, general manager at Citgo Auto Truck Plaza, 611 S. Sylvania Ave., Yorkville, is awaiting installation of a CNG pump at that station. Time Transport's growing transition to CNG, and its adoption by others, is hurting his diesel sales.
"I must be losing $6,000 to $7,000 a day in revenue," Burch said. "I wanted some of that money back."
One Wisconsin company that has embraced CNG and helped boost its use, in two ways, is La Crosse-based Kwik Trip.
Kwik Trip has been installing CNG pumps at a growing number of its filling stations. This month the company announced its 21st and 22nd CNG stations; that network includes the station at 943 S. East Frontage Road, Mount Pleasant.
"The market has been calling for CNG," said Joel Hirschboeck, Kwik Trip's superintendent of commercial and alternative fuels.
Kwik Trip is also integrating CNG trucks into its own distribution fleet, Convenience Transportation. It bought the first one about two years ago but now owns more than 50 such vehicles, Hirschboeck said. When the newest trucks arrive, more than half of the fleet will run on CNG, he said.
"We work directly with fleets all the time," Hirschboeck said. "Our big advantage is firsthand knowledge."
Kwik Trip initially dabbled in CNG as a product that could be profitable and to diversify its fuel offerings, Hirschboeck said. The company tested a small number of CNG trucks for its own use and, "We realized it was a viable option in every application," he said. That included tankers, the grocery delivery fleet, box trucks and light-duty vehicles.
Labor and fuel are Kwik Trip's two biggest expenses, Hirschboeck said, and converting to CNG trucks is helping reduce one of them.
Meanwhile, as Kwik Trip expands its CNG pump array, "By creating the infrastructure, it's allowing fleets to test the market," Hirschboeck said. "So they can buy two or three trucks, run their tests, get comfortable with it and then make that transition as they would with any replacement cycle in fleet vehicles."
---
Compressed natural gas has several advantages
RACINE COUNTY — Three primary factors are driving the rapid ascent of CNG in commercial transportation: lower cost; a cleaner burn; and the fact that most is produced domestically or at least in North America.
Last week, CNG sold for $1.80 in gasoline gallon equivalents, and diesel was $3.80 a gallon.
CNG gets worse mileage than diesel by a 10 percent to 15 percent margin. But Mike Buchmeier, vice president of Time Transport, 5231 East Frontage Road, Mount Pleasant, said it still gives about a 30 percent discount in cost per mile.
A new CNG cab costs about $60,000 to $70,000 more than a diesel cab, but the payback is just 2½ to three years, Buchmeier said.
The State Energy Office, part of the Department of Administration, promotes CNG as an affordable, cleaner, domestic vehicle fuel that can help Wisconsin's economy by reducing businesses' fuel costs and open business opportunities in the supply chain.
The office says CNG is cost-effective for medium- to heavy-duty vehicles run for a significant number of hours daily, such as trash and recycling trucks, buses and intercity freight delivery trucks.
"CNG has made a pretty big influx into the refuse (hauling) industry," said Joel Hirschboeck, Kwik Trip's company superintendent of commercial and alternative fuels. "They were early adopters," and the cities of La Crosse and Oshkosh use CNG trash haulers, he said.
In La Crosse, it allowed the company with CNG trucks to submit the low bid and win the contract, Hirschboeck added.
Besides the cost advantage, CNG "is also becoming very popular as a tool to green your fleet and green your supply chain," Hirschboeck said.
Wisconsin Clean Cities, an alternative-fuels coalition, promotes CNG and other alternative fuels for both businesses and private consumers as a way to reduce dependence on petroleum and as a cleaner-burning fuel. Executive Director Lorrie Lisek said a 20 percent to 30 percent reduction in greenhouse gas emissions, compared with diesel, is widely accepted in government and industry.
Particulate matter — the black stuff diesel trucks belch out — drops by 90 percent to 95 percent, Lisek added.
Buchmeier said some producers will choose shippers with better emissions records, and he plans to take advantage of that via Smartway, the U.S. Environmental Protection Agency reporting tool.
Transportation industry executives say CNG brings some less-frequently mentioned fringe benefits.
"You don't have the stink and the filth of the diesel exhaust," Buchmeier said. "... (Drivers) don't go home smelling like diesel fuel."
CNG engines are also far quieter than diesel engines, which means a "much better" experience for drivers, he said.
Inside a diesel cab, he said, the noise is so loud, "It's hard to think."
But with a CNG cab, "We could stand in front of one and have a conversation," Buchmeier said. Hirschboeck agreed. Kwik Trip has more than 50 CNG trucks in its own delivery fleet, Convenience Transportation.
"When (drivers) go home, they're less stressed," Hirschboeck said, "because they're not dealing with that level of noise."
---
About compressed natural gas in Wisconsin
• CNG stations in the state: 39 public access locations, 11 private access, two planned.
• Big players in state: Kwik Trip, Trillium, U.S. Oil.
• Fueling station growth: A new one is opening about every three weeks.
• CNG consumption, January through July 2012: 573,069 gasoline gallon equivalents.
•CNG consumption, same period, 2013: 1,797,669 gasoline gallon equivalents (213.7 percent increase).
Source: State Energy Office