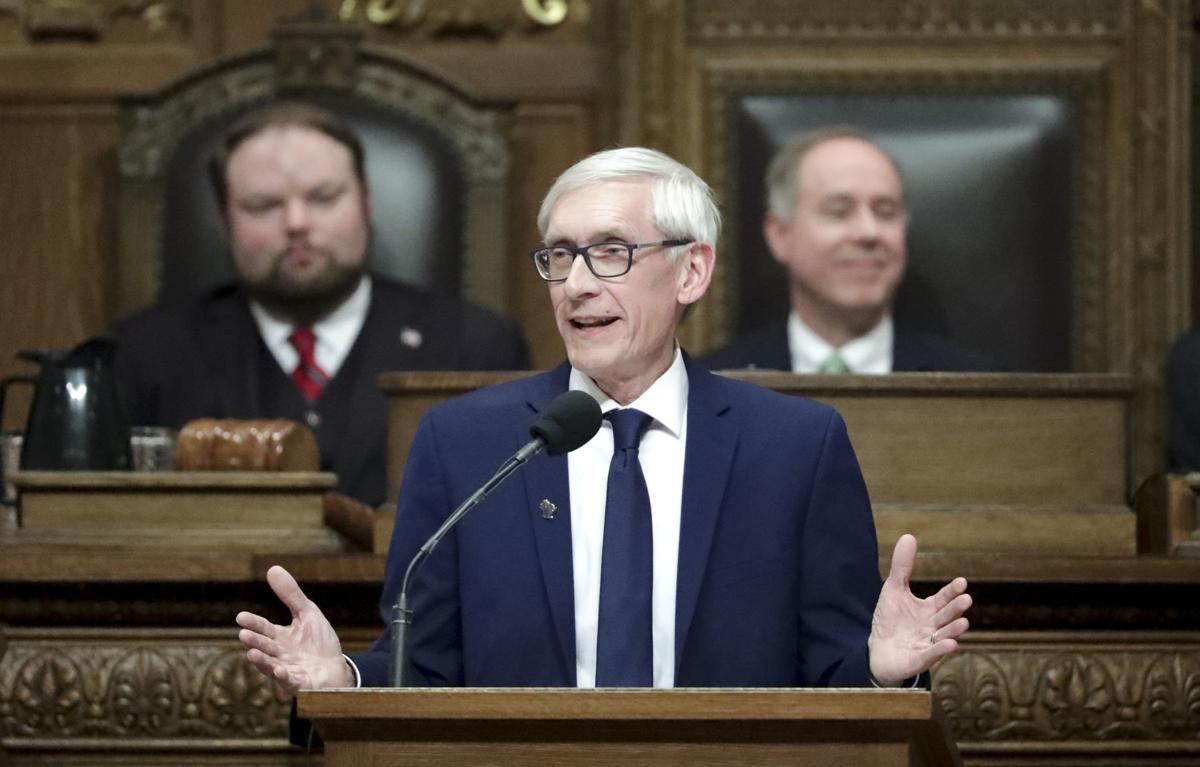 MADISON — Gov. Tony Evers will propose decriminalizing marijuana in his plan for the next state budget, as part of an overhaul of marijuana laws that would legalize it for medical conditions including cancer, post-traumatic stress disorder and chronic pain.
The proposal calls for allowing records to be expunged for people with previous convictions relating to marijuana possession in small amounts.
It also would permit the possession and use of a marijuana derivative used to treat seizures, CBD oil, without a doctor's certification.
Information provided exclusively to the Wisconsin State Journal shows the outlines of Evers' marijuana-related proposal for his budget, all of which will be released Feb. 28.
Evers previously said his budget would include a pathway to legalize medical marijuana. He previously advocated decriminalization but didn't specify details or the manner in which he would propose it.
It is unclear if the Republican-controlled state Legislature will embrace the plan, even as public opinion increasingly favors medical marijuana and most other states permit it. Evers' office gave an overview of the plan to the State Journal on condition it not be shared with others before publication.
The plan may face pushback from Senate Republicans, as Senate Majority Leader Scott Fitzgerald, R-Juneau, has said he opposes medical marijuana and isn't sure such a law could pass the chamber. Some law-enforcement groups also may question the move.
State Assembly Republican leaders have signaled openness to legalizing marijuana for medical purposes only.
Democratic Attorney General Josh Kaul supports medical marijuana, in part because he says it could help address the opioid crisis.
Wisconsin permits only possession of CBD oil, a marijuana derivative that does not produce a high, for people with a doctor's certification that it is used to treat a medical condition. Evers' plan would remove that requirement.
List of medical conditions
Medical marijuana would be available to people for whom a physician, or a medical practitioner under the direction of a physician, recommends it to treat a "debilitating medical condition." Those conditions include:
Cancer
Glaucoma
AIDS
HIV
Crohn's disease
Hepatitis C
Alzheimer's disease
ALS
Nail-patella syndrome
Ehlers-Danlos syndrome
Post-traumatic stress disorder
Chronic pain
Severe nausea
Seizures
The plan permits the inclusion of additional conditions as determined by the Department of Health Services, which would oversee the state's medical marijuana program for users. It would field applications by prospective users and issue ID cards to those who qualify.
Evers spokeswoman Melissa Baldauff described the medical-marijuana plan as modeled on Minnesota's, but without that state's prohibition on users being able to smoke the drug. Evers' plan does not restrict how licensed users could consume it.
The state Department of Agriculture, Trade and Consumer Protection would regulate the growing, selling and testing of medical marijuana under the proposal. Prospective dispensaries and growers would apply to the department for licensing.
The proposal stipulates all medical marijuana sold in Wisconsin would have to be grown in Wisconsin. People with state licenses to consume medical marijuana would be allowed to cultivate as many as 12 of their own plants.
Evers' budget will call for spending about $1.6 million over the next two years for wages and benefits for 5.5 full-time-equivalent state positions related to implementing the proposal.
In what his office described as a "very conservative" projection, it estimates the state would collect about $2.3 million in new tax revenue from legal sales of medical marijuana.
Decriminalization removes penalties
The decriminalization proposal would remove all state penalties for possessing, manufacturing or distributing marijuana in the amount of 25 grams or less.
Though some municipalities, including Madison, already have decriminalized marijuana, state law classifies it as a Schedule I controlled substance.
That means a first-offense conviction for possession may carry a fine of as much as $1,000, imprisonment for as much as six months or both. Those convicted of second or subsequent violations are guilty of a felony and may be fined as much as $10,000, imprisoned for as much as three years and six months, or both.
Evers' proposal includes a handful of scenarios in which medical use of marijuana could not be a legal defense. They include driving a vehicle or operating heavy machinery under the influence of marijuana, or consuming it on a bus, place of employment, school, correctional facility or other public spaces.
It calls for creating a process by which people convicted of possessing, manufacturing or distributing less than 25 grams of marijuana who completed their sentence could have their records expunged.
Thirty-three other states, including neighboring Minnesota and Illinois, now have comprehensive medical marijuana programs, according to the National Conference of State Legislatures. And 10 states permit recreational use, including Michigan.
Mark Sommerhauser is a reporter for the Wisconsin State Journal in Madison.