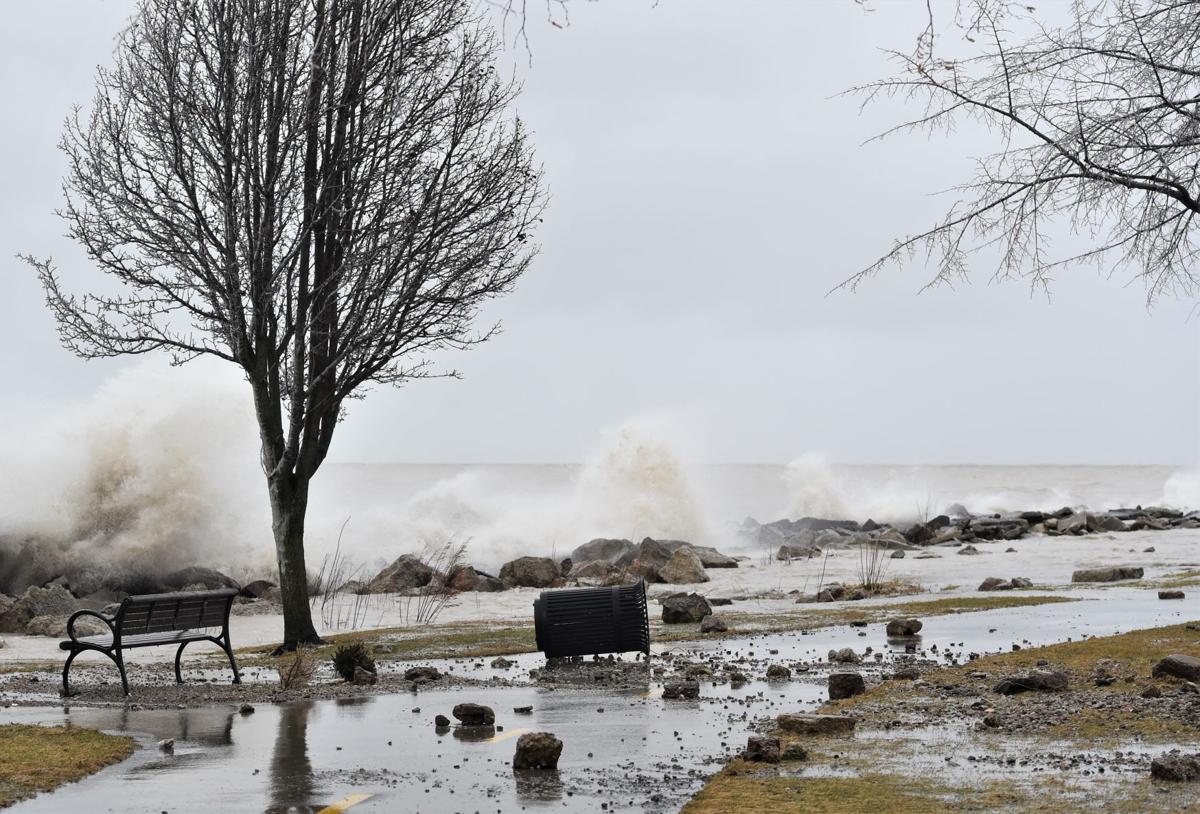 MADISON — Federal relief to repair significant local shoreline damage is in the hands of President Donald Trump's administration.
Gov. Tony Evers has officially submitted a request for a federal disaster declaration for Kenosha, Racine and Milwaukee counties to repair about $10 million in damages to public infrastructure along the Lake Michigan shoreline.
A combination of high Lake Michigan water levels and 55 mph wind gusts proved to be a recipe for disaster on Jan. 11 as massive waves attacked the area's eroding shoreline.
In the City of Racine, Pershing Park and Pershing Park Drive were hit the hardest as pounding waves sent debris flying onto the roadway. The letter also mentioned damage to the breakwater, drainage systems and an electronic touch screen pay kiosk for the boat launch.
North Beach was also hit hard with debris scattered along the sand and severely compromising a bluff supporting a portion of the Lake Michigan Pathway near Augusta Street, according to Department of Public Works Commissioner John Rooney. The letter from Evers also listed damage at Carre-Hogle Park, Samuel Meyers Park and Shoop Park.
Meanwhile, homeowners along the bluffs of Caledonia, Mount Pleasant and Somers are having to reassess and reinforce their coastline. The Wind Point Village Board at its meeting Thursday night is also expected to discuss the declaration.
Last week, the Federal Emergency Management Agency and Wisconsin Emergency Management completed a preliminary damage assessment in Kenosha, Racine and Milwaukee counties. Government officials verified about $10 million in damages where repairs would be eligible for federal reimbursement.
"Large waves and shoreline flooding across southeastern Wisconsin badly damaged infrastructure that helps protect communities and enhances the valuable natural resource that is Lake Michigan," Evers said. "Federal disaster assistance would help ensure those areas can be repaired quickly and restored to what they looked like before the storms."
Some areas don't qualify
Initial reports estimated about $30 million in damage was done to public infrastructure in the three affected counties. However, the preliminary damage assessment identified several areas that did not meet the threshold to qualify for possible federal assistance. As a result, those costs must be removed from any request for a federal declaration.
You have free articles remaining.
"While many of the affected communities suffered more damage to public infrastructure than would be eligible for federal assistance, any aid the federal government can provide will help with the recovery process," said Darrell L. Williams, Wisconsin Emergency Management administrator.
If approved, FEMA's Public Assistance Program would help communities recover some of the eligible costs incurred, including public infrastructure repair and debris cleanup from the storms. FEMA provides 75% of eligible costs. The state and local communities share the remaining 25%.
The request marks a step in the right direction for local municipalities, who have long been on their own without state or federal funding.
After the inspection earlier this week, Racine County's damage estimate of $6.45 million was reduced to $2.585 million. The letter did not specify how much of that was in the City of Racine, which had comprised $6.242 million out of the initial $6.45 million for the county.
No aid for homeowners, businesses
The level of damage does not currently meet requirements for federal disaster relief for businesses or homeowners. Residents and businesses should check with their municipal government or emergency management offices for information on possible resources available.
Local property owners in need of erosion control have been granted permission to begin repairs immediately instead of waiting through a lengthy permitting process.
The Wisconsin Department of Natural Resources released a Great Lakes Emergency Erosion Control Self-Certification form for state residents living on Lake Michigan, Lake Superior and Green Bay. Homeowners who meet a series of professional standards are allowed to submit a one-page document with the understanding they will eventually apply for a proper work permit.
The self-certification form (No. 3500-127) is available online at https://dnr.wi.gov. Homeowners should review, complete and submit the form to the email address provided. Once it is properly submitted, work may proceed provided it meets all of the necessary requirements.
A permit must be applied for within 18 months of completion.
Local legislators have also proposed a bill to create a revolving loan program for homeowners and municipalities to invest in erosion mitigation.