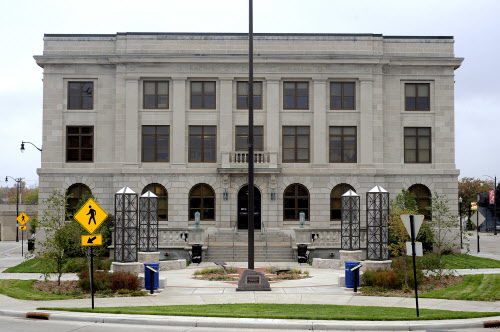 RACINE — A suburban Chicago village planner currently suspended from her job was recommended on Friday to fill the vacant Racine development director position by Mayor John Dickert.
Dickert said he would like the city to hire Amy Connolly for the position left vacant when previous development director Brian O'Connell retired last July.
Connolly has served as director of planning for the Village of Tinley Park, Ill., a southwest suburb of Chicago. She was suspended and placed on administrative leave with pay Feb. 17, according to a report in the Chicago Tribune.
Connolly was put on leave while the village investigates the review process completed by her department for a proposed low- and moderate-income apartment complex that has come under fire from residents, the article said.
Dickert acknowledged Connolly's current difficulties, but said he believes she is the right person for the job.
"We believe that her actions were consistent with what we would expect from all of our employees," Dickert said. "Ms. Connolly shared this information up front with our consultants and the city."
You have free articles remaining.
City staff and a search firm thoroughly reviewed the situation and believe that Connolly acted properly at all times by following the law, and keeping her superiors and elected officials informed about the progress of the new development, Dickert said.
'The right person'
Dickert instead focused on Connolly's work, which included a major downtown development plan, innovative transportation projects, and new infrastructures for bicycles and pedestrians.
"Hiring the right person was critical given the effect it will have on the city's ability to continue to grow and prosper," Dickert said. "Ms. Connolly has the qualifications, experience, and temperament necessary to be successful in this position."
Connolly has 20 years of experience in planning and economic development, along with degrees in political science and regional and community planning from Kansas State University.
She also has been at the center of the controversial housing development, which has led to packed Tinley Park Village Board meetings, an outside investigation and legal action, according to Chicago newspaper accounts.
Next week, Tinley Park is expected to announce its new budget and appoint high-ranking positions such as village manager and planning director, a Tribune article said. The village at that time could decline to renew Connolly's employment, the article said.
"Hiring the right person was critical given the effect it will have on the city's ability to continue to grow and prosper. Ms. Connolly has the qualifications, experience, and temperament necessary to be successful in this position."

— Racine Mayor John Dickert