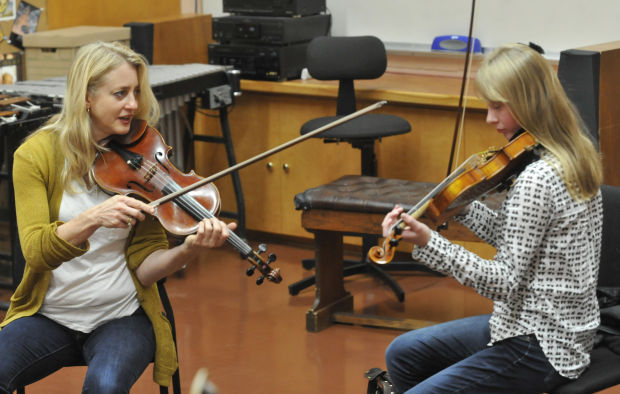 WIND POINT — Heather Martin Bixler leads a seemingly contradictory career as a classical violinist and an Irish fiddler.
Trained for most of her life to play structured classical music while she attended The Prairie School and The Julliard School, she set out to master Irish music through New York City pubs about 10 years ago.
Now, Martin Bixler thrives on the creative spontaneity of airs, jigs and reels.
"A lot of (the tunes) are structurally pretty simple," she said. "It's what you do to it that is the complexity of Irish music, what ornaments you do, the spontaneous part of it — which is very different from classical music and what drew me to it, because it was so creative."
The Racine-area native returned to The Prairie School, 4050 Lighthouse Drive, last week to perform alongside students during a multimedia concert entitled "Prairie School" Saturday, during which the high school orchestra accompanied her on a piece of Irish and classical fusion.
The concert is one of numerous performances scheduled this year that will bring Prairie alumni back to artistically celebrate the 50th anniversary of the school, according to Pat Badger, performing arts chair at Prairie and a teacher there for more than 40 years.
These visits also include workshops during which students can interact with artists who started out in the same school.
"The students here, 20 years from now I hope they go 'wow, somebody at my school who graduated from there, they came back and played music with me. How cool is that?,' " Badger said.
From classical to Irish
Martin Bixler began playing violin when she was 8 years old and was a student of Badger's when she attended Prairie.
Playing classical music most of her life, Martin Bixler returned from a trip to Scotland about 10 years ago with a new passion and hunger to learn to play her violin in Celtic styles, especially Irish.
She soon started lessons, found numerous Irish music sessions around her home in New York City, and thought she could easily pick up the style with her classical training.
However, she found the transition much more challenging than she expected, having to learn new techniques and methods that were foreign in classical music.
"At first I thought I could just sort of learn it: 'I play the violin, I can learn this,' but it's like learning a whole language, trying to learn a language on your own," she said.
Setting up for a workshop with middle school students at Prairie Friday morning, she quickly had the students remove chairs from rows and set them up in a circle like in a session. She gradually walked nine young musicians through the traditional Irish air "Dawning of the Day."
One of the violinists, Rachaele Luter, 10, said violin was easy for her when she started but became more and more difficult as she progressed. However, she stuck with it, envisioning herself playing classically as well as in a fun party-like environment.
"So if my mom or someone sings, I can play with them," Luter explained.
Martin Bixler noted that she is fond of workshops and exposing students to Irish music to expose them to mediums they may not have otherwise known about.
"It opens up a new rhythmic thing to students that they hadn't really thought of before, which is what happened to me when I started studying this music," she said.