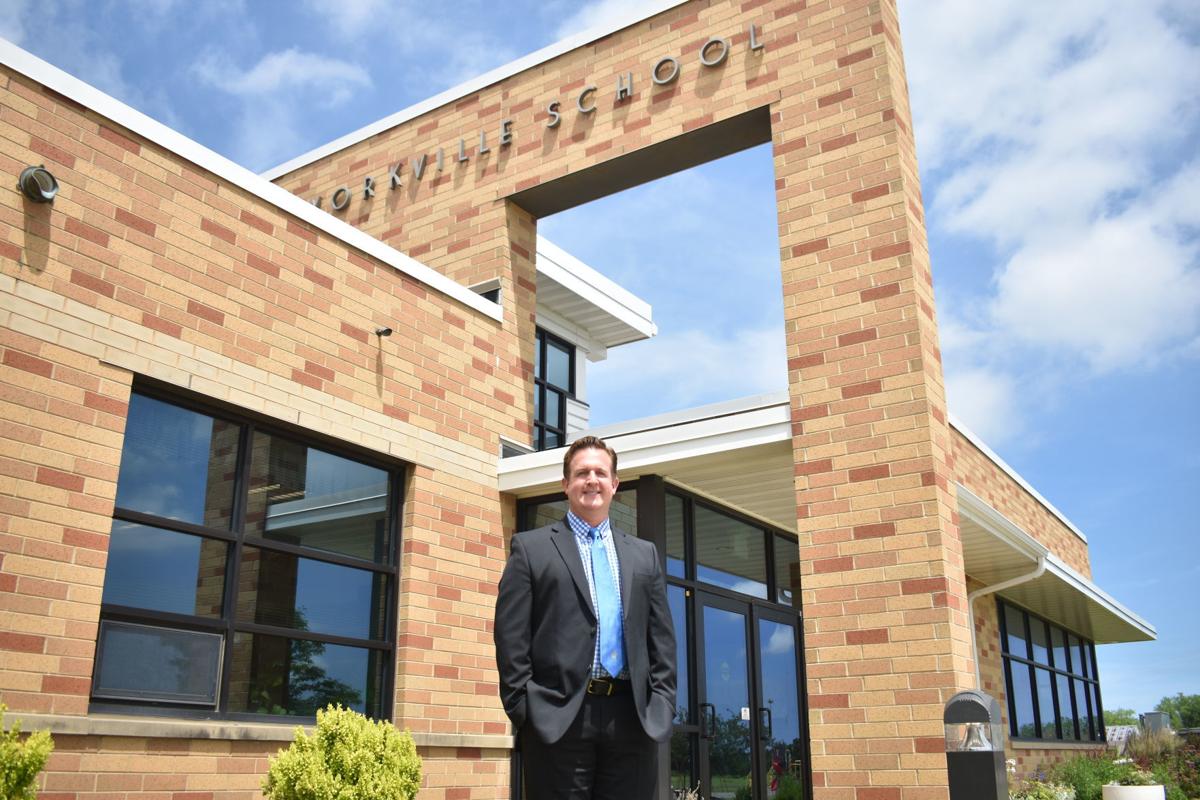 YORKVILLE — Yorkville Elementary School's new superintendent is hoping to attract more open enrollment students and to innovate while keeping up traditions.
Jeff Peterson started out as principal at Yorkville, 18621 Washington Ave., last fall and moved into the superintendent position July 1, following previous superintendent Dave Alexander's retirement. Alexander had been with the district for 25 years.
Peterson, who attended Raymond Elementary School and graduated from Union Grove High School, started his teaching career at Raymond Elementary and has since been principal at schools in Oak Creek and Waukesha.
Peterson said one of the benefits of starting out as principal last school year, with the understanding that he would move into his current role this summer, was getting to know the school community before becoming superintendent.
"I will say that has been the best perk of this job," Peterson said. "I really know what the heart of this school is all about and the strengths of teachers and things like that."
Peterson said he still misses the classroom. He has moved the superintendent's office at Yorkville to be closer to students.
"As a principal I made it a priority that I'm still connected to the kids, still engaged with kids," Peterson said. "I still get in classrooms and I don't envision that changing as a superintendent."
Goals
Peterson has identified several goals for Yorkville's future. It's already a high-achieving school, but he wants to ensure that teachers are truly having an impact on their students.
"We're going to talk about what the Yorkville students deserve because we're very lucky that they're well-behaved, they're respectful, they're kind, they already have some great study skills and academic background, now what other opportunities can we give them that are going to make them successful in their generation's grown up world," Peterson said.
These opportunities might include learning technical, communication, problem-solving and leadership skills.
Peterson knows that Yorkville also needs to focus on finances.
You have free articles remaining.
"We're pursuing open enrollment," Peterson said. "I really do want Yorkville School, 4K to 8 to be kind of the destination for students on this side of the Interstate. That means that maybe there's a little competition involved with our neighboring districts who are doing the same thing."
Peterson said attracting more students, and keeping its existing ones, will help Yorkville continue to operate with the same level of academic and extracurricular opportunities it offers now.
"I do think one of the biggest challenges is going to be the financial piece of continuing to exist at the level that we do without having to cut programs or teachers," Peterson said.
Through an April 2018 referendum, Yorkville voters approved an additional $670,000 per year in taxes through the 2022-23 school year to fund Yorkville Elementary's operational costs as well as to complete bathroom renovations and pay for some programming needs.
Keeping up facilities will continue to be one of Peterson's goals, he said. Two additions have been built onto the school, the most recent in 2013, but parts of the original structure still have asbestos tile.
'Change is difficult'
Peterson believes following in Alexander's footsteps could be a challenge, especially because the previous superintendent had been with the district for such a long time.
"Change is difficult for people," Peterson said.
He added that he's looking to be respectful of legacy and tradition, but also hopes to make some changes.
"I also see a lot of hope and interest in something different," Peterson said. "People are anxious for maybe a little innovation, maybe a little more engaging educational programs or trends for kids."
He's learned in the past school year at Yorkville how much the community cares about the school and values its family atmosphere.
Peterson has a message for students and parents: "If they love Yorkville School, they're going to continue to love it. If they don't love Yorkville school yet, they're going to because this is going to be a place where you're supported, you're respected, but you're also going to be motivated, challenged and find purpose in learning and teaching and growing."
Stepping into the principal role at Yorkville in the coming school year will be Anne Marie Werley Gonzalez, who most recently worked as a bilingual instructional coach at Blair and Heyer elementary schools in the Waukesha School District.
"I really do want Yorkville School, 4K to 8, to be kind of the destination for students on this side of the Interstate." Jeff Peterson, Yorkville Elementary superintendent
"I really do want Yorkville School, 4K to 8, to be kind of the destination for students on this side of the Interstate."

Jeff Peterson, Yorkville Elementary superintendent