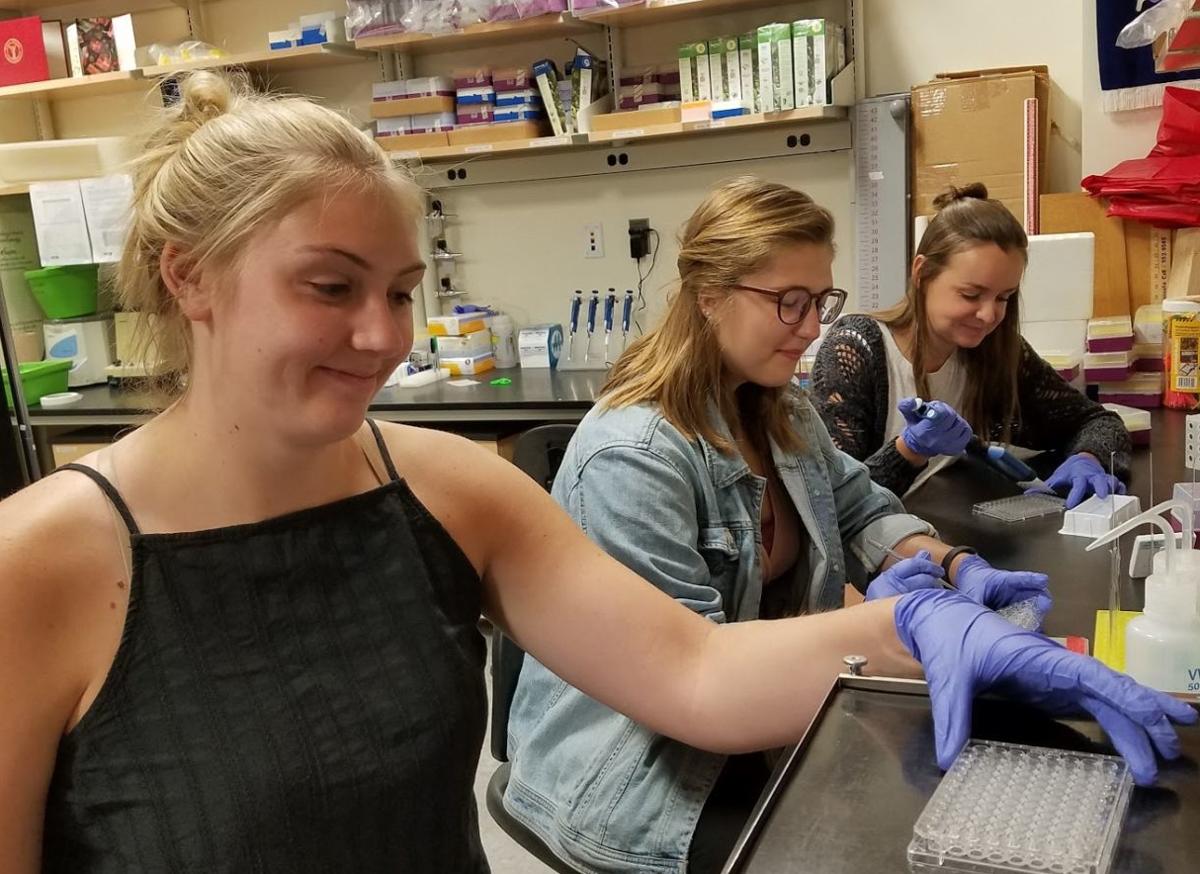 KENOSHA — Right now, 56% of America's college students are female, according to the U.S. Department of Education. But when it comes to the science and engineering workforce, men outnumber women 3:1.
Hannah Skendziel, a 21-year-old 2019 Carthage College graduate and Pleasant Prairie native, doesn't like those statistics. That's why she founded SPARK Summer Camp, which aimed to encourage more young women to get invested in STEM (Science, Technology, Engineering and Mathematics) careers. The three-day, two-night, woman-run camp started on Friday and ended Sunday. The girls who attended got to stay in the Carthage dorms and learn from Carthage instructors, providing invaluable college-prep experience.
"Our core mission is to target the gender gap in STEM," Skendziel explained. "There is a lack of women in these fields, and a lack of representation and diversity."
"Women are underrepresented in STEM professions," Carthage neuroscience professor Denise Cook-Snyder said in a statement. "The SPARK Summer Camp will spark in young women the curiosity, confidence, and courage they need to pursue STEM careers."
Filling the void
Skendziel didn't set out to start her own camp. She received her biology degree from Carthage in May and is in the process of applying to medical schools. In the meantime, she was planning on volunteering her time with a local girls-in-STEM organization. The problem with that: she couldn't find any such programs.
"I looked for a camp like this and there wasn't one," she said. "Science is something that's really shaped my life. … I wanted to bring this type of opportunity to kids who wouldn't have it otherwise.
Many of the barriers that make it more difficult for some to enter STEM careers, which almost always require expensive college degrees, often lie outside of the classroom, Skendziel pointed out.
"The camp is free so that we're not excluding anybody because of their socioeconomic status," she said.
A 2018 Yale University study concluded that "students from lower-income backgrounds often perform poorly and fail high school STEM courses, which are a necessary step in pursuing fast-growing and lucrative STEM careers, graduating high school, and matriculating to college," a hurdle that can be overcome if those students are exposed to more challenging educational opportunities.
Funding
Getting sponsors interested, allowing for as many as 50 girls to attend the free camp, wasn't as much of a challenge as it could have been. By pointing out that more girls interested in STEM careers could prove to be a benefit, Skendziel said local businesses like InSinkErator, Riley Construction, Hawthorn Hollow: Nature Sanctuary and Arboretum, the Racine Zoo, and Partners in Design Architects quickly jumped on.
SPARK could "increase the workforce of girls going into these fields, which will mean more employees for them down the road," Skendziel said.
Be the first to know
Get local news delivered to your inbox!