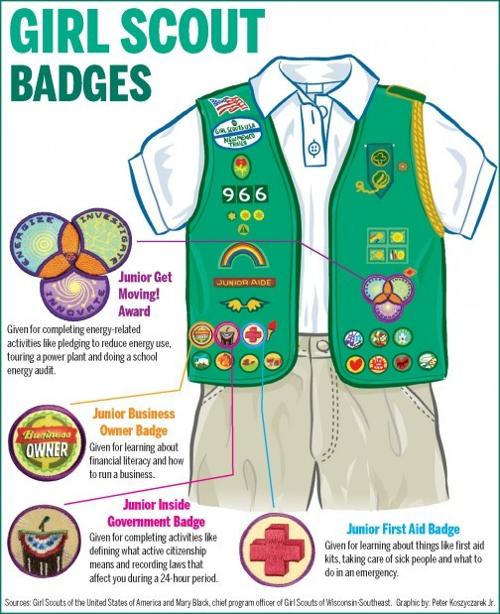 RACINE COUNTY — A century ago, most women spent their days cooking, cleaning and child rearing. But those skills alone are no longer enough to create successful, well-rounded women.
Girl Scout leaders have taken notice.
Officials in recent years have released a slew of new badges and awards girls can earn by thinking about college, the environment, computer safety and more. This fall, in conjunction with the Girl Scouts' 100th anniversary — recognized as Monday — officials also released their first ever "Girl's Guide to Girl Scouting," a multi-book guide that includes the Girl Scout handbook and a badge curriculum that spans all age levels so girls can build on the same key skills over time, according to Mary Black, chief program officer for Girl Scouts of Wisconsin-Southeast.
"Over the past 100 years, we have moved at the speed of girls," Black said. "We have continuously changed as girls' needs have changed."
The first Girl Scout handbook from 1913 included a child nurse badge that girls could earn by taking care of a child for two hours every day for a month or by taking care of a baby for one hour every day for a month, Black said.
That badge has since morphed into two others as laws and social norms required girls be older to care for children. There's now a child care badge and a first aid badge, Black said.
"As we move forward we know we need our youth to be able to respond in an emergency," she said, explaining girls can earn a first-aid badge by completing activities like taking care of a sick person, creating a first-aid kit and learning steps to take in an emergency.
There are also new finance-related badges, Black said, mentioning two introduced this year: The cookie CEO badge and business owner badge. Depending on a girl's age, the badges focus on topics like running a business, public speaking, buying power and good credit, Black said.
"We want our girls to grow up to be financially independent," she said, adding that 100 years ago women did not really work outside the home and let husbands handle the finances. "Today, we want girls to understand how to be financially secure."
To earn a badge — in finances or anything else — girls must complete five activities, chosen from a list of options. This setup means getting a badge requires more work than it used to, Black said.
"It's more intensive," she said, using a naturalist badge as an example. "In the past, you would make a collection of wildflowers, ferns and grasses and name them. Today, you're learning about bugs and flowers and trees, sky and water."
Aside from badges, there are also "journeys" girls can now complete in three areas: Protecting the planet; taking action when it comes to current issues like anti-bullying; and having healthy self-esteem, bodies and media understanding, according to Black and Girl Scouts of the United States of America.
"We really want girls to explore these issues," Black said.
Girls can earn a journey award at each scouting level, from daisies to ambassadors, by completing activities for their age group. A journey award on protecting the planet, for example, is given to daisies for learning to use resources wisely. Older girls would earn the award for exploring land stewardship, the senses, the outdoors and more, Black said.