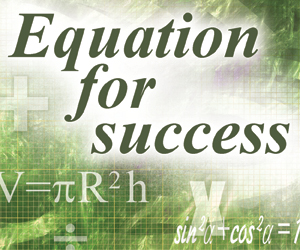 WIND POINT - Teacher Galen Steig has big plans for this summer involving rockets, robotics, Mars and much more.
His plans aren't for summer research and they're not for a summer vacation to museums or a NASA center. Instead, Steig is helping plan the curriculum and activities for a new advanced science and math summer program at The Prairie School.
Prairie officials announced the program in early December and students can begin applying this month. The program, called the Center for Developing Excellence, is for area middle and early high school students who perform adequately in math and science but need extra help to reach advanced levels.
The program's goal is to make students interested and skilled in science and math so they can take higher level math and science courses in high school, setting themselves up to do well in college and hopefully return to Racine afterward to start businesses or fill math- and science-related jobs in the area, according to officials from Prairie, 4050 Lighthouse Drive.
Officials said that because only about half of Racine Unified students score proficient or advanced in math and science on state tests, something must be done or else local businesses will start to suffer.
"We know there is this enormous shortage of local talent for companies here who are relying upon employees who have math and science expertise" like Modine and Twin Disc, said John Powell, associate headmaster and advancement officer in charge of development at Prairie. "A lot of Racine's stronger employment base right now is in engineering and developing products. We've got to make sure we have people coming out (of school) who can perform some of those high-end jobs."
And Prairie officials say that's where their new program comes in. The program will not be remedial, instead focusing on making good students better.
You have free articles remaining.
Prairie officials hope to reach 400 students in the next five years starting with 40 this summer when they kick off the program with two one-week pilot sessions. The sessions will each feature 20 students going into eighth grade, Powell said.
In future summers, Prairie hopes to run one four-week session for 120 eighth-, ninth- and 10th-graders by including 40 students from each grade, officials said.
Students will be accepted to the program based on applications and teacher recommendations that look at grades, curiosity, critical thinking and math and science potential, Powell said.
Selected students will have to pay a tuition fee to be part of the program. For this summer, the fee is $200 for the week. Officials do not yet know what tuition will be for the future four-week summer program, Powell said, adding they would try to keep it low and that many students would likely receive partial scholarships.
Aside from tuition costs, Prairie's program will be funded over the next five years by a competitive $250,000 private grant and an additional $500,000 they hope to raise. Officials would not say how much they have raised so far or what organizations or individuals had donated.
But officials did say they have enough to start hiring staff. So far, four teachers from around the area have been hired for this summer's pilot program, said Steig, who is working with Larry Jozwik to develop the program's staff, curriculum and sustainability plan. Jozwik and Steig are both longtime area science teachers. Jozwik has retired from Racine Unified and Steig continues working as Prairie's Student Research Center director.
Steig said the program will be a real learning environment, not just as a place students come to play math and science games. The curriculum will likely include studies of water, climate, robotics and green chemistry.