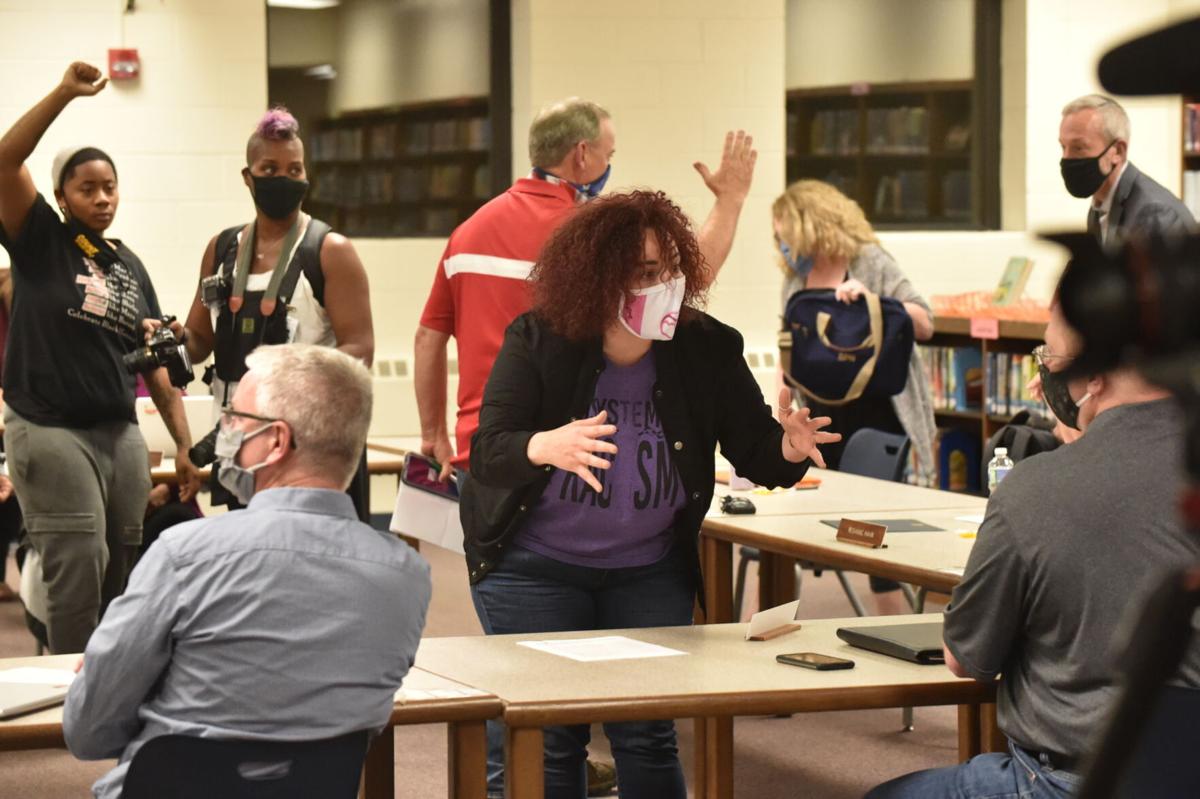 BURLINGTON — After a derailed Burlington Area School Board meeting was cut short and protesters concluded a chant-filled gathering in front of Karcher Middle School after night fell on Nov. 9, demonstrators walked away in groups, overtly choosing to stick together for safety rather than splitting up to walk back to their cars.
Before the demonstrators dispersed, a pickup truck had been driving back and forth along Robert Street in front of the school, revving its engine. Several of the demonstrators said the truck's presence felt like an intimidation tactic.
As the crowd of about 60 dispersed, there remained a fear they might be approached, attacked or arrested should they end up isolated on the mostly empty streets of Burlington.
Over the ensuing days, Burlington residents say the fear of violence has remained.
'I don't feel safe'
Darneisha Garbade, president of Burlington Coalition for Dismantling Racism, has left the home she owns in Burlington and has effectively gone into hiding with her family. She declined to say where she is currently living, since she fears her family will be targeted by racists in and around Burlington.
"We definitely are going to make safety a priority," Garbade said of her family's recent move. But, she said, "we will not back down from speaking out against racism."
Asked during a phone call Monday why Garbade felt the need to leave Burlington, at least for the time being, she said "it's the whole climate (in Burlington). My children aren't safe there. I don't feel safe there … racism is still hurting us."
After the Nov. 9 meeting, comments on the neighborhood-centric NextDoor social media platform and on Facebook included people saying that protesters were "scum," are living "up to the ghetto stereotypes" and were "acting like animals."
Garbade said she wasn't surprised by the comments, although she is still angered by them.
"There are so many people in Burlington who … are outright racist," Garbade said. "The way racism is being tolerated, that's the problem. We've had racist people forever … but they're just getting slaps on the wrist."
Garbade's children no longer attend Burlington schools because, she said, they were targets of endless bullying and racist comments.
Anonymous callers repeat hate
There have now been three reported incidents of "random, unknown, and anonymous individuals" managing to "hack" into virtual classrooms hosted by Burlington Area School District schools. Each time, the person who called into the online Google Classroom reportedly made vulgar and hate-filled comments.
Video of one of the calls — which BASD says occurred on Nov. 12 — has been shared on social media. In it, a male voice can be heard repeatedly saying the N-word, a homophobic slur, other curses, sexually explicit language and uttering racist stereotypes about Black men.
BASD had been using a hybrid model of virtual and in-person classes since the beginning of the 2020-21 school year. But all classes in the district have been held virtually since Nov. 11.
A message from BASD to parents, shared with The Journal Times, issued on Nov. 12 says: "Today we experienced our second and third unwelcome Google Classroom interruptions. These two classes have been contacted and communicated with separately. As a result, BASD must take immediate action to protect all of our students and staff. We understand that this move may cause some level of inconvenience.
"Later this evening, we will be turning off the 'call in' feature on Google so that we are no longer at risk of having random, unknown, and anonymous individuals calling in to a class to say or do something inappropriate."
These calls follow on the heels of another reported, although unconfirmed, use of the N-word within BASD.
During an Oct. 22 football game, a player for Paddock Lake Central High School reported that a Burlington player had called him the N-word.
BASD said that it could not confirm that the student-athlete used that specific word, but that the student-athlete had used vulgarity and a meeting was held with that student-athlete and a parent. According to the Burlington Coalition for Dismantling Racism, no discipline occurred.
A large crowd and lots of press coverage for a School Board meeting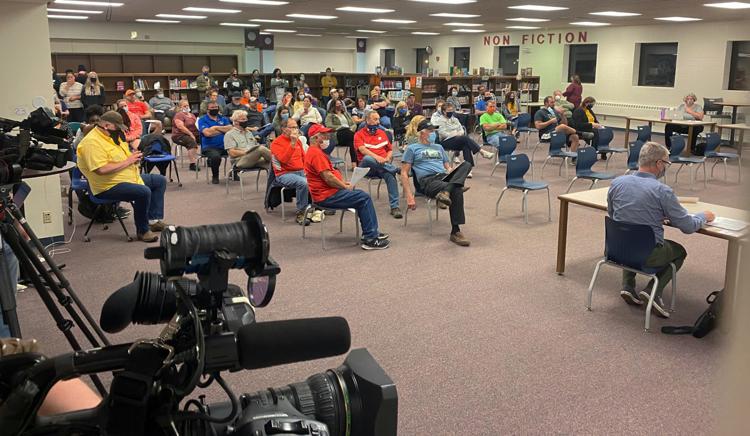 Before the meeting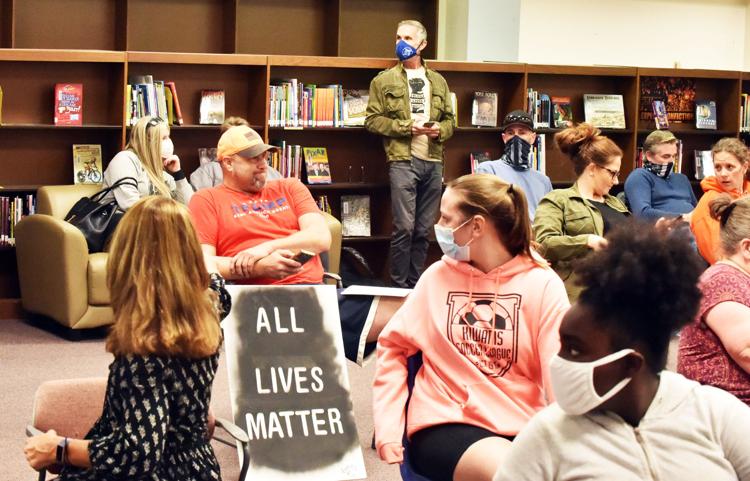 Two men in Party for Socialism & Liberation shirts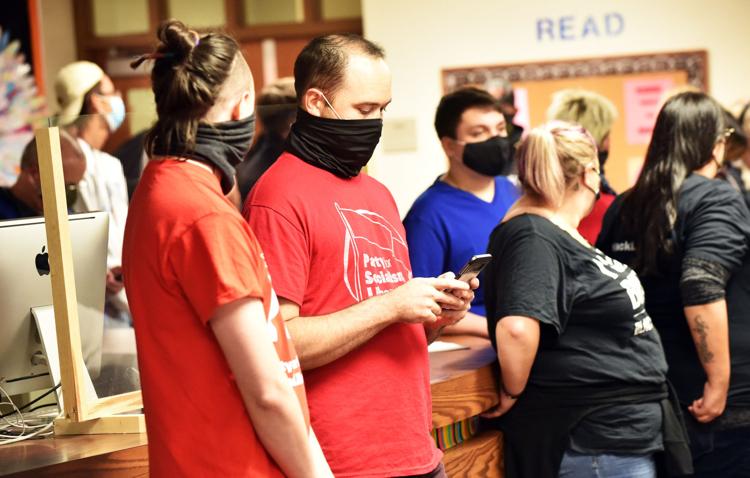 Burlington School Board member Taylor Wishau wears a Thin Blue Line mask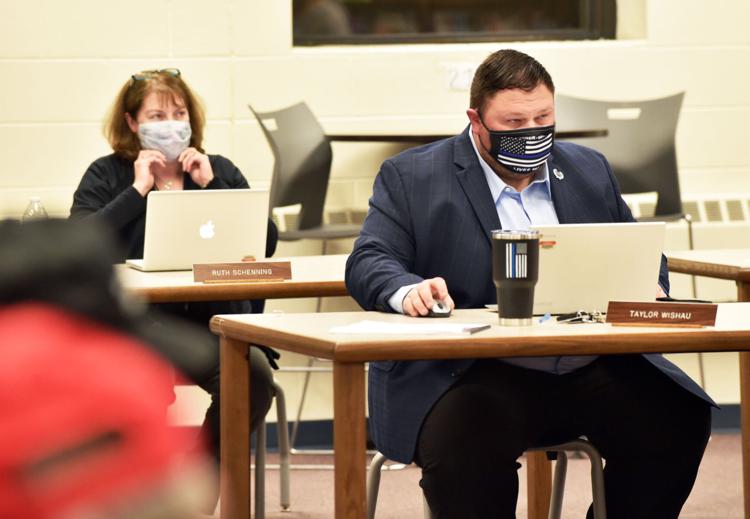 Black Students Matter sign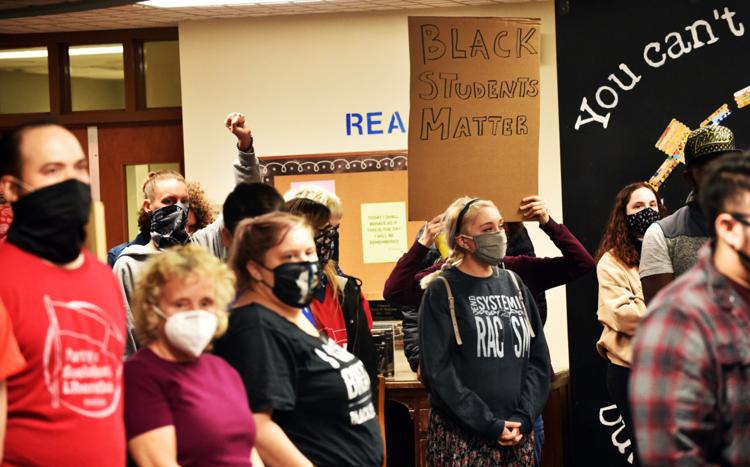 Laura Bielefeldt with her fist in the air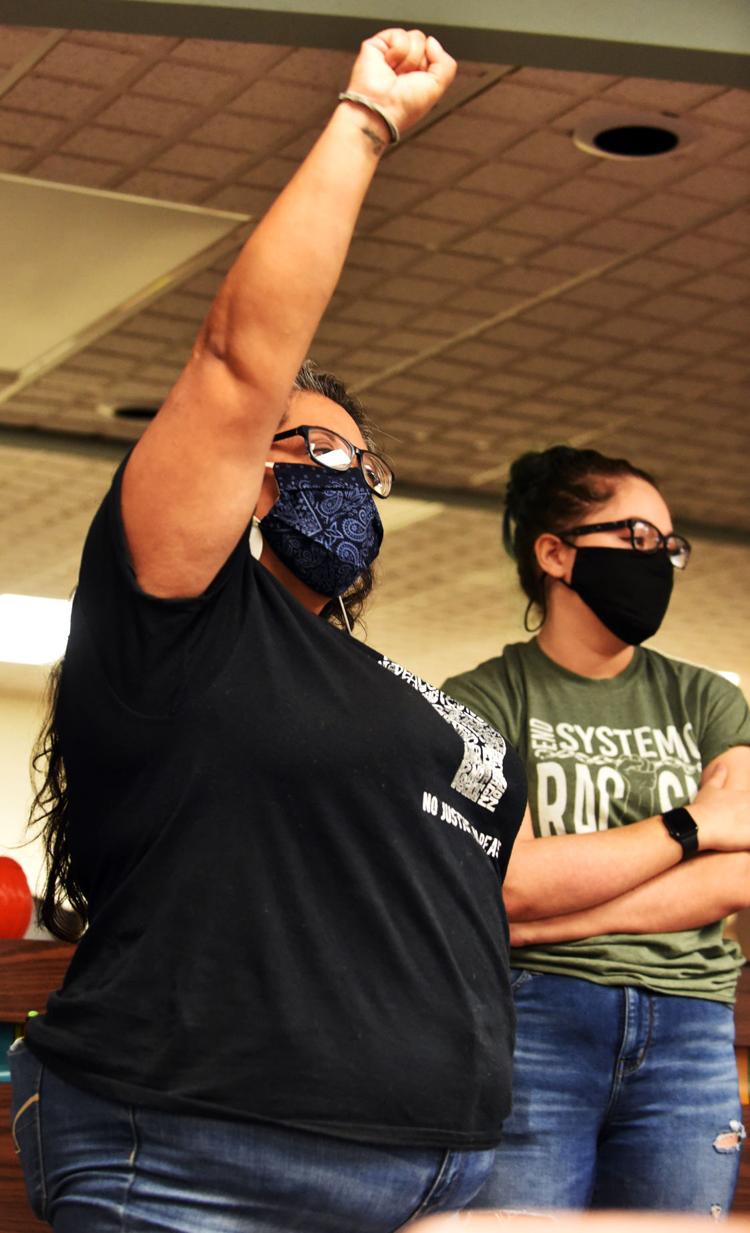 Fists in the air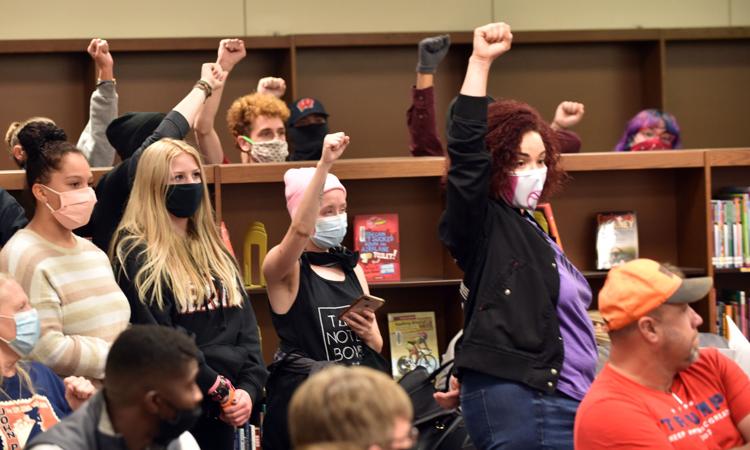 Fists in the air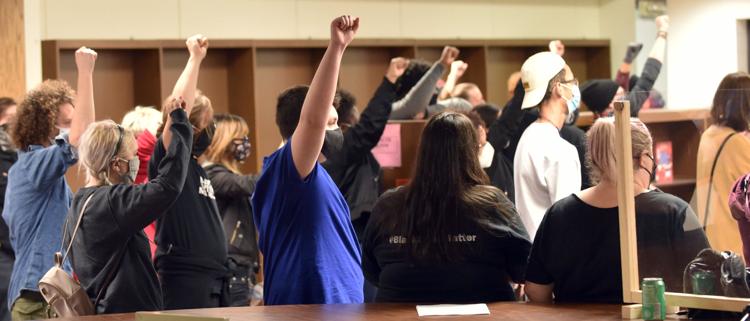 Arguments continue throughout public comment portion of meeting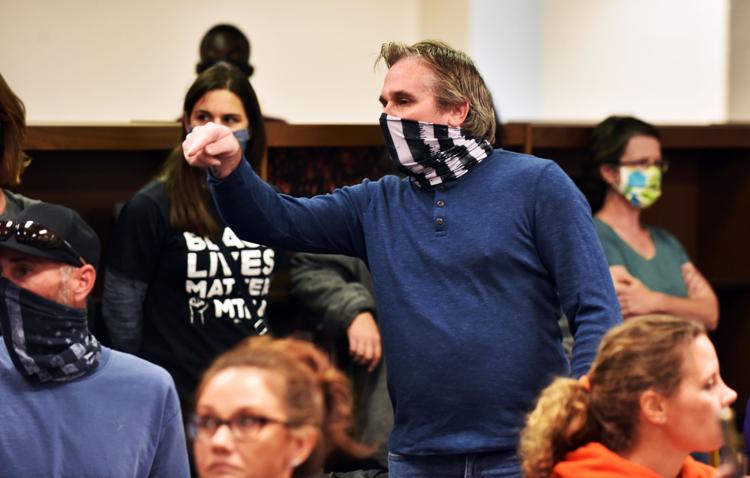 Press looks on as comments are made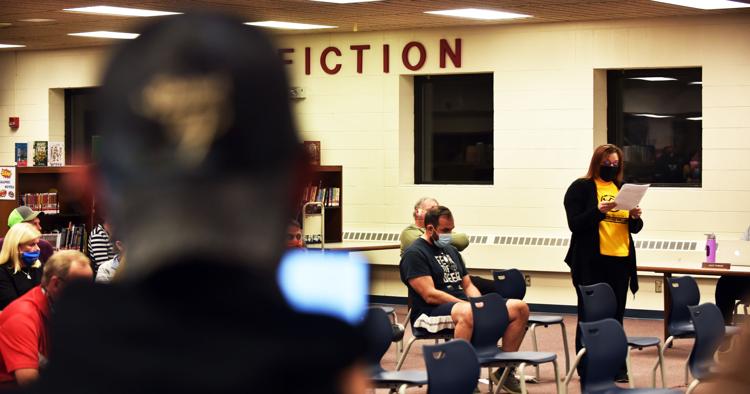 Former Burlington Area School Board member Philip Ketterhagen speaks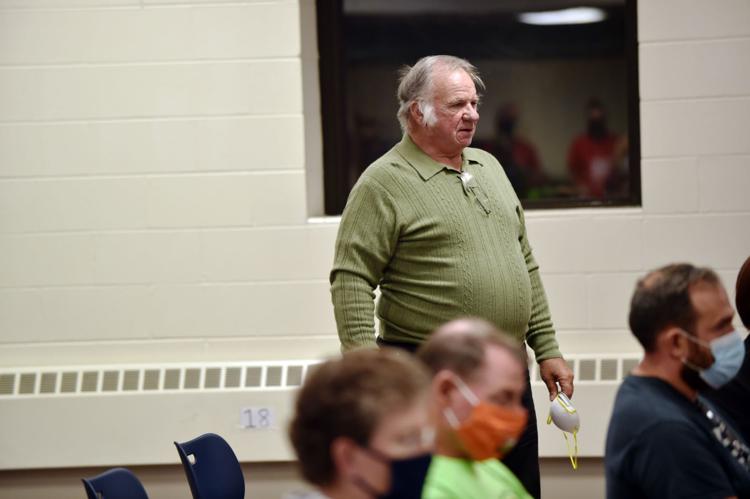 Public comment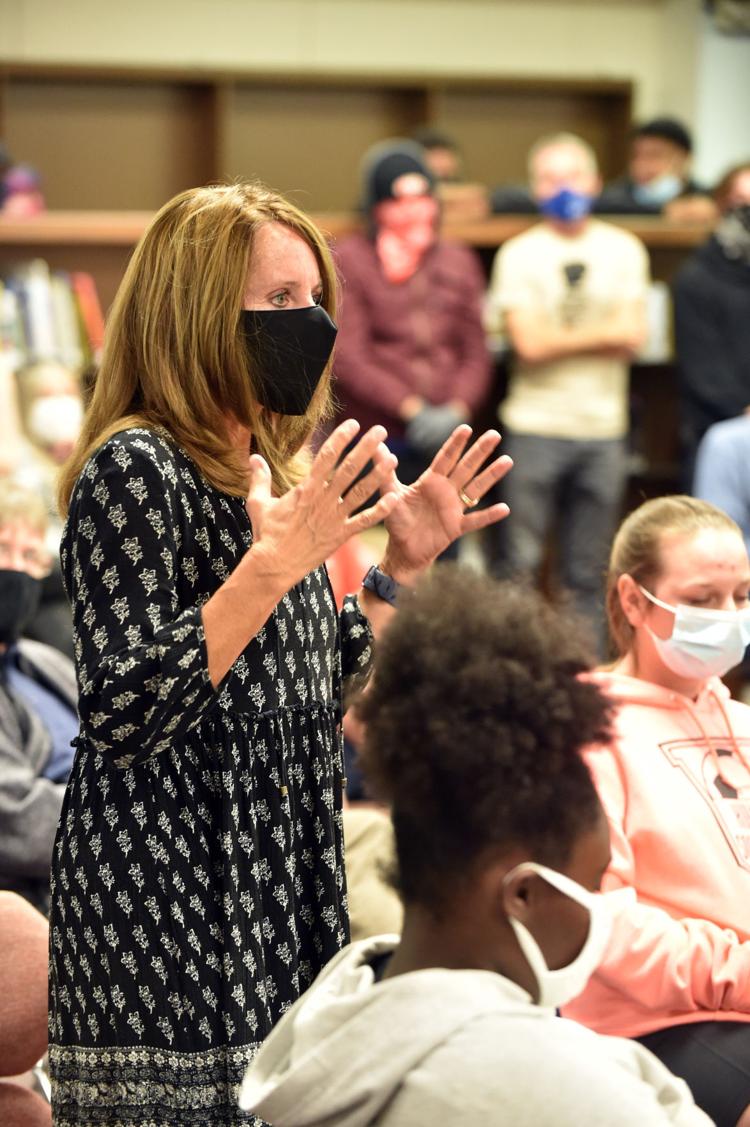 Darnisha Garbade, president of Burlington Coalition Against Racism, speaks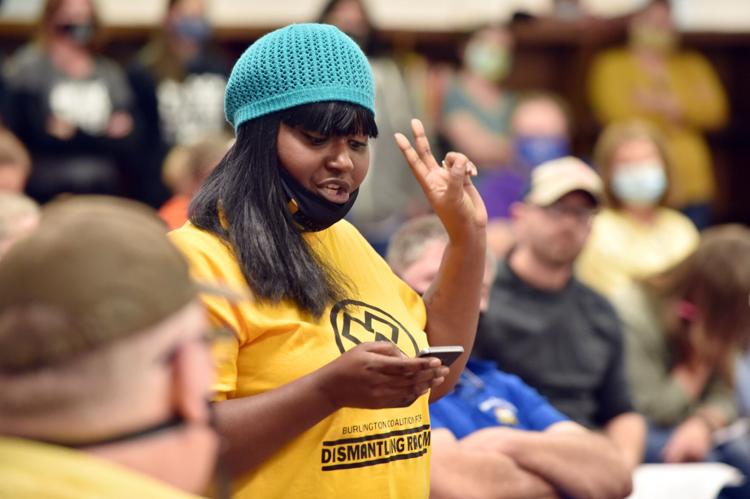 Pointing to his All Lives Matter sign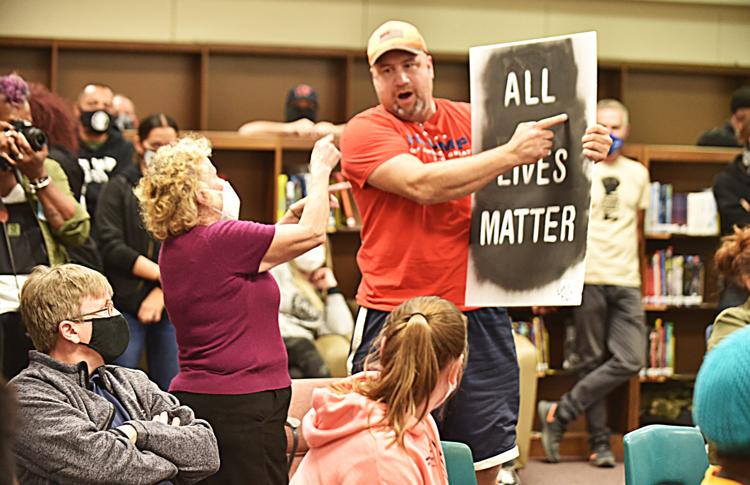 Preston Allred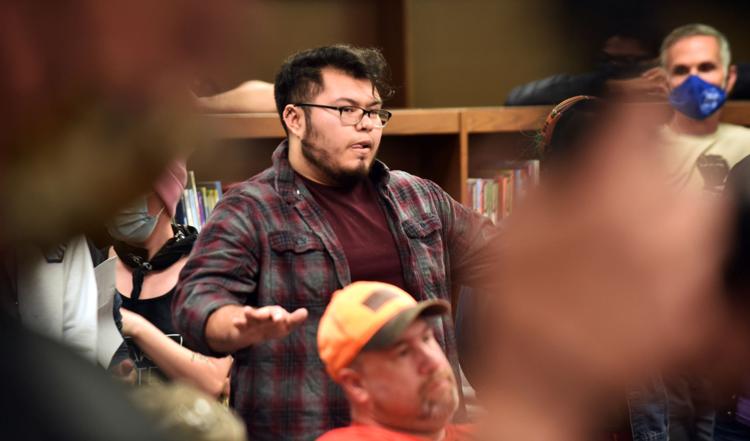 Fists in the air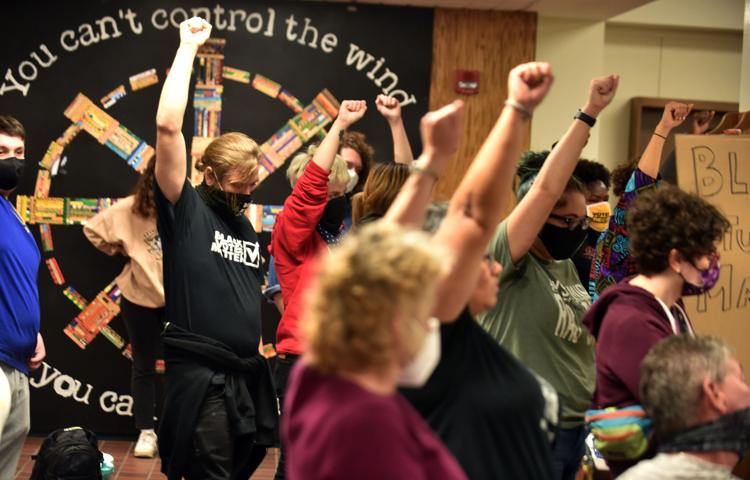 Arguments continue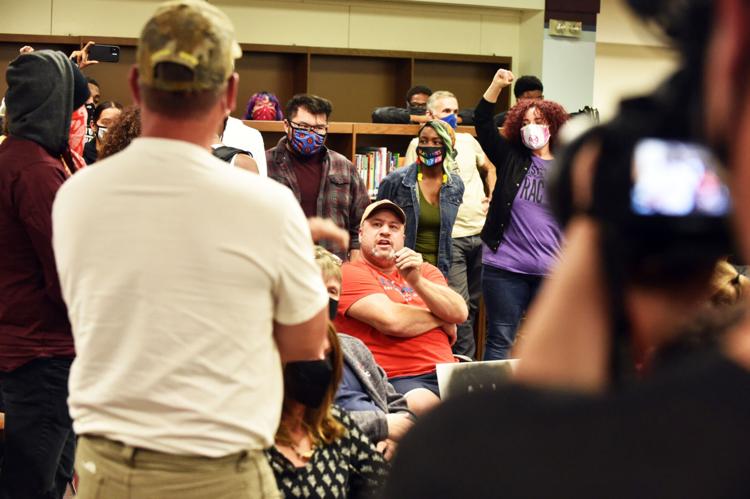 Josh Johnson speaks up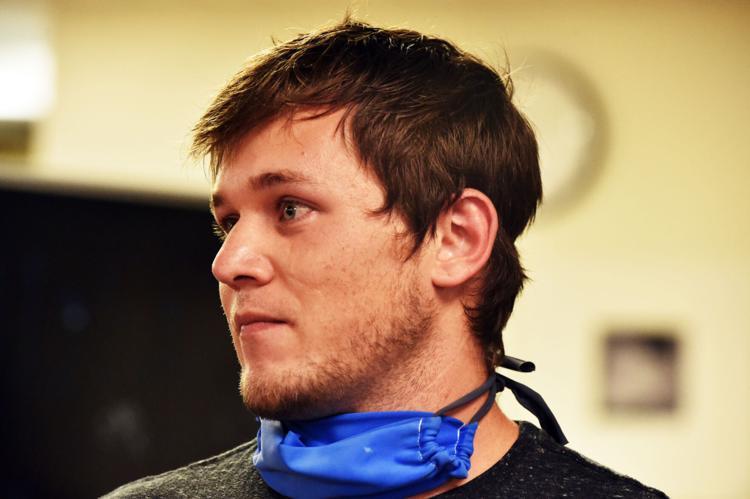 BASD School Board member Susan Kessler listens in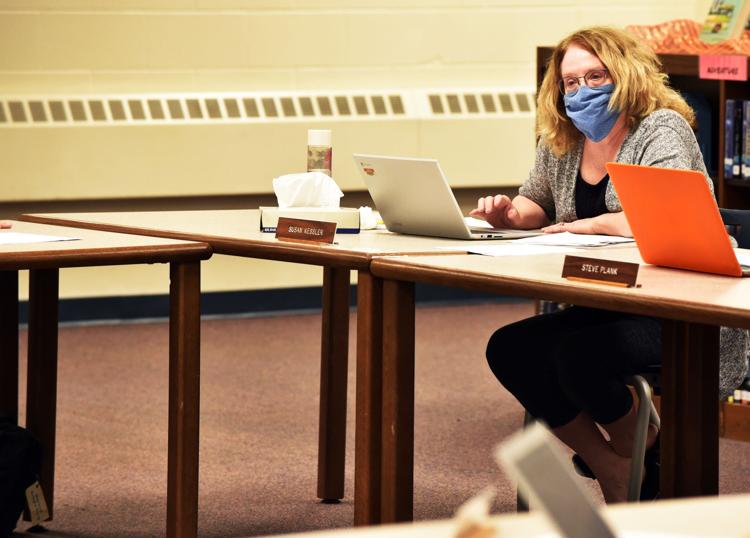 Pointing to his sign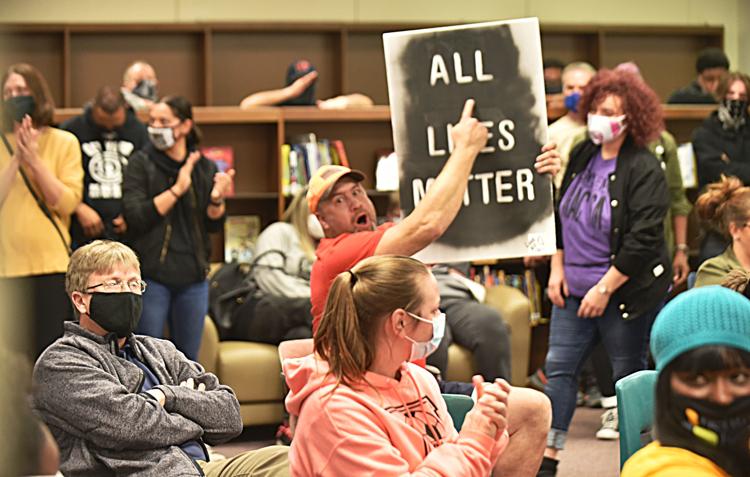 "If we don't get it, shut it down!"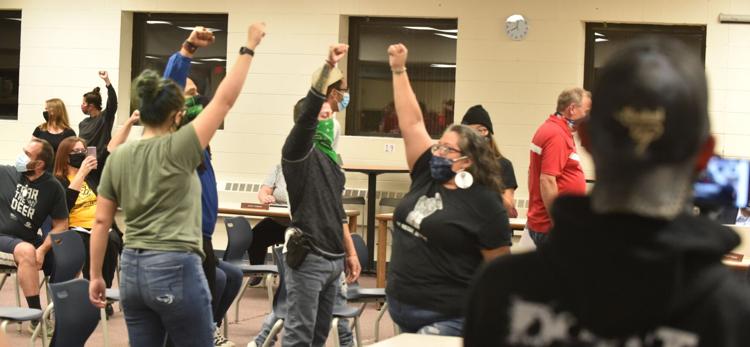 Moments before School Board members exit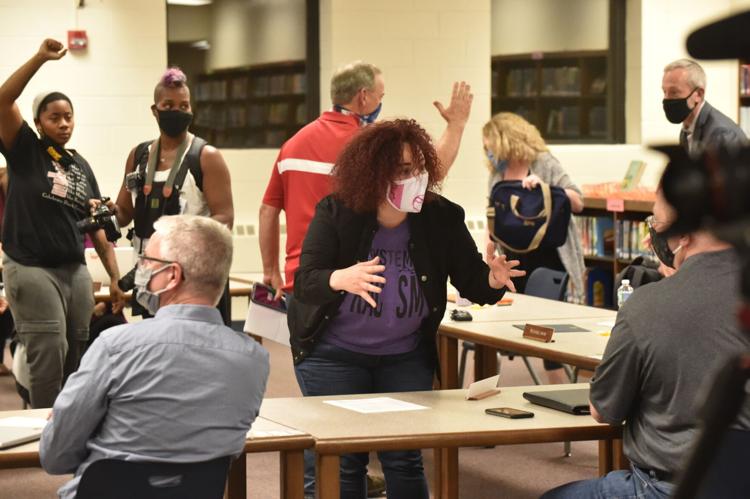 Fists up as School Board meeting has been shut down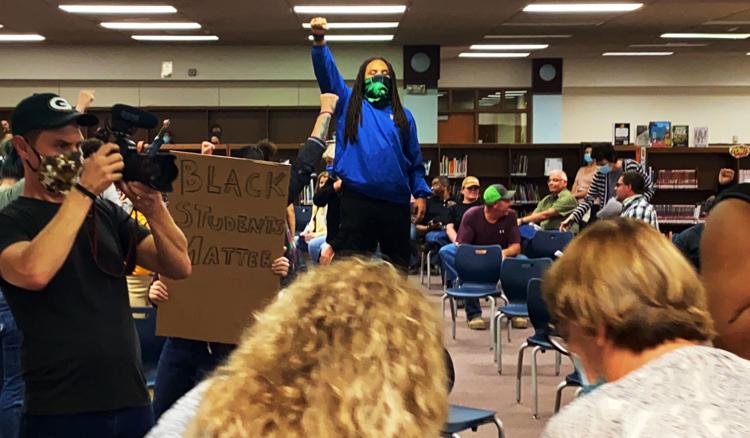 End of the meeting, start of the protest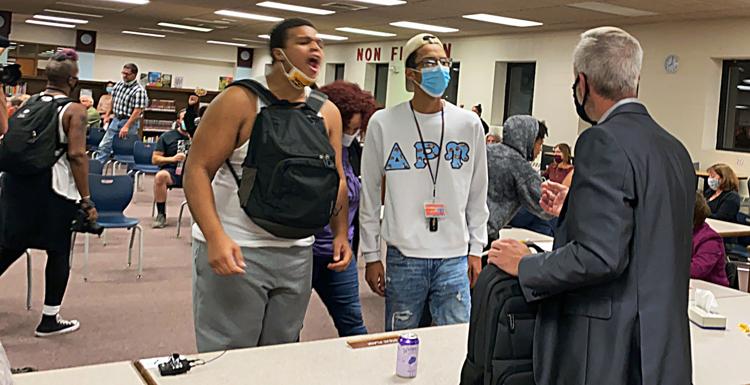 Discussions continue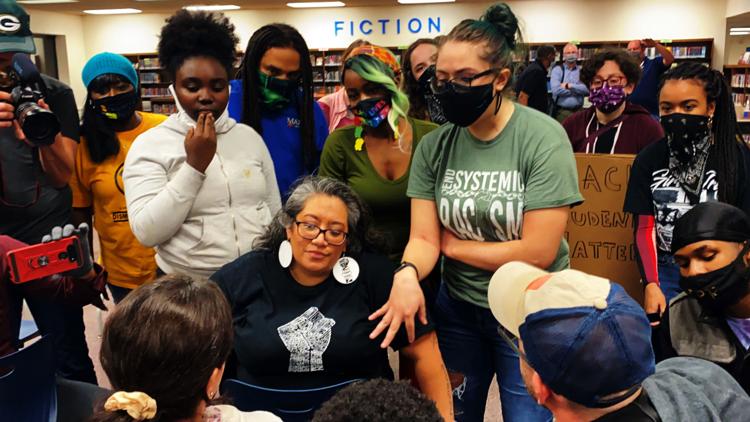 Discussions continue
Law enforcement arrives in the library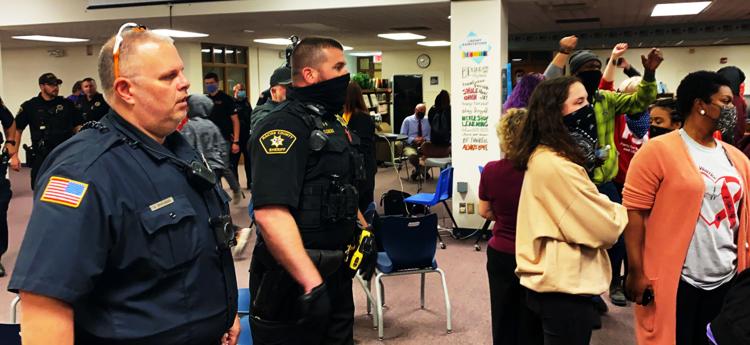 Protesters move outside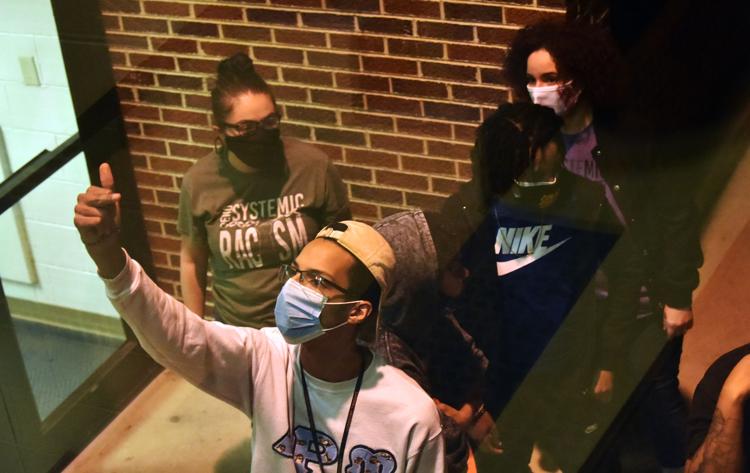 Darnisha Garbade comforts her daughter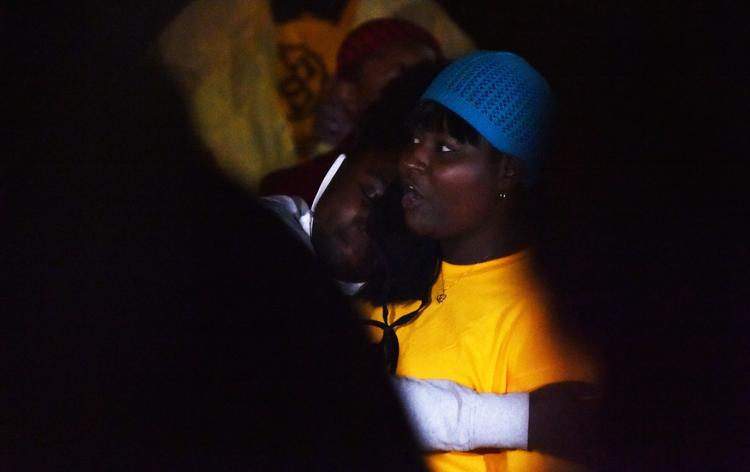 Demonstrators circle up outside Karcher Middle School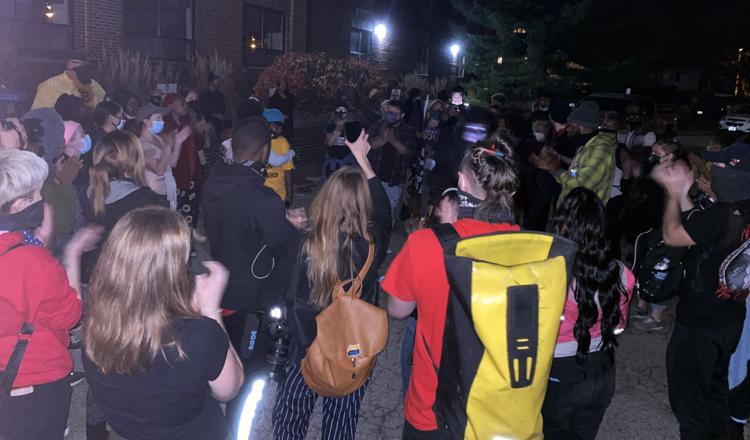 Be the first to know
Get local news delivered to your inbox!