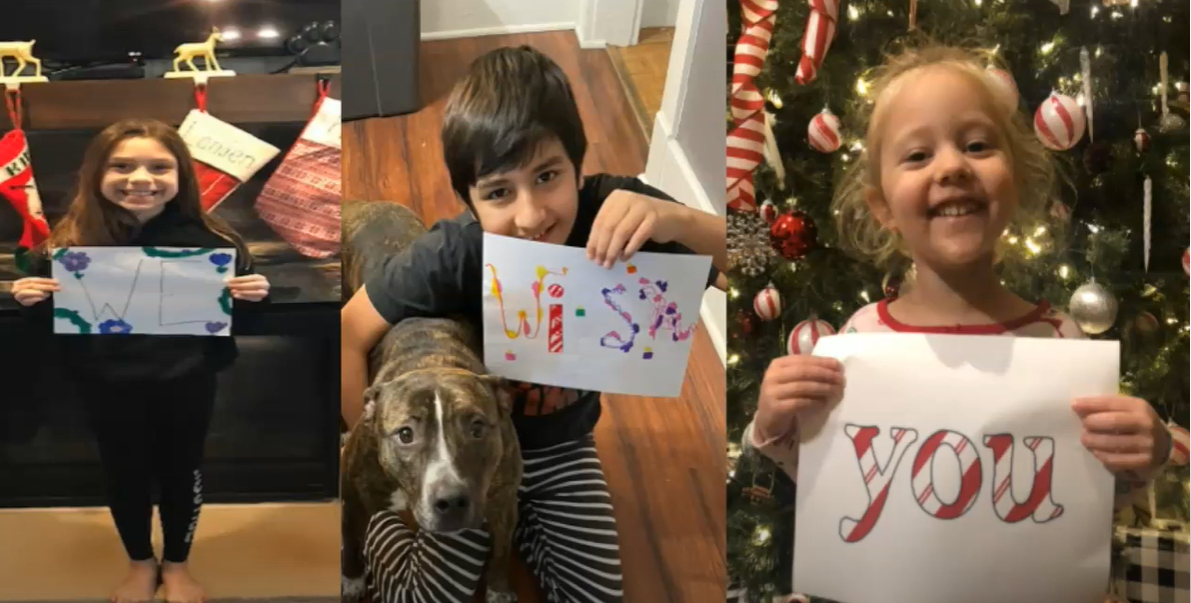 RACINE — Local students want cooped up senior citizens to know: "Whether you are just down the road or across the country, Jefferson Lighthouse Elementary School in Racine, Wisconsin is thinking of you."
That's just part of a message that Lighthouse students and staff are sharing through a video aimed at connecting with seniors who might not be able to visit family right now.
In the video, each student and staff member holds a piece of paper displaying one word, which when put together makes up a message of hope.
Fourth-grader Dani Billips decorated her word, "you," by surrounding it with hearts.
"When I actually saw the finished product, it made me feel like we could actually connect with those who feel alone," she said.
The idea for the video came from conversations between Kelly DeCheck and Robin Zigas, both teachers at the school as well as co-student leadership coordinators. They decided that sharing a video would be a good way to connect to people who are physically confined due to COVID precautions and to live the school's International Baccalaureate mission of making the world a more peaceful and better place.
DeCheck reached out to staff and families to gauge interest and said she was shocked to receive responses from 78 people. The women initially created two sentences for the video, made up of 25 words but had to lengthen the message so that everyone could participate.
She assigned everyone their own word and asked them to decorate it however they pleased, snap a photo of themselves holding it and send it to her so she could create the video. Once it was finished, DeCheck invited participants to share the video via social media or email the link to family members.
Lighthouse Principal Jeremy Benishek said that seeing the video made his day and was an example of the school community truly "living our mission and our vision."
"It just makes me so proud of the collective action everyone has taken here," he said.
Connecting with locals
DeCheck reached out to around 30 area assisted living and nursing homes last week to share the video.
"Many of them got back to me with a very positive response," DeCheck said. "They said they were so excited to pass it along to their enrichment coordinators that they have at their facilities and were just so thankful that we thought enough of their residents who are often forgotten."
Zigas feels that in a time when people are questioning whether people can truly connect with one another virtually, with so much schooling and work taking place online, the video is an example that they can.
"We can connect emotionally through music, through words," she said.
IB connection
Colleen Strain, the school's International Baccalaureate Programme coordinator and associate principal, said she started tearing up as she watched the video. It made her think of how the IB Programme is about more than just learning facts and understanding concepts.
"It's about what we do, like prioritizing people to make the world a better place," she said.
Because some senior citizens can't see their families in person right now, Billips said she hopes the video helps them to feel hopeful and loved.
"I hope they feel connected to their loved ones and people who respect them," she said.
Fave 5: Reporter Caitlin Sievers shares her five favorite positive education stories from 2020
Racine Unified second-grader creates YouTube channel to read to schoolmates during closure
RACINE — Josué Torres, 7, has been begging his mom to create his own YouTube channel.
After Racine Unified schools closed on March 16 to help stem the spread of COVID-19, Josué's mom, Jen Adamski, decided it was time. For about two weeks now, Josué has been recording himself reading chapters of "Double Fudge" by Judy Blume out loud and posting them to his new Youtube channel called Everything Imagination.
"I did it for the entire school," Josué said. "I wanted to do it for fun."
Josué is in second grade at Racine Unified Montessori, 4800 Graceland Blvd.
His energetic and enthusiastic readings serve as a way to keep him occupied during the school closure and to stay in contact with his classmates.
"He's really enjoyed it and he's taking it really seriously," Adamski said. "It's been kind of neat because his friends from class have subscribed and his teachers have subscribed and really encouraged him with his reading, so it's been kind of a neat outlet."
Josué's teacher, Melissa Pallin, said she's always happy to see her students excited about learning.
"I'm just really happy about him taking that initiative," Pallin said. "In Montessori, we encourage students to be self-directed in their learning. To have him demonstrating that passion and excitement through these difficult times is just amazing to see."
Before the shutdown, Josué's class had been reading some other titles by Judy Blume as they participated in Battle of the Books. Josué moved on to read "Double Fudge" on his own. He also recorded and posted a reading of "Fish Out of Water" by Helen Palmer as a bedtime story for younger students. The Montessori method of teaching features multiage classrooms where older students help to teach the younger ones.
"I'm just as excited as he is about his reading aloud and his channel," Pallin said.
Parents being innovative
Pallin said she has heard from other parents, working to continue their children's learning at home. One family has been doing science experiments and created a model of the solar system.
Another student has been conducting research on animals and history. Many of the students have sent Pallin photos of what they've been up to.
"I'm really impressed by what the families are doing by creating home learning environments," Pallin said. "These parents really care about helping their children learn."
Other benefits seen
Reading is not the only skill Torres is gaining from work on his YouTube channel. Josué and Adamski are paying attention to how people respond to different videos and how many views each post attracts. He drew a diagram of how many views his first video received.
"I think it's a good outlet for him creatively," Adamski said. "He's a very creative child but we do have some education lessons we can take from it. But I think the most important part is helping other kids, so it's not just about us. It's about staying connected, especially with not knowing how long this will go on for, to find a way to not be isolated."
Josué said he hopes his readings help him to feel good about himself, but also make his viewers feel good about themselves.
"I love seeing examples like Josué's channel," Pallin said. "It shows what kids and families can do from home."
"I'm just really happy about him taking that initiative. In Montessori we encourage students to be self-directed in their learning. To have him demonstrating that passion and excitement through these difficult times is just amazing to see." Melissa Pallin, teacher at Racine Unified Montessori
Park 2020 senior overcomes tragedy to graduate with help of school staff 'family'
RACINE — Class of 2020 graduate Jaysean Speaks has lost a lot in the past six months, but at Park High School he gained a surrogate family which is determined to help him get through it.
Speaks and his mother moved to Racine from Mississippi in his junior year. He decided to move to Racine with her, where she have lived previously, because he didn't want her to come here alone.
"It was the best decision I ever made," Speaks said.
Speaks was a safety on the Park football team, made friends and formed close bonds with several members of the school's staff.
"The teachers at Park put more effort into helping you learn and helping you figure out what you're doing," Speaks said. "They try their best. They gave me 100% every time I needed help."
Francesca Cariello, who was a substitute physical education and health teacher at the time, met Speaks in her health class at the start of his junior year.
"He always had headphones on," Cariello said. "I went over and sat on the edge of the desk and said, 'I know that you have potential and I believe that you can do this. I need you to believe in yourself. I need you to get your headphones off.' "
From that day forward, the two formed a bond, Cariello said.
Cariello later promised his mother, who had been diagnosed with cancer, that she would do whatever she could to help him graduate. In February, when his mother died, Cariello and her fellow educators rallied around Speaks to support him as best they could.
They brought him food and gave him money; teacher Wendy Farrell, who shares an office with Cariello, gave him a place to stay when he returned to Racine after his mother's funeral in Mississippi. Teacher Kim Peterson helped him keep his grades up, and football coach Morris Matsen assisted Speaks in obtaining his first scholarship to play college football.
"It made me feel like if I know I need anything or any assistance, I can always call them," Speaks said. "To me now, they're family. They stepped in when I needed someone the most."
The Park staff members feel the same way about Speaks.
"I might not have given birth to him, but I call him my other son," Cariello said.
She described Speaks as "kind, gentle and a pure soul."
"From the day that I met him, he captured my heart," Cariello said.
Farrell called Speaks a "genuine guy" with an infectious smile who "shined as an athlete" and proudly represented Park on the football team.
The women both expressed pride in Speaks making it to graduation, despite the global pandemic and personal tragedy.
Ending the year from afar
After schools were close due to the pandemic in mid-March, Speaks took a bus to Mississippi to spend time with family, thinking that he would return to Racine when classes started again. When in-person classes were canceled, Farrell sent Speaks the work he needed to complete in order to obtain his diploma from Park High School.
The past several months for Speaks have been filled with loss. After losing his mother in February, Speaks' father died a few weeks ago. And just within the past week, the college in Minnesota where Speaks had committed to playing football canceled fall sports due to COVID-19. As of last week, he was looking into other colleges where he might be able to play.
"Losing my mom, it just made me want to go harder in everything that I do," Speaks said. "But losing both my parents it made me stronger as a young man to go out and do what I always wanted to do."
That list of things included graduating high school, then college, playing professional football and one day becoming a coach.
"My parents, they raised me to always strive to be great and to never give up," Speaks said. "I feel like I'm paying them back by graduating high school, going to college, continuing what they always wanted me to do and what they raised me to do."
Speaks is still in touch with his Park family, and they intend to be there for him into the future and continue to help him through this difficult time. He said he "could not thank them enough."
"We're committed beyond graduation right now," Farrell said. "Our commitment to him is not going to stop."
"My parents, they raised me to always strive to be great and to never give up. I feel like I'm paying them back by graduating high school, going to college, continuing what they always wanted me to do and what they raised me to do." Jaysean Speaks, Park High School Class of 2020
Unified special ed student keeps in touch through 'wave-bys' with teachers, friends
RACINE — During these uncertain times, Julie Anderson wanted to brighten her son's day. She said that Will, an eighth-grade special education student at Jerstad-Agerholm Middle School, has seemed sad over the drastic changes in his schedule due to the closure of schools last week in an effort to slow the spread of the novel coronavirus.
Julie decided to drive past the homes of Will's teacher, educational assistant and other friends and family to do a "wave by," bringing joy and excitement to those inside and outside the vehicle.
"He got this big grin on his face," said Will's teacher, Wendy Piehler. "It did the heart good."
As they drove past for the first time over the weekend, Piehler stood on her porch holding a sign that read, "Hi Will. Miss you."
Julie said that Will has been struggling without his normal routine since Racine Unified schools shut down March 16. Julie had been taking Will and his younger brother Alex on drives to ease their boredom. Last week she started driving past Jerstad-Agerholm, 3535 LaSalle St., so that Will, who loves to wave, could see the building and give it a "hello."
Over the weekend, Anderson decided to kick it up a notch by driving by the homes of friends, family and school staff so that Will could give them a wave.
"He seems to miss them so much," Anderson said.
Piehler and educational assistant Kristen Kaprelian were both on board with the idea.
"As an educator, I miss my kids," Kaprelian said. "I would give anything for this to be over and be back in our classrooms, so when Julie reached out to me with the opportunity to see and wave to Will, to make his day, it really made my day. It was really the highlight of a pretty crummy week."
Maintaining connections
Kaprelian stressed the importance of forming connections and building trust with students, especially when working in special education. It's still important for students to know that school staff are there for them, even when classes aren't in session, she said.
Teachers and other school staff are working to keep in touch with students in various ways. Piehler plans to host a class video chat on Wednesday and educational assistants were set to drop off lunches at student homes on Wednesday and Thursday.
Especially for nonverbal students who may have a hard time expressing their fears, Piehler hopes that seeing their teachers' smiling faces will give them some comfort.
And seeing the faces of students seems to have brought comfort to the staff as well.
"Oh my gosh, his laugh was incredible," Kaprelian said, of Will when he rolled past her home with his mom. "He's always generally such a happy kid, but to see how happy he was even just to drive past and see us was amazing."
Julie said she was thankful for Will's school family and their part in cheering him.
"These teachers are really trying," Anderson said. "Her (Piehler) standing out there with a sign was amazing. He went nuts. He thought it was great, like he was in a parade."
"He's always generally such a happy kid but to see how happy he was even just to drive past and see us was amazing." Kristen Kaprelian,
Jerstad-Agerholm Middle
School educational assistant
2020 Case High grad forms close bond with school nurses, aims to become RN herself
MOUNT PLEASANT — Precious Johnson has always wanted to help people. The Case High School Class of 2020 graduate formed some special relationships with the school's staff, including its nurses, and is on her way to becoming one herself.
Johnson, 17, moved to Racine from Chicago in the middle of her eighth-grade year, around the same time that she was diagnosed with Type I diabetes. She entered Case's Academies of Racine health sciences pathway out of her desire to help people. Members of the Class of 2020 are the first Racine Unified students to graduate through the Academies of Racine, which are small learning communities that provide real world experience through opportunities like internships.
Already, Johnson is employed as a certified nursing assistant and plans to start working toward obtaining her nursing degree at Gateway Technical College this fall, which she will attend on the Gateway Promise program.
The Gateway Promise allows eligible recent high school graduates to attend the school without having to pay tuition beyond what is funded through financial aid.
Care inspiring care
In addition to her desire to help people, Johnson was further inspired to go into nursing by the school nurses that helped her deal with her diabetes.
"I had a good bond with the nurses there (at Case)," Johnson said. "They helped me keep on track with my diabetes. If my blood sugar was low, they would make sure that I stayed there until I was better and give me snacks and stuff and provide water when I didn't have any."
Once, when Johnson was running low on her supply of medicine at school, one of the nurses picked up her prescription for her from the pharmacy.
"That made me feel like people really care about me," Johnson said. "That made me feel like, happy. I know they are like that, because I've been with them since freshman year so I know they'll do anything for me."
No excuses
Jill Paulick, school nurse at Case, said she is proud of Johnson for always working hard and not using her diabetes as an excuse to slack off.
"She did well in school, she kept plugging along even though she didn't always feel good," Paulick said.
Even though she sometimes struggled with her schoolwork, Johnson kept up her GPA by staying up late completing homework and studying for tests.
Johnson was an A and B honor roll student at Case and a member of the National Honor Society. Paulick said that she also looked to help other students who had diabetes make healthy choices and keep control of their disease.
"Case, I would say, is like a family environment," Johnson said. "We stick together."
Cassie Kuranz, directing principal at Case, met Johnson in her freshman year when Kuranz was the dean of students.
"Precious is just a kind, outstanding overall student and person," Kuranz said. "She always looked to help people and always puts others first."
In addition to inspiration from school staff, Johnson said her parents were also an important source of encouraged.
"They just motivated me to keep going and never give up," Johnson said.
Real-life experience
In the summer before her senior year, she took part in CNA training through Case and Gateway, and in March she started an apprenticeship at Oak Ridge Care Center in Union Grove, where she still works as a CNA.
Her job includes responsibilities like transferring the residents, doing daily activities with them, helping them get dressed and preparing food.
"It's not just about taking care of them, they just want that love," Johnson said. "Especially with the coronavirus going around, they really did need someone there to talk to."
Although Johnson is upset with how the school year ended, without the traditional fanfare for prom and graduation due to the coronavirus cancellation and restrictions, she's looking ahead to the future.
She plans to obtain her associate degree from Gateway and to move on to obtain her bachelor's degree to become a registered nurse. She hopes to become a traveling nurse so she can see the world.
Racine Boy Scout turns newspaper dispensers into Little Free Libraries
RACINE — A Case High School senior is giving new life to old Journal Times newspaper dispensers while also providing a way for students and veterans to get their hands on new reading material.
Reese Rognsvoog, 17, repurposed four of the metal boxes that previously contained newspapers for sale, transforming them into Little Free Libraries.
The completion of the project will essentially make Rognsvoog an Eagle Scout, the highest rank possible in the Boy Scouts of America. He's a member of Racine's Troop 222.
Rognsvoog wanted to use his Eagle Scout project as a way to promote literacy, as he enjoys reading himself and knows that Racine Unified has literacy-related goals.
"I decided I could either build something or repurpose something," Rognsvoog said. "So I decided to reach out to The Journal Times and they were very willing to donate the four dispensers that I used for my project."
Rognsvoog began planning for the project in September, and started the physical work on the dispensers in January.
He delivered his first libraries on Tuesday afternoon to Knapp Elementary School, 2701 17th St., and Veterans Outreach of Wisconsin, 1624 Yout St. He planned to deliver the additional libraries to the REAL School, 10116 Stellar Ave., and Julian Thomas Elementary School, 930 Dr. Martin Luther King Jr. Drive.
As soon as the Little Free Library was in place in the main office at Knapp just after the end of classes on Tuesday, students wanted to know what it was, how it worked and if they could take a book.
Little Free Libraries are containers where people can take a book or leave a book, giving neighborhoods access to free reading material and a place to exchange books.
"I was a little astonished," Rognsvoog said of the immediate enthusiasm from Knapp students. "I had thought that maybe over time kids would start using it and maybe it would grow, but to see that the kids were so interested in something new that came to their school was really astounding. I think that's awesome."
To make the dispensers into Little Free Libraries, Rognsvoog sanded off some rust, put on two coats of paint and enlisted some artist friends for help creating stencils and painting on each school's logo.
He also removed one spring from each of the boxes to reduce the force with which the doors snap closed and installed a shelf for the books.
The goal of the Eagle Scout project is for the Boy Scout to take initiative for leading and organizing it.
Rognsvoog said during the process he learned about the importance of clear communication and time management.
Rognsvoog stocked the Little Free Library at Knapp with books donated by his troop, and planned to do the same with the other school libraries. He added that the box at Veterans Outreach would need donations of adult books.
Jamie Racine, Racine Unified's community schools manager, described the Little Free Library as a "huge asset" to Knapp and Julian Thomas elementary schools, the district's two community schools.
"Having Reese do this work, he's not only serving as a role model for our younger students and the positive impact that you can have in middle school, high school, after you leave Knapp or Julian Thomas but also allows for another avenue for our community to be a part in giving back to our students in providing books and advocating the use of that little free library," Racine said.
Rognsvoog received help from Racine Unified in picking which schools would get the libraries. The REAL School was chosen because it doesn't have a library of its own, while Knapp and Julian Thomas are both community schools. It was Rognsvoog's idea to add in Veterans Outreach.
Knapp's directing Principal Rich Wytonick said that Rognsvoog's contribution to the school speaks to the kinds of students who are coming out of Racine Unified schools and its Academies of Racine career pathway program.
"He seemed extremely excited to donate it, it seems like he's found his niche and I think that's fantastic," Wytonick said. "And wanting to give back is obviously what we preach to kids from when they start school."
Contributing to Rognsvoog's project were The Journal Times, the Racine Public Library and Racine Unified School District.