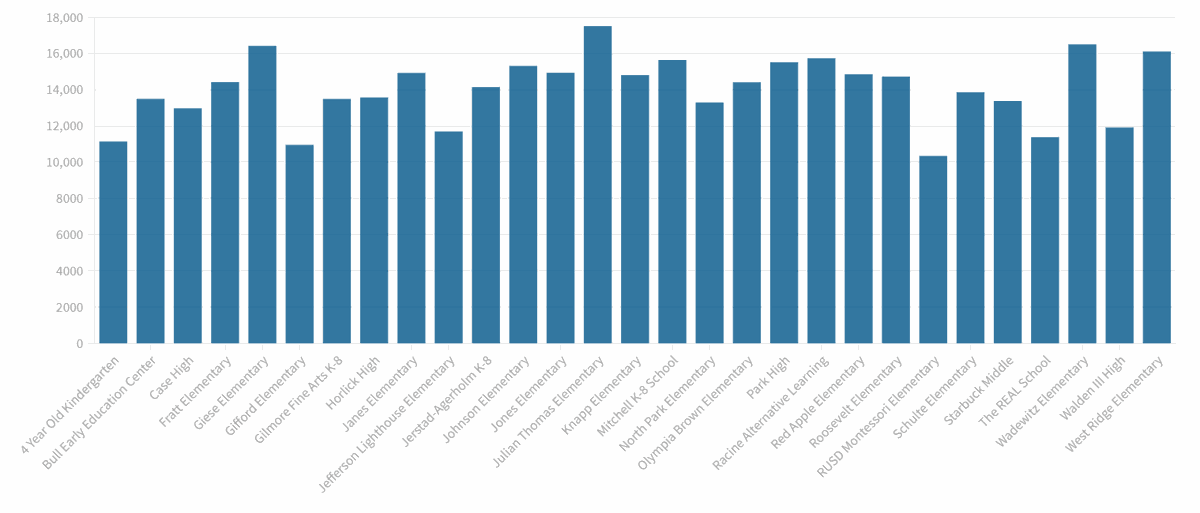 RACINE — Racine Unified spent $6,553 more per student at the school with the highest poverty rate, Julian Thomas Elementary, last school year than it did at the school with the lowest poverty rate, Gifford K-8.
This difference aligns with a refrain from some of the district's School Board members and administrators, as well as others across the country, that it costs more to educate poor students due to needs for additional academic, behavioral and social supports.
In 2019-20 Racine Unified spent $17,511 per student at Julian Thomas, its most costly school on a per-pupil spending basis, and $10,958 per student at Gifford, its least costly school by the same measure, according to information on the Wisconsin Department of Public Instruction's online database.
At Julian Thomas last year, 93.7% of students were considered economically disadvantaged. At Gifford, only 32.4% of students were considered economically disadvantaged, even though there were more total poor students at Gifford than at Julian Thomas.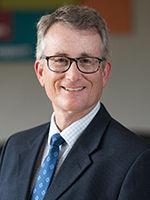 Marc Duff, Unified's chief financial officer, argues that impoverished students deserve even more aid.
"Studies have shown that we're not spending enough for our students based on our level of poverty," said Duff. "They come from behind and they're not at grade level. We have to get them caught up."
Duff explained that one of the contributors to Julian Thomas's high per-pupil spending were three specialized programs that don't exist all together at any other district school.
Julian Thomas has a large bilingual program, specialized special education programs and it receives money from the state to reduce kindergarten through third grade class sizes through the Achievement Gap Reduction Program.
"We're required to provide education to students, some who don't know English at all," Duff said.
The district provides bilingual and English as a Second Language programs to its students who need it.
"It would be naïve to think that every student costs the same," Duff said.
In discussions regarding the district's Facilities Master Plan, Chief Operations Officer Shannon Gordon has pointed out that larger schools are more economically efficient than smaller ones. Gifford had a student population in 2019-20 of about 1,600 students compared to 411 at Julian Thomas. This means that there are actually more poor students in total attending Gifford than Julian Thomas.
Racine Unified, along with other K-12 schools across the country, just began reporting per-pupil spending at the school level in the 2018-19 school year as part of a requirement of the federal Every Student Succeeds Act.
Many variables
When it comes to achievement, higher per-pupil expenditures did not necessarily lead to better outcomes for students. In 2018-19, the last year that the state issued school report cards, Racine Unified spent $15,685 per student at Wadewitz and that school received a score of 81.5 out of 100. In the same year, the district spent slightly more at $16,005 per student at Giese Elementary, which received a score of 46.1 out of 100.
The two schools with the second-highest and third-highest per-pupil spending in 2019-20 were Wadewitz Elementary at $16,504 per student and Giese Elementary at $16,420.
Wadewitz is high poverty with 87% of its students considered economically disadvantaged and has a large population of special education students, 26%. Giese has a high rate of poverty at 86%.
Comparatively, 11.7% of Gifford students have disabilities. At the REAL School, which has the second-lowest per-pupil spending in the district, 13% of students have disabilities and 48% of students are considered economically disadvantaged.
Also in 2018-19, the district spent $13,820 per student at Jerstad-Agerholm K-8, which is near the middle ground for students spending, but the school had the worst grade in the district at 43.8 out of 100.
Most of the schools that fell in the middle ground for per-pupil spending also scored around the middle of the pack on the state report cards.
Outliers on the low side of per-pupil spending include Jefferson Lighthouse at $11,088 per student and a score of 82.1, The REAL School at $11,466 and a score of 67.8 and Walden III at $12,478 per student and a score of 76.9. All of those schools have an economically disadvantaged student population below 40%.
Outliers on the high side of per-pupil spending besides Wadewitz, Giese and Julian Thomas include West Ridge Elementary at $16,272 per student and a score of 59.3, and Janes Elementary at $14,994 per student and a score of 76.1.