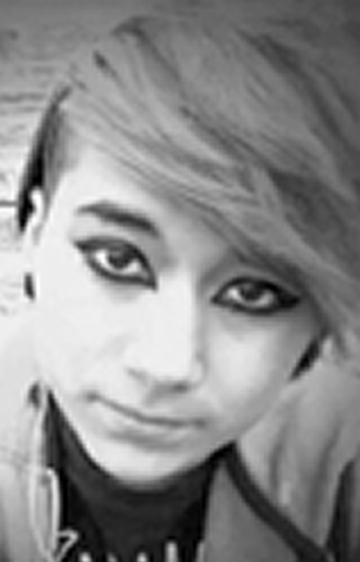 RACINE — The suicide of a transgender Horlick High School student has drawn attention to bullying the freshman endured, but the late teen's family says severe depression likely played a major role in her death as well.
Alexis "Lexi" Lopez-Brandies took her life early Sunday morning. She was 14.
During a vigil at her home Monday night numerous students who gathered to remember the teen who had recently asked to be called "Landon," said she was the victim of bullying.
Her father Rudy Brandies and her stepmother, Kelly Hetchler, confirmed that she had been bullied as did her grandfather, Wallace Brandies, but they also said other factors probably contributed to the girl's tragic decision, including mental illness.
What's really troubling the family now, Hetchler said Thursday, are reports that some of Lexi's alleged bulliers have been targeted and even beaten.
Calling the news "scary," Hetchler urged anyone else who might be planning on committing similar acts of revenge to please not.
"Lexi would not have wanted that," she said, "It's not good."
Hetchler admits that she and her husband weren't aware of the extent of Lexi's bullying, saying it was likely more intense than they realized even with their efforts to monitor her social interactions, in real life, online and on the phone.
"Lexi didn't want to talk about it. She'd come home and say, 'kids are picking on me, but I don't care, they are just stupid,' and she'd just shrug it off, but you knew it was bothering her," she said.
But Hetchler added that the bullying or the bulliers alone cannot be blamed for Lexi's death.
"It is like her grandfather said, if Lexi was just bullied or if she just had the mental illness, maybe she would still be here today, but because she had both, maybe it was enough to push her over the edge," she said.
Lexi had been "struggling with a lot of inner issues" Hetchler said.
Despite her desire to raise awareness about "LGBT" (Lesbian, gay, bisexual and transgender) issues, she also suffered from a very dark depression, her step-mother said.
The teen was on medication, had been seeing a therapist and had spent time in in-treatment care. There was also family strife that compounded that depression, Hetchler said.
"She would cut her arms, that is how she dealt with a lot of her pain," she said. "Kids would come up to her and say, you are just doing that for attention, because if you really meant it you would go down to the bone."
Despite the bullying Lexi suffered, Hetchler said she and her husband have no hard feelings against Horlick High School staff. Hetchler spoke with teachers and staff there frequently, she said.
Attempts to reach adult representatives of the school's Gay Straight Alliance club proved unsuccessful. Director of the LGBT Center of SE Wisconsin Jolie McKenna confirmed that she was set to meet with school officials on Thursday to help them with any student or teacher outreach efforts they may do as result Lexi's death.
Asked if she had any advice for other parents of bullied teens, or those with mental illness, Hetchler said to just try and be as involved as possible with your kid's life - especially their social media life and school life. If there is a problem, talk to the school counselor or social worker, she said, noting that kids often act different online and at school than they do at home.
Also just tell them you care.
"Let him them know you love them, let them know you are there to support them," she said. "Just telling them will lift them up."
---
- Racine County Crisis Services 24-hour help line: (262) 638-6741
- Trevor Project 24-hour national hotline for suicidal LGBT teens: 1 (866) 488-7386
- LGBT Center of SE Wisconsin: (262) 664-4100
- National Alliance on Mental Illness-Racine: (262) 637-0582
- Focus on Community's Teen Peer Educators program, in part for connecting troubled teens with peer mentors: (262) 632-6200. Ask for Jason Meekma or Alicia Barreto.
- Kenosha Human Development Services 24-hour crisis line, serving Kenosha and Racine counties: (262) 657-7188