RACINE COUNTY — The investigation into Chad Schulman — the ex-Racine County Sheriff's Office lieutenant accused of stealing money from the scene of a death investigation — has been resolved with an unrelated citation.
"I am writing this letter to advise you that the investigation into Chad Schulman has been completed, and the matter was resolved with his resignation and an ordinance citation for providing a pharmacy service without a pharmacist," a letter from Walworth County District Attorney Zeke Wiedenfeld sent earlier this year to the Racine County Sheriff's Department stated.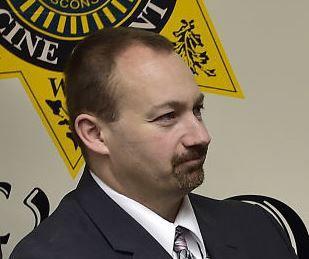 The citation was issued against Schulman, 43, as a result of information not related to the theft that was discovered during the Walworth County Sheriff's Office investigation. The Waukesha County Sheriff's Office, as well as Walworth DA Wiedenfeld, were tapped to head the investigation and possible charging of the case to avoid a potential conflict of interest.
"It is important to me that the community has faith that these allegations were taken seriously and that two independent outside agencies conducted their investigations without influence from me or my staff," Racine County Sheriff Christopher Schmaling said.
On Aug. 27, The Journal Times obtained more than 90 pages of investigative reports on the case from the Waukesha County Sheriff's Office through an open records' request.
Schulman also spoke with The Journal Times, and says that he was falsely accused by a disgruntled former co-worker whom he supervised and disciplined.
"Despite how I was treated, I still believe and support my law enforcement family and pray for them to always return safely to their families every day," Schulman said. "I have moved on and despite the great efforts some have gone through to discredit me, I refused to be defined by this personal attack."
At the conclusion of the investigation, the Waukesha County Sheriff's Office recommended two charges, including theft, against Schulman. Wiedenfeld did not issue theft charges against Schulman.
Wiedenfeld said he does not typically provide comments on individual cases due to possible future civil or criminal litigation, but he said this to The Journal Times:
"I can advise you that this case was investigated by an outside law enforcement agency, and I was assigned to this case as a special prosecutor so that the case could be reviewed by an independent prosecutor who does not normally work with the Racine County Sheriff's Office or Mr. Schulman.
"I can tell you that generally, when I review a case for charges, I consider things such as whether I can prove the charge to a jury beyond a reasonable doubt, the victim (or victim's family's) wishes, and whether a charge is fair and appropriate under the circumstances," Weidenfeld said.
The investigation began in October 2017, after a Racine County Sheriff's Office investigator expressed concerns regarding an Oct. 1, 2017, death investigation. A man's body was discovered on the hunting grounds located off Oak Knoll Road in the Village of Rochester. His death was later determined to be a suicide.
When the man's body was searched, a large amount of cash was found in his pockets, as well as a bank withdrawal receipt for $5,000 from two days prior to the man's death.
An investigator on scene claimed that while taking photos of the cash found, Schulman grabbed the money from him and made it difficult to obtain a clear photo of the money, investigative reports state.
Schulman says that he took the money from the investigator because the investigator was handling the money without gloves, adding that he grabbed the money to prevent any further contamination.
The investigator also claims that Schulman immediately left the scene with the money, something Schulman disputes.
Weeks later, the investigator said he was completing a report on the case when he looked at the amount of money reported in evidence — $2,100.67 — and believed that some of the money was missing.
Schulman said that he helped another Sheriff's Office investigator bring the evidence to the evidence vehicle, including the money.
You have free articles remaining.
"Other than the appearance in the photo, there was no other way to definitively determine how much money was actually collected from the scene and whether it was different than what was inventoried hours later," Schulman said.
'A deliberate attack'
Schulman says that the theft allegations were brought against him as an act of retaliation by the Racine County Sheriff's Office investigator. Schulman said that while acting as a supervisor to the investigator, Schulman had raised concerns about the investigator's conduct, including with regard to time-keeping.
Schulman claims that the investigator only brought his concerns to a superior toward the end of October after Schulman had chastised him for working a different shift without authorization to maximize the amount of overtime he would receive.
"The allegation was a deliberate attack on me, my family, my name and my legacy," Schulman said. "There was no due process and absolutely no opportunity to clear my name or defend myself. It took 20 years of hard work and sacrifice to build my career and reputation, but it took only one false allegation to destroy it."
While the investigation was ongoing, Schulman was placed on administrative leave, pending the outcome of the investigation. He resigned on Oct. 19, 2018, which Schulman said was of his own choice.
Cell phone records
During the investigation, which lasted more than a year, the Waukesha Sheriff's Office interviewed those who were on scene, including a medical examiner, State Patrol members and Racine County Sheriff's Office employees, including Schulman.
Schulman's cellphone records were heavily scrutinized in the investigation. In the investigation reports, the Waukesha County detective assigned to the case said that cellphone records indicate that Schulman spoke with another Sheriff's Office employee on the phone immediately after the photo of Schulman with the money was taken.
Four minutes later, Schulman called the investigator he took the cash from, something the Waukesha detective says proves he was no longer on the scene.
The detective also pointed to a statement made by Schulman that he had called the medical examiner before arriving on scene. The Waukesha detective said cellphone logs disproved that phone call was made and the medical examiner disputed that fact.
The discrepancies were communicated to Wiedenfeld, who then sent a letter to Racine District Attorney Patricia Hanson and Schmaling in June 2018, claiming that Schulman lied to investigators during Waukesha County's investigation.
"The circumstances surrounding Lt. Schulman's untruthful statements involve a significant amount of money that went missing after it was collected as evidence from the body of a deceased male," Wiedenfeld's letter reads. "Lt. Schulman handled the money at the crime scene prior to the money being placed into an evidence bag and logged into evidence at the Racine County Sheriff's Office."
Drug citation issued
During the course of the investigation, while looking at Schulman's cellphone records, including text communications, the Waukesha County detective discovered texts between Schulman and another Sheriff's Office employee, who is reportedly close friends with Schulman.
In those text messages, Schulman says he left his prescription for Ambien with the coworker. Schulman admits past abuse issues with the drug, and did not want to have it in his home. He said he left the prescription with this coworker as a precaution, as he sometimes needed the drug to get a full night's sleep.
Schulman said that his superiors at the Sheriff's Office were aware and "supportive" of the arrangement he had keeping the Ambien at his co-worker's house.
The Waukesha County Sheriff's Office investigation recommended a charge of theft and distributing a schedule IV drug charge, both felonies, for Schulman.
The detective "tried to pursue felony charges against both of us for delivery of a controlled substance and possession of a controlled substance. I agreed to take sole responsibility for this and a deal was worked out in place of a felony charge, for a citation to be issued for a state ordinance of: provide pharmacy service without a pharmacist," Schulman said.
Schulman said that forfeiture amount was for $50, but the fine was a total of $200.50. The other Sheriff's Office employee who held the Ambien for Schulman also was cited.