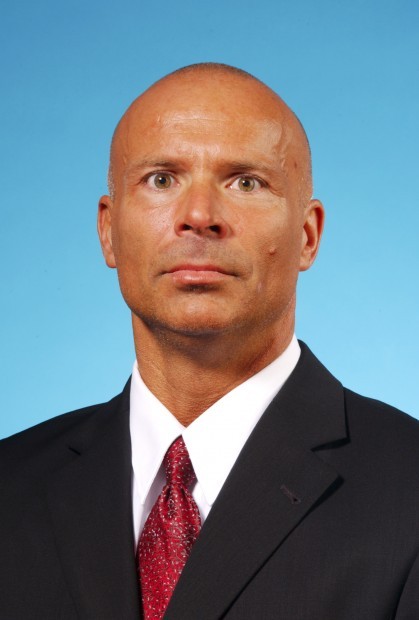 RACINE — Racine County District Attorney Rich Chiapete, who was involved in a drunken driving crash on April 4, pleaded guilty Thursday to three municipal citations — including a new citation for obstructing an officer.
As part of a settlement with the city, Chiapete pleaded guilty to obstructing as well as first-offense operating a vehicle while under the influence and "duty upon striking property on or adjacent to a highway," also known as hit and run.
None of the offenses rises to the level of a criminal violation, Deputy City Attorney Scott Letteney said.
Attorney Philip Marry, who is representing Chiapete in this case, said, "Mr. Chiapete accepted full responsibility to all the charges … He wanted to accept responsibility."
As part of the agreement, Chiapete agreed to pay a total of $1,205 in forfeitures by June 16 and have his driver's license revoked for one year. He will also be required to install an ignition interlock device on his vehicles and will be permitted to drive only a vehicle with an ignition interlock device installed for one year, according to the agreement. He also must undergo a drug and alcohol assessment as ordered by the court and comply with recommendations resulting from such an assessment.
Both the city and Chiapete agreed to the terms and it was filed Thursday with Racine Municipal Court; however, Kenosha Municipal Judge Michael Easton, who was appointed to hear the case, has the discretion to accept or reject the agreement, Letteney said. That could happen as soon as today, he said.
The settlement agreement comes on the same day video of Chiapete taking a sobriety test was released to the media.
You have free articles remaining.
Chiapete was previously cited for a first-offense operating while intoxicated and hit and run, but on Thursday police issued a third citation for obstructing an officer.
Racine's obstructing a police officer ordinance states: "No person shall knowingly … obstruct a law enforcement officer while such officer is doing any act in his official capacity and with lawful authority. 'Obstruct' includes, without limitation, knowingly giving false information to the officer with intent to mislead him in the performance of his duty, including the service of any summons or civil process."
Chiapete was issued the new citation because "Mr. Chiapete lied to the police," Letteney said, such as saying he was sleeping when he hadn't been.
According to police reports issued Wednesday, when officers first responded to Chiapete's house after he was reportedly involved in the crash on Friday, he told police he had been sleeping for the past two hours.
"I reminded him that I just watched him walk in the front door about 10 minutes ago," the officer who responded said in the reports, which totaled 25 pages.
Chiapete then said his wife woke him up so they could go to a neighbor's house, according to the reports, and after the officer again asked him what happened he "then admitted that he was driving and that he was out earlier in the night and had a few drinks."
Earlier this week, after the Wisconsin State Patrol reviewed the police reports on Chiapete's arrest, the Racine Police Department asked the city attorney's office to review the reports to determine if additional citations should be issued, Letteney said. After reviewing the documents, Letteney recommended the third citation of obstructing an officer and Chiapete was cited Thursday.
As for the fate of Chiapete's law license, Keith Sellen, the director of the state's Office of Lawyer Regulation, an agency of the Wisconsin Supreme Court which investigates allegations of attorney misconduct, said Thursday afternoon he could not confirm or deny if his office was reviewing the incident involving Chiapete.
If a review did occur, Sellen said the only way the results would become public are if a public reprimand was issued or if the office filed a public complaint with the State Supreme court.
As of Thursday afternoon, the state listed Chiapte's attorney status as in "good standing" and said "there is currently no public disciplinary history for this attorney."