RACINE COUNTY — There are 285.8 miles of bike trails in southeastern Wisconsin. Advocates and city planners think there need to be more. A lot more.
Right now, there's very little continuity where cyclists are able to ride in the greater Racine area. For example, riding along the east-west County Bike Trail between Ohio Street and West Boulevard, there's a quick decline and then incline when you reach the intersection of Lathrop Avenue and 19th Street, a busy corner with barely a crosswalk or a signal to motorists that a bicycle is coming along.
And then there's the Lake Michigan Pathway. It was an attempt to connect Milwaukee's trails to Kenosha through Racine, but runs into a flurry of gaps and unsafe on-road connections in the City of Racine.
"They (bike lanes and bike trails) get kind of chunky," said Dottie-Kay Bowersox, Racine's public health administrator and an avid cyclist. "With the bike trails, especially within the city, you're on the trail, then you're off the trail, then you've got a stop sign, then you've got a drive way, then you've got another stop sign."
Without continuity, it's really difficult for newbies to get comfortable on a bike.
"By providing safe access to trails, you're providing more opportunity to have people get out on the trails," said Willie Karidis, Route of the Badger's project manager.
Karidis is working with state and local leaders in southeast Wisconsin's seven counties to establish continuity. The project, known as the Route of the Badger, encompasses the 285.8 miles of existing trails, plus 48.8 miles of on-street bike lanes and 365.7 miles of planned new connections.
Who will reap the biking benefits?
The Route of the Badger isn't really intended to benefit people who already use bikes recreationally on a daily basis. It's geared for people who use bikes as their primary mode of transportation, and also for people who don't bike at all, but could be interested in starting if they felt it would be safe.
"If you have the gaps, oftentimes your casual rider is going to not necessarily take a bike trip if they're pushed to taking a street," according to Joe Delmagori, the senior transportation manager with SEWRPC (Southeast Wisconsin Regional Planning Commission) who helped develop Racine's Bicycle and Pedestrian Master Plan alongside Bowersox and more than a dozen other community members and local officials.
Few people are as confident as Bowersox and her fellow "roadies" — those ride alongside motorists year-round, weather be damned.
"If you don't have continuity," added Mark Hertzberg, another roadie who is a member of the KR Bike Club and is a former Journal Times photographer, "motorists don't have it in their mind about bicyclists being part of the transportation infrastructure ... That's bad both for the cyclist and the motorist. And if cyclists are afraid of the motorists, then they're afraid to ride. It limits their ability to do daily tasks."
And when few (if any) of Racine's bike trails are plowed during the winter — unlike cities like Madison and Minneapolis, which plow for bikes before even some roads are cleared — bikes become pretty much useless unless you're willing to ride on roads, which may not be entirely cleared of snow either.
For young people
A lot of young people are choosing to ride to work rather than drive, Karidis said, and so some employers are using close proximity to Hank Aaron Trail or Oak Leaf Trail as a draw to cycling job-seekers. Karidis added that he met a woman in Glendale recently who is looking to open up a coffee shop on the 120-mile Oak Leaf Trail specifically to cater to the cyclist crowd.
"There's economic opportunity with this," he said.
Another big portion of this effort is establishing long-range connections, allowing people to ride to work or brunch or what-have-you in another municipality without having to spend any gas money.
Creating cycling options will create more bikers, Delmagori predicts.
"You can create more opportunities for people to use them. You're connecting neighborhoods," Delmagori said.
One of the most effective methods is reclaiming vacated railroads and converting them into bike paths. But even though the land is pretty open for the taking — there are few other uses for ex-railroads — it isn't particularly cheap.
Pedaling on new paths
Karidis, who lives in the Milwaukee area, is one of about 50 employees nationwide of the Rails-to-Trails Conservancy, which advocates for turning unused railroads into bike paths. One of its ongoing goals is to take 13 miles of abandoned Canadian Pacific Railway between Dover and Sturtevant and connect the east and west ends of the county's biking options, which would be a big win for the Route of the Badger.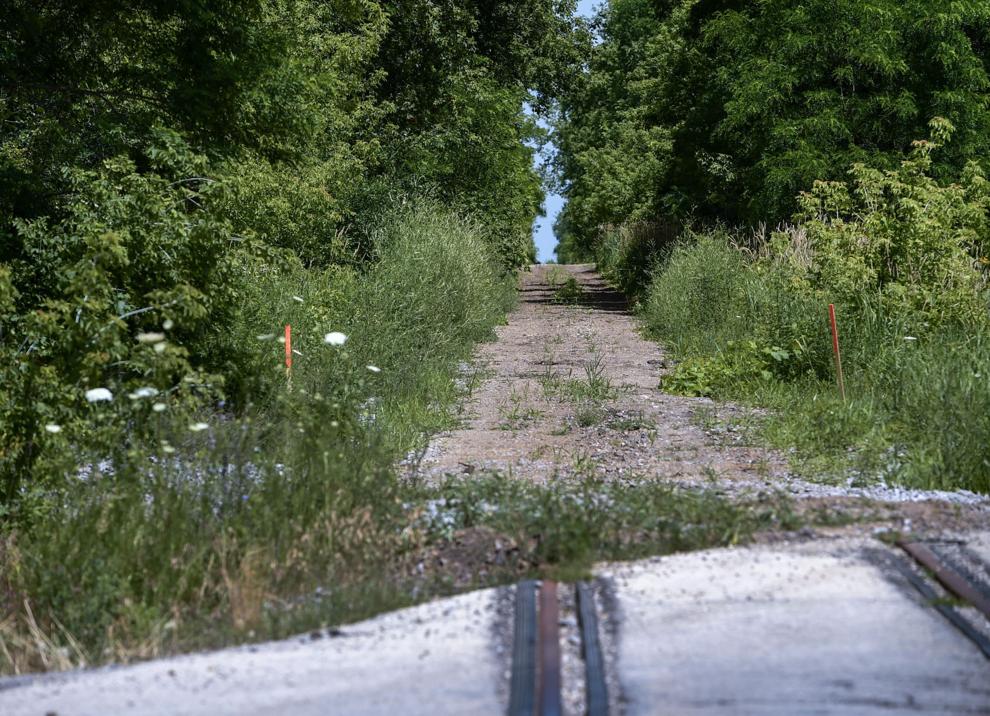 RACINE COUNTY — A recreational trail project known as Rails to Trails has received a big endorsement from the Legislature's Joint Committee on…
Assembly Speaker Robin Vos, R-Rochester, has "championed" state funding for this, Karidis said. In summer 2017, the Wisconsin Legislature's Joint Committee on Finance approved $1 million in bonding to help cover the costs. But that's still approximately $500,000 short of what is needed to finish the job, so no work has been done yet.
Even if the Route of the Badger's planners can fundraise the $500,000 — through grants, donations, etc. — railroads can't fill in all of the literal gaps, especially in more urban areas.
"Finding easement through utility corridors (from WE Energies) or river and waterway corridors (from the Wisconsin Department of Natural Resources) … ends up becoming an important step in the process," Delmagori said.