RACINE — A Racine woman allegedly threw multiple items at a man and threatened him with a knife after he bumped into her.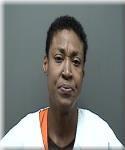 Shskellie R. Reaves, 46, of the 1400 block of 11th Street, was charged with misdemeanor counts of battery and disorderly conduct with use of a dangerous weapon and four misdemeanor counts of bail jumping.
According to a criminal complaint:
On Wednesday, an officer was sent to the 1400 block of 11th St. for a report of an unwanted party.
When the officer arrived, the victim said he accidentally bumped into Reaves and then she began to yell at him. The man said he was sorry, but Reaves threw an ashtray, a bowl of food and a box of french fries at him. As he was standing by the door, Reaves allegedly grabbed a knife and walked toward him, got up to his face, and said she was going to stab and kill him, according to the complaint, before she punched him in the face three times.
In Racine County Circuit court on Friday, Reaves was given a $250 cash bond.
Reaves already has multiple criminal charges outstanding against her, including misdemeanor retail theft filed in December 2019, and theft of movable property with four counts of fraudulent use of a credit card filed in August 2020.
Last year, Reaves pleaded guilty to three misdemeanors — criminal damage to property, disorderly conduct and criminal trespass to dwelling — in a case that started in October 2017.
A status conference is set for Nov. 17 at the Racine County Law Enforcement Center, 717 Wisconsin Ave., online court records show.
Today's mugshots: Oct. 23
These are images of people charged with a crime in Racine County. Booking photos are provided by Racine County law enforcement officials. A defendant is presumed innocent unless proven guilty and convicted.
Kenneth N McClain
Kenneth N McClain, 600 block of South Green Bay Road, Mount Pleasant, operating a motor vehicle while under the influence (3rd offense, general alcohol concentration enhancer), operate motor vehicle revoked. 
Shskellie R Reaves
Shskellie R Reaves, 1400 block of 11th Street, Racine, misdemeanor battery, disorderly conduct (use of a dangerous weapon), misdemeanor bail jumping.
Joshua A Silverman
Joshua (aka Baby Boy) A Silverman, 1400 block of Sunrise Trail, Burlington, misdemeanor theft.
Brandon T Bowers
Brandon T Bowers, 1900 block of Lawn Street, Racine, possession of THC, possession of drug paraphernalia, felony bail jumping.
Gary N Dam
Gary N Dam, South Milwaukee, Wisconsin, attempt burglary of a building or dwelling, possession of burglarious tools, criminal damage to property.
Kahlia T Hiler
Kahlia (aka Kaleel) T Hiler, 1600 block of Prospect Street, Racine, second degree recklessly endangering safety, attempting to flee or elude an officer, hit and run (attended vehicle), resist officer (failure to stop vehicle), obstructing an officer.
Jennifer L Poetker
Jennifer L Poetker, 500 block of Three Mile Road, Racine, forgery, uttering a forgery, fraud against financial institution (less than or equal to $500), unauthorized use of an entity's identifying information or documents, receiving stolen property (less than $2,500), felony personal ID theft (financial gain).
Sign up for our Crime & Courts newsletter
Get the latest in local public safety news with this weekly email.