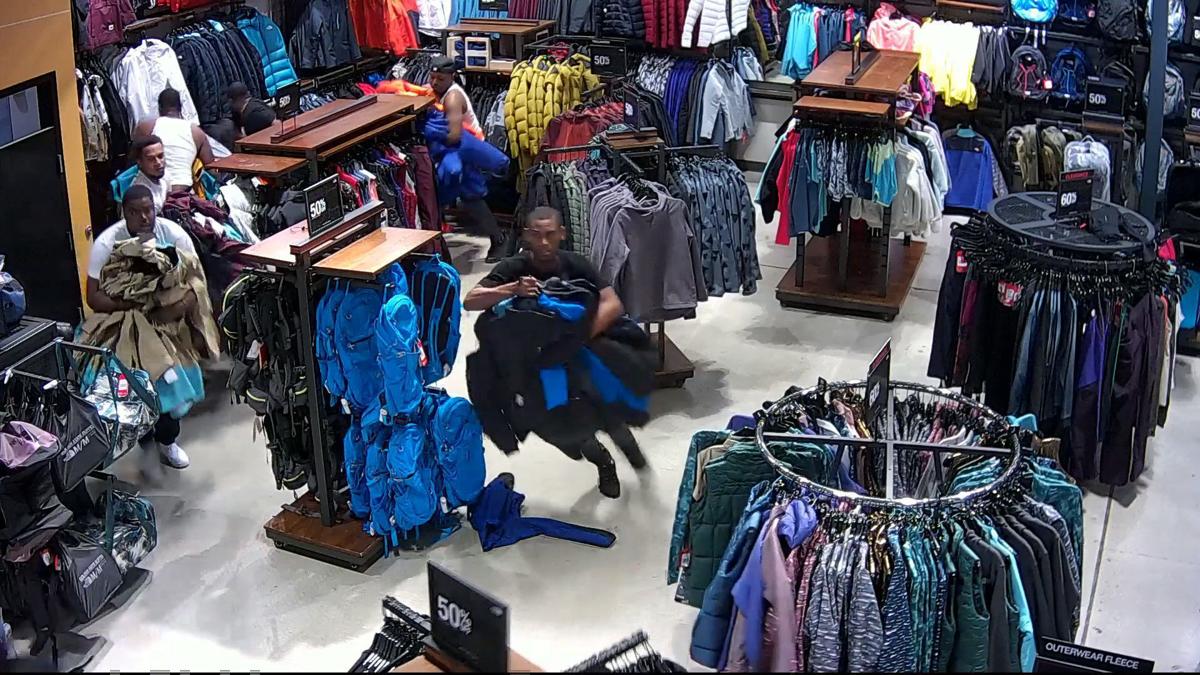 KENOSHA — The first of eight people to be sentenced for a "flash mob" retail theft in Pleasant Prairie will spend two years in prison.
Clifford Fields Jr., 28, of Indiana, was one of a group of men from the Chicago area charged in the July 1 retail theft at the North Face store at Pleasant Prairie Premium Outlets, located just off Interstate 94 at Highway 165.
The theft gained national attention after a video of the theft showing a group of 10 men walking into the store and then rushing out with armfuls of expensive coats went viral.
The men grabbed 89 coats valued at $27,000. The theft took only 31 seconds from the time the men entered the store until they fled. "It was national news that solved this for us," said Kenosha County Assistant District Attorney Jessica Krejcarek, saying someone who saw the video contacted Chicago Police to say they recognized some of the men.
She said eight of the men were ultimately identified through the video, with six of them in custody.
Some, like Fields, pleaded guilty and are now awaiting sentencing. Other co-defendants are still awaiting resolution of their cases.
Several of Fields' co-defendants have been charged in additional thefts at other retailers.
Organized effort
Krejcarek said the theft was part of an organized effort to steal high-end clothing and consumer products for resale.
She said police in Illinois identified a dealer in stolen goods with some of Fields' co-defendants.
"While this case was pending, a warrant was served on three storage units (associated with) the fence, and they found three-quarters of a million dollars in merchandise."
Some of that merchandise was traced back to the Pleasant Prairie mall.
Defense attorney David Celebre said Fields was working full time in a retail store before his arrest. He said Fields became involved in the theft to try to raise more money for his family.
"His intent was to be a provider. This was not the way to do that, and he knows that," Celebre said.
Celebre pointed out that there were "no weapons, no threat of force, no battery" in the theft.
'Violent behavior'
Although a presentence investigation by the Wisconsin Department of Corrections recommended Fields be sentenced to probation with some jail time, Kenosha County Circuit Court Judge Mary K. Wagner said she felt the theft was "planned criminal behavior" that required prison time.
She pointed out that the security video of theft showed the store employees hiding behind a wall "so none of them would get hurt" during the incident.
She said she was surprised Fields would take part when he himself worked in retail.
"It's violent (behavior), in my estimation. If I worked there I would consider it violent; I would consider it threatening," Wagner said.
"I consider this a 'Mad Max' action, that you just go in and take what you want and leave people shuddering behind you.'
She sentenced Fields to two years in prison followed by four years of extended supervision. The maximum prison sentence for felony retail theft is five years. Fields will get credit for 147 days spent in jail since his arrest.