RACINE — The Racine Police Department has two new furry friends. Karma and Ramone both joined the K-9 Unit in October and have already been successful in training and out in the field.
Karma, a Belgian Malinois, was born in Virginia in February 2018 and came to the Racine PD when she was just three months old, beginning training right away. She went through certification in 2019 and again this year.
Officer David Arvai was selected as her handler. Arvai has been with RPD for 20 years and this is his second K-9 dog, after his previous K-9, Titan, retired last July.
Karma is a dual-purpose K-9, which means she is trained in narcotics detection (meth, cocaine and heroin) and apprehension. She's also trained in article searching and tracking.
The RPD has five dual-purpose dogs, and only three are trained in marijuana. This is because if marijuana were to be legalized in the near future, it's difficult to un-train a dog to search for marijuana.
"It's easy to train a dog to recognize the odor of the drugs. It's harder to remove that odor from (their inner tracking system)," Arvai said. "We want them to find those hard, hard drugs."
Now almost 3 years old, Karma has been working with the RPD since October and will continue until retirement about seven or eight years from now, the same time Arvai plans to retire.
Ramone, the firearm finder
Ramone is the first and only dog in Racine County trained in explosives detection, certified in handguns and spent shell casings, meaning he locates guns and casings. He will soon be certified in explosives.
Training never stops and is done internally daily, which saves the department a lot of money, officers said.
Officer Dennis Cecchini was selected as Ramone's handler in October. Cecchini has been with RPD for 22 years but this is the first time he's had a K-9. It's something he's always wanted to do while on the force.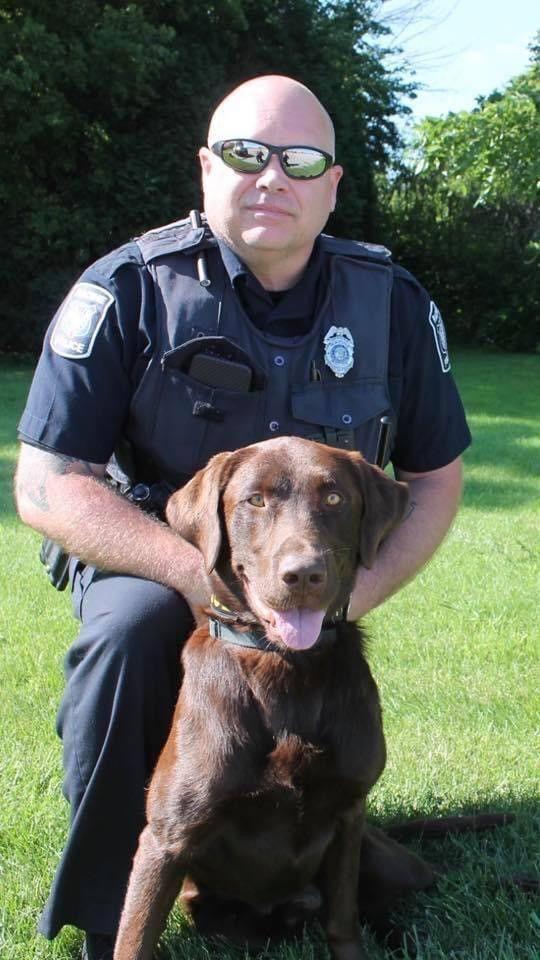 Ramone is a Chocolate Labrador Retriever who was born in Wisconsin and was certified with RPD in August. He is separate from the five dual-purpose dogs and doesn't do any narcotics searching or apprehension.
The K-9 dog and handler pairing has been very successful so far, Cecchini said.
During a recent attempted homicide response, the shooter hid the gun and ran to the back of a property. Detectives were searching the area for the gun but were having difficulty. Cecchini deployed Ramone and he found it stashed underneath a planter with leaves hiding it.
"If it wasn't for him, we wouldn't have found this gun, because it was concealed pretty well," Cecchini said. "He's right where we want him, with his confidence and finding these guns and things like that. He's doing well and his training does show."
Another highlight of Ramone's first month or so with the K-9 Unit was Wednesday when he found a gun inside a safe while assisting with search warrants in Racine. He found it by smelling the gun residue through the safe.
Ramone will also retire with Cecchini several years from now. Cecchini is looking forward to progressing on Ramone's training and having in general a good career.
"I want Ramone to succeed so that we do get another dog like him," he said. "He's already beginning to prove the fact that he's well worth the time and the training … It's just another tool in the toolbox. He's out there finding these things and just making it a little bit easier on these investigations. Instead of spending hours searching for something, I can bring Ramone in and he's going to find it fairly quickly."
'The little tornado'
Arvai is looking forward to continuing what he's been doing for eight years working on the K-9 unit, but he said he's going to have a little more fun with Karma than he did with Titan because he has the previous experience and knows what to do.
In addition, Karma has more energy because she's a lot younger than Titan was upon retirement, who was slowing down in his last years with RPD.
"I got the little tornado that's nonstop, 100 miles an hour, 100% of the time," Arvai said. "She keeps me young and it's fun. I enjoy it and I want to continue. It worked out perfectly."
Sign up for our Crime & Courts newsletter
Get the latest in local public safety news with this weekly email.