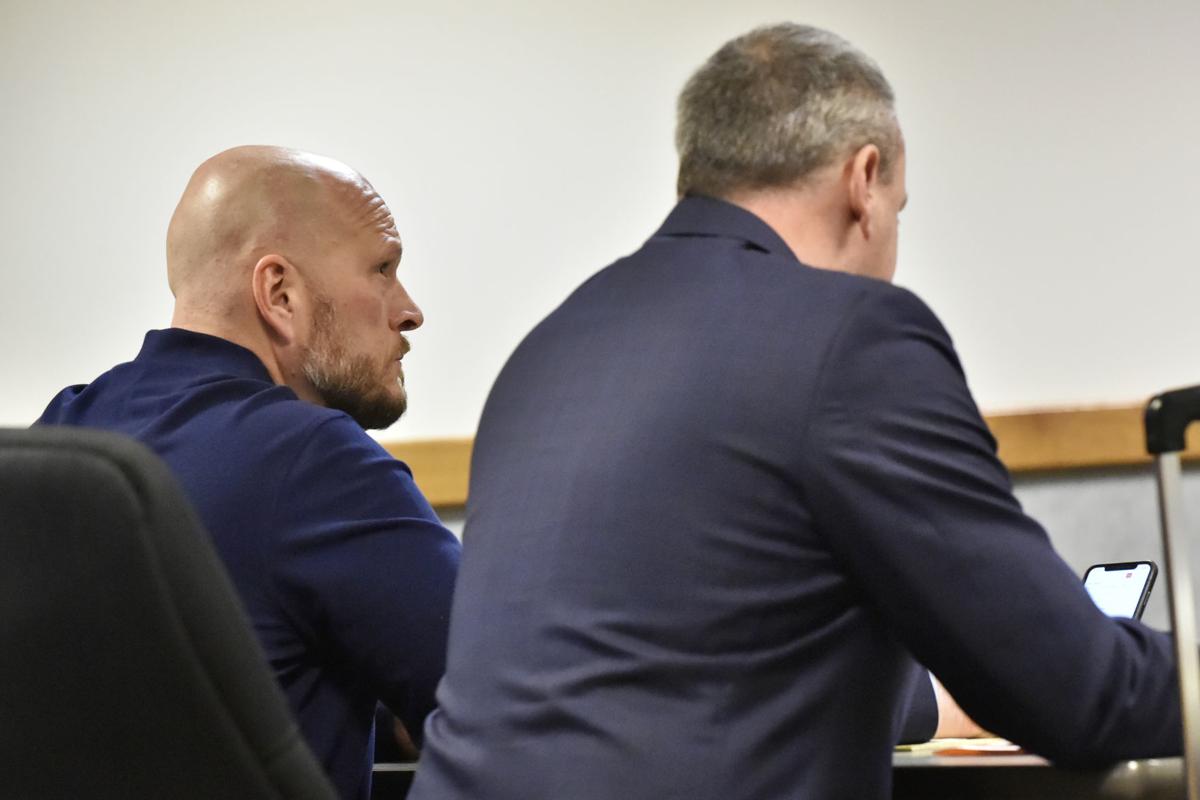 RACINE — Nearly six hours of body cam footage of the arrest of a Racine Police sergeant accused of OWI and hit-and-run causing injury was released last week, after The Journal Times made an open records request with the Racine County Sheriff's Office.
The footage shows Racine Police Sgt. Samuel Stulo speaking with a Racine County Sheriff's deputy after the crash, with a visibly swollen chin and raspy voice saying he got punched in the throat.
Stulo admits going to a local bar for "two or three beers," and said he wasn't sure if he hit a car because he was on his phone. "I don't know if I hit it (the car)," Stulo says. "I was on my phone, you know how we are, looking at our phones."
The video shows Stulo attempting various field sobriety tests. According to a Racine County Sheriff's Office incident report, Stulo failed the field sobriety test after he reportedly crashed his truck into a parked car on State Street, injuring a woman just before 8 p.m. on Dec. 17.
Footage shows Stulo explain to deputies that he has a bad hip and back, which is why he can't perform well on the tests. "You guys are setting me up to fail," Stulo says in the video.
"This is what we do for everybody," a deputy replies.
"I'm not everybody," Stulo responds.
When a deputy presents a portable Breathalyzer, Stulo says "I'm not doing that." He then asks for a lawyer and is arrested. "You guys could have took me home," Stulo said, as he is put into the back of a deputy squad car. "I would have took the accident and moved on."
On Friday, Stulo appeared in court for a status conference. Stulo's attorney Patrick Cafferty asked for another status hearing in a few weeks. Stulo will appear again on April 26 at the Law Enforcement Center. No trial date has been set in the case.
Squad car footage
Footage from the squad car shows Stulo repeatedly asking for a lawyer and stating that he failed his field sobriety testing due to medical issues.
"All you guys had to do was just let my wife take me home, man," Stulo said. "It's not going to stick with my back and my hip problems. It's not going to stick. I got so much medical documentation, it's not going to stick."
When the deputy asked if he could perform a blood draw, Stulo said he would not do anything without speaking with a lawyer first. "I'm not consenting to s**t," Stulo is heard saying. "I'm not consenting to nothing."
The deputy took this as a refusal and then obtained a search warrant to take Stulo's blood.
Nearly two hours after the crash, Stulo's blood-alcohol content was later found to be 0.182 percent, more than two times the legal limit, state records show.
The Journal Times received the results through an open records request filed with the Wisconsin State Laboratory of Hygiene, which conducts blood-alcohol tests for the state.
"I just lost everything ... I respect what you guys are doing, but I just lost it all," Stulo said.
At the hospital
The footage also shows deputies taking Stulo into the hospital. As he is being led in, Stulo continues to ask to walk on his own and for a lawyer. "You really want to do this, huh?" Stulo said.
At one point, Stulo appears to become agitated and ask deputies to get off of him. "I've done nothing wrong. I don't want to feel like a f***ing criminal, man," Stulo said.
Off camera, a Racine County Sheriff's Office deputy is heard saying: "You know what it's like when we are in this position. You understand where we are coming from. We don't want to make this difficult for you. Chill out."
As Stulo sits waiting for his blood to be drawn, he says "All I know is my wife was there and I could have went home."
"But you caused injury," a deputy replies.