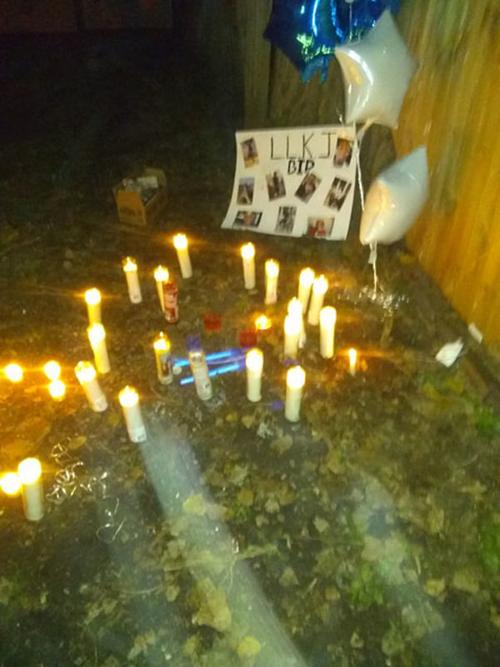 KENOSHA — Hundreds of people gathered for a vigil Monday night near where 23-year-old Keshawn Jenkins was shot to death.
Jenkins was killed just before 9 p.m. Sunday in the 5900 block of 19th Avenue in Kenosha.
Neighbors said Jenkins had been near his car outside a home when he was shot.
The person who shot him fled on foot between houses. Jenkins collapsed in a driveway and died.
A crowd of 200 to 300 people gathered Monday night at the shooting scene. They lit candles and released blue and silver balloons, and made a small memorial of photographs surrounded by candles.
According to Kenosha Police, the crowd was largely peaceful but a few became unruly, throwing bottles at police and attempting to flip a parked car.
Police are continuing to investigate the shooting, Lt. James Beller said.
On Tuesday, a 20-year-old Kenosha man was charged with fleeing and eluding police for a chase that began during the investigation of the homicide.
According to the criminal complaint, an officer in the area after the shooting saw a thin man in a hooded sweatshirt coming out of the garden area of Frank Elementary School and getting into the passenger side of sedan, which then sped north on 19th Avenue.
Believing the person who got into the passenger seat could be involved in the homicide investigation, the officer pursued.
The vehicle stopped on 17th Avenue near the intersection of 57th Street, but took off as an officer approached with a flashlight.
Police lost sight of the vehicle, then saw it again about 10 minutes later on 18th Avenue near 51st Place.
The vehicle stopped in the 5000 block of 17th Avenue. There was no passenger in the vehicle.
According to police, the driver said, "I only took off from you guys because I didn't want to get shot, being a black man," the complaint states.
Anyone with information about Jenkins' death is asked to call the Kenosha Police Department Detective Bureau at 262-605-5203.
Those who wish to stay anonymous can contact the Kenosha Area Crime Stoppers at 262-656-7333.
Sign up for our Crime & Courts newsletter
Get the latest in local public safety news with this weekly email.