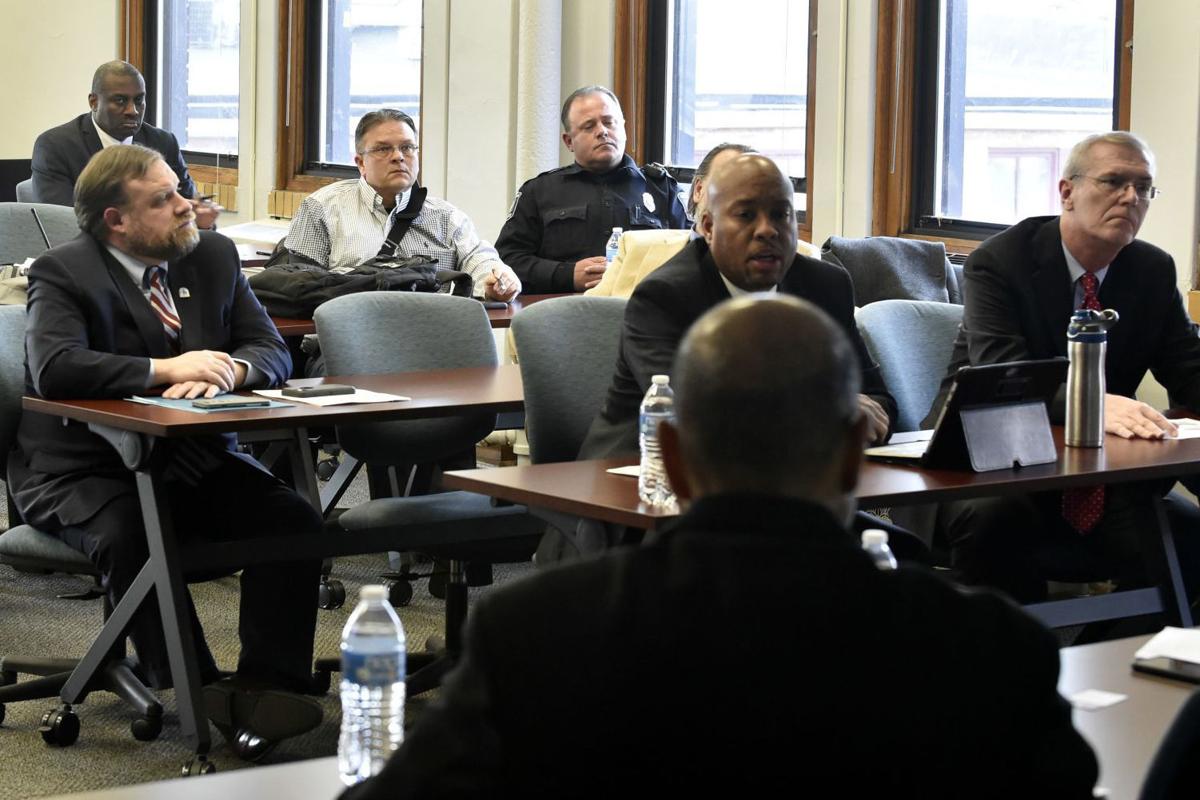 RACINE — A study of the Racine Police Department, which Mayor Cory Mason estimates will cost $150,000 and took nearly 11 months to be published after it was ordered by the city, has identified multiple incidences of officers displaying racial or gender bias toward their fellow officers.
Additionally, the study found Police Chief Art Howell did not give preferential treatment to minorities or women in his hiring or disciplinary decisions, as had been accused by some officers.
"We did not ... find evidence of systemic, institutionalized racial or gender bias at the Department," the study, conducted by Milwaukee-based MWH Law Group, stated.
The 24-page study was requested by the mayor after a March 2018 survey of Racine police officers included reports of "absolutely horrible" morale within the department and that some felt supervision was inconsistent from officer to officer.
MWH presented its findings publicly for the first time Monday at a meeting of the city's Police and Fire Commission.
"The good news is: We found no institutional issues of race or gender discrimination," said Warren E. Buliox, an attorney/partner with MWH. "Overall, we think the department is doing a great job … in its policing but also in building relationships within the community."
Impetus
Fifty-seven members of the Police Department were interviewed by MWH for the study, including deputy chiefs, lieutenants, sergeants, investigators, traffic investigators, patrol officers and Howell.
In addition to those interviews, MWH analyzed responses to last year's survey, which was partially published in April 2018. That survey included 562 individual comments made by 157 different officers.
Among those 562 comments were "40 to 45" that displayed "implicit bias issues," according to MWH, and that some officers may "harbor racially hostile and/or gender-biased views" — MWH defines implicit bias as "unconscious and relatively automatic features of prejudiced judgment and social behavior."
Because there were multiple opportunities for comment in the survey, it is unclear how many individuals made those comments.
Of the approximately 45 comments, 10 of them came from officers in leadership positions, such as lieutenants or sergeants.
"To say the least, some of those comments were distressing and certainly rose to the concern that there was some sort of bias going on in the department," Mason said Monday.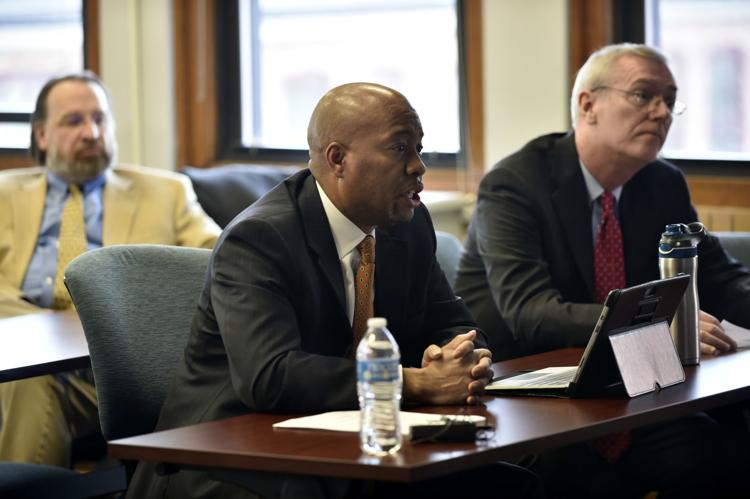 Comments and reactions
Multiple minority and female officers reported that they feel "as though they are held to a higher standard" than their white-male counterparts.
A letter co-signed by 10 officers, which was sent to Mason after the 2018 survey was completed, included this assessment: "As black officers in this city, we are not afforded the opportunity to handle this job in stereo contrast. Shades of gray fill our palette. A coworker's skepticism will cloud your decision to arrest or not arrest, cite or let walk."
This purported hardship has often been ignored and/or gone unnoticed by white-male officers in the department, MWH said. The study found that "some white male officers expressed a general lack of knowledge or appreciation for some of the issues minority and female officers may face."
White officers "generally stated" that they did not perceive racial tension within the department, according to MWH, and felt that all officers faced the same expectations, regardless of race. That sentiment was shared by most of the officers in leadership positions, the study said.
On Monday, Buliox described a conversation that MWH had with a veteran white officer. When asked, the officer said he couldn't identify any incidents in which a white male officer had committed misconduct or abused his office, but quickly identified several such incidences committed by minority and/or female officers.
And yet, in the past 11½ years, 34 white officers have been suspended or faced "loss of time" discipline, while only 11 non-white officers have been punished in those ways, the study pointed out. Female officers have only faced those punishments twice in the last 11½ years, and both preceded Howell becoming chief in spring 2012.
Money
The city has already spent more than $100,000 so far on the study, although the mayor expects that number to climb to $150,000 after the final bills are paid.
"Yes, it's a substantial amount of money, but it's also an indication of how seriously we took the concerns that were raised and wanted to give an independent entity the authority and ability to do a real review of the department and its practices," Mason said Monday.
The March 2018 survey of police officers was conducted by Chicago's Stanard & Associates and cost the police union about $6,000, according to a Wisconsin Professional Police Association spokesman.
After initially tasking City Attorney Scott Letteney to investigate the comments, Letteney suggested the use of an outside firm, Mason said, which led to the city working with MWH.
Before commissioning the study, Mason said he met separately with the police union, police chief and a group of officers.
Recommendations
MWH has provided a set of recommendations to the city.
The first item was to identify "those responsible for the more inflammatory comments contained in the Standard survey responses" and address any "racially charged or gender biased issues."
While preparing its report, MWH asked the Racine Police Association to provide the number of people who made the approximately 45 insensitive comments in the Stanard study.
However, the union did not provide the study's authors with the identities of who made which comments. Without that information, it was functionally impossible for MWH or the city to identify if only a few officers made all of the "inflammatory" comments, or if the issues was more widespread.
"I need to understand the depth and breadth of the problem," Mason wrote in a Feb. 22 email to the union. "I also want to avoid painting the reputation of the entire department with too broad a brush if comments were made by a few misinformed members."
A union official replied to Mason's email, saying, "At no time has anyone from either MWH or the city specifically requested that the (police unions) help quantify the number of officers that made particular comments. Moreover, (the police unions) maintain that they are unable at present to adequately consider the ambiguous request stated in (the city's) February 22 letter to provide more detailed information related to ... the comments identified by you (the city and MWH) as 'demonstrably biased.'"
If commenters are identified
MWH did not call for the officers who made the "inflammatory" comments to be fired or punished. Rather, it recommended confronting those officers personally in order to reverse potential biases.
The study also suggested cultural, work environment and basic human resource employment training for all employees on a regular basis. In addition, Buliox said that paid suspension guidelines should be put in place and include review by the City Attorney's office.
It was also recommended that the city consider "fully integrating its human resource function" with the Police Department. The integrated HR departments would then handle police complaints and utilize the city's affirmative action plan.
Next steps
Mason said that the city intends to implement all of the study's recommendations, though some will come to fruition sooner than others.
By coincidence, the city is currently in the process of revising its affirmative action plan. As such, the new plan can take into consideration MWH's recommendation and become more "robust."
MWH recommended Racine take direction from Madison's affirmative action plan, which already incorporates analysis on the city's diversity and the diversity of its workforce, and sets benchmarks for how to make city staff reflect the diversity of the community.
City spokesperson Shannon Powell said that Rashanda Cainion, the city's affirmative action/employee assistant officer, has already begun evaluating the city's current affirmative action plan, but does not have a timeline for the revision process.
Other recommendations would require additional staff, particularly in the city's Human Resources Department. Mason said such issues would require revision of the city budget, so it's likely they would be addressed during the 2020 budget discussion, which will take place this fall.
Sign up for our Crime & Courts newsletter
Get the latest in local public safety news with this weekly email.