BURLINGTON — A Town of Burlington man allegedly sexually assaulted multiple kids over multi-year span and possessed homemade explosives as well as marijuana.
Kyle Gustin, 37, of the 34900 block of West Chestnut Street, was charged with seven counts of second degree sexual assault of a child under 16; six counts of exposing genitals, intimate parts or pubic area; three counts of exposing intimate parts; two counts of possession of improvised explosives and child enticement; contributing to the delinquency of a child; possession of drug paraphernalia; causing a child under 13 to view or listen to sexual activity; disorderly conduct; possession of marijuana and felony intimidation of a victim.
According to a criminal complaint: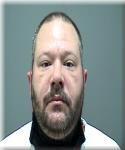 On June 14, the Sheriff's Department began an investigation of crimes committed against a child. They interviewed multiple victims and the suspect was identified as Gustin. They researched Gustin's criminal history and learned of other allegations of him sexually assaulting children in June of 2015. The investigation also found allegations of sexual misconduct happening to children between 2018 and 2019. Throughout all of these allegations, Gustin reportedly tried to have the kids strip for him, use sexual toys or perform sexual acts with him. 
On June 15, investigators performed a search warrant at Gustin's house. During the search, a glass pipe was located that had marijuana in it. A locked gun safe was located that contained a plastic ammo box as well as a 4 inches long, 2 inches diameter piece of PVC with a fuse attached. Realizing it was a pipe bomb, the house was evacuated and the Kenosha County Explosive Ordinance Team arrived and located another pipe bomb, approximately made with PVC containing what appeared to be gunpowder. 
While the search was being executed, an investigator contacted Gustin and asked what was in the safe. Gustin eventually said he "made a stupid mistake" and that the bombs were to blow up a tree stump. He said there was nothing but gunpowder inside and nothing was there to act as shrapnel. 
One of the victims was told by Gustin that he was in the "mafia" as a "seducer" and that her being forced to perform sexual acts for him was part of her "training." Gustin made threats to one of the other victims that he'd kill her for knowing about his mafia involvement. 
As of Friday morning, Gustin remained in custody at the Racine County Jail on a $100,000 cash bond, online court records show. A status conference is set for July 15 at the Racine County Law Enforcement Center, 717 Wisconsin Ave.