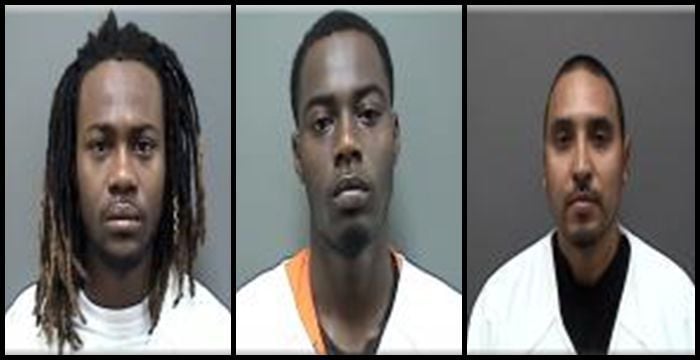 MOUNT PLEASANT — Police arrested three men after they were found wearing masks and brandishing a gun inside a vehicle in which drugs were allegedly found.
The suspects claimed to be recreating a 1998 crime film, Mount Pleasant police reported.
At about 4 p.m. Thursday, Mount Pleasant officers were dispatched to the 2200 block of Clark Street for reports of a man with a gun, according to a Police Department news release. Two men were reportedly wearing masks inside a Jeep, with one of the men reportedly holding a gun.
You have free articles remaining.
Officers found and stopped the Jeep and determined that the firearm was a replica-type BB gun. Police also found a mask, an unknown amount of money and marijuana. The Caledonia Police Department's K-9 Louie was called to assist with the investigation.
The involved individuals — Oriece Carothers, 21; Keleaf Carothers, 20; and Sanjuan Bustamente, 39, all from Racine — told police that they were recording a re-enactment of the 1998 film "Belly," directed by Hype Williams, which reportedly glorifies drug dealing and robberies.
As of Friday afternoon, Keleaf Carothers remained in custody on a $500 signature bond from a previous possession of marijuana charge. Oriece Carothers and Bustamente were cited for marijuana possession.