BRECKENRIDGE, Colo. — Most considered the "Rocky Mountain Cold Case" to be just that: a cold case.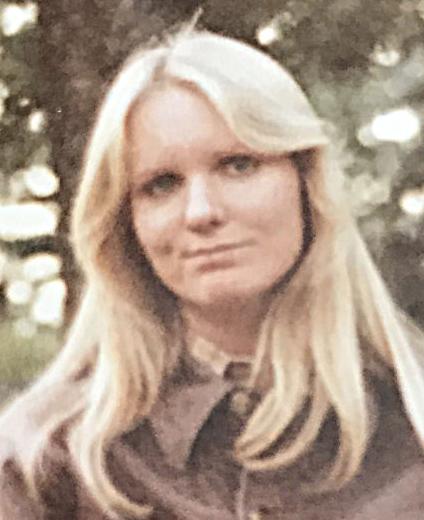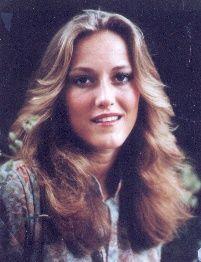 Within a year of the Jan. 6, 1982 murders of Barbara "Bobbie" Jo Oberholtzer (nee: Burns), a 29-year-old Racine native who had moved to Colorado with her husband, and Annette Schnee, a popular 21-year-old working at a local hotel, seemingly every suspect had been exonerated and the new evidence wasn't coming forward.
The first-ever DNA-based conviction wouldn't come along for another eight years, and the suspected killer's DNA (identified within the past week as Alan Lee Phillips) wouldn't even be put into CODIS — the FBI's Combined DNA Index System containing "forensic profiles" of nearly 20 million people — until the late 1990s or early 2000s.
Evidence too was scattered. The primarily police force with jurisdiction over the killings was tiny and not accustomed to this kind of investigation, and six agencies had officially worked on the case. After seven years, the case file reportedly filled just two binders.
But one man never let the case drop. He's certainly not the only reason the murders now appear solved, but there's a good chance it would remain unsolved if it weren't for him.
"I think, even if the best homicide investigators in the world could have been on the case from the very beginning, it would have been very difficult," Charlie McCormick, the 81-year-old retired detective who privately pursued the case for 32 years, told the Crimepedia podcast earlier this year, noting how challenging the case was to pursue even as a private investigator.
A cop who quit but got sucked back in
McCormick wasn't involved in this case at the beginning, other than being a resident of Breckenridge, a resort community known for skiing with a population below 1,000 in 1982.
From the mid-1960s until 1972, he was a homicide investigator with the Denver Police Department, about 60 miles to the east of Breckenridge, and estimates he had a hand in solving more than 200 cases.
"I loved the work," he said of being a murder detective, but after 5½ years, "I was completely fried and burned out." A divorce complicated things, and he left the police department. By 1976, he'd set up his own private-investigator business and was living in Breckenridge.
In the late 1980s, his friend Richard Eaton was a sheriff's deputy assigned to the Rocky Mountain Cold Case. Eaton asked McCormick to look through the two binders of the case file.
"I guess the fire rekindled. After I grabbed these books, I couldn't put them down," McCormick said during a phone interview Friday, thinking back to being thrown back into an active murder investigation for the first time in 17 years.
Dead end after dead end
From when McCormick started on the case in 1989 until now, he said the case file has grown from two binders to 39.
Like others, McCormick assumed these murders were the work of a serial killer. As such, if the killer had been caught, his DNA might have been in CODIS, but there's no guarantee of that. "There's a lot of guys who committed violent crimes in the 80s and 90s and in jail serving time for them who are not in CODIS," having been convicted for other reasons. If a killer were arrested more recently, their DNA would've been added, but a match never arose.
A lot of the investigation has been following threads that petered out. McCormick was misled by careless organization of others, at least one false confession and coincidence.
There was Tracy Petrocelli, a man currently facing execution who murdered his wife in 1981 and then went on a multi-state crime spree. Seemingly by happenstance, the night of the murders, he was staying in the hotel Schnee worked at. His DNA didn't match the blood found on Oberholtzer's glove and other items from the crime scenes.
Tom Luther was perhaps the most likely suspect that appears to have nothing to do with the killings.
He was a suspect from almost the beginning. Less than two months after Oberholtzer and Schnee were killed — but still months before Schnee's body would be found in July 1982 — Luther picked up a 21-year-old female hitchhiker Frisco, raped her and attacked her with a hammer, but allowed her to escape. He went to prison for 11 years for that case.
While in jail, he allegedly bragged of having been the killer in the high-profile killing Oberholtzer, but no evidence definitively tied him to the crime scenes — not even DNA years later. He's currently serving a life sentence in Colorado for killing a woman who had fallen in love with him while he was in prison just months after he got out.
"We were sure it was Luther," McCormick once told the Denver Post.
Ex-boyfriends of Schnee, including one who allegedly had a history of domestic abuse, were also investigated. Oberholtzer's husband too was a suspect — his business card was inexplicably found in Schnee's belongings, another apparent red herring — but exonerated.
"There were several pretty good leads on suspects that we developed over the years," McCormick said Friday. "There was always something to do on this case."
McCormick diligence on the case was part of why expensive performance of "forensic genetic genealogy analysis" was finally able to be used last year. The interest in the case McCormick kept kindled spurred Mitch Morrissey, a former Colorado prosecutor who went on to start a company that performs forensic genetic genealogy analysis, to run the DNA through its system, which uses millions of people's DNA to cross-reference family trees and identify suspects in crimes.
That testing led investigators to Phillips, who was arrested last month.
Right all along
McCormick had long assumed the killer was "a local," since where the bodies were found were quite far off the beaten path, nowhere near highways or other major thoroughfares a traveling killer would be more likely to use.
Investigators and McCormick have declined to say publicly if Phillips, a semi-retired now-70-year-old mechanic, had previously been a suspect, but it seems McCormick was right about the local connection. According to Park County (Colorado) Sheriff Tom McGraw, Phillips has not lived outside Colorado since the murders.
No community is a stranger to crime, even idyllic little Breckenridge, McCormick said in his podcast interview with Crimepedia. "Murder occurs everywhere."
Cold Case: William Callahan and Wendy McDade, killed March, 18, 1981
Callahan-McDade case cover.jpg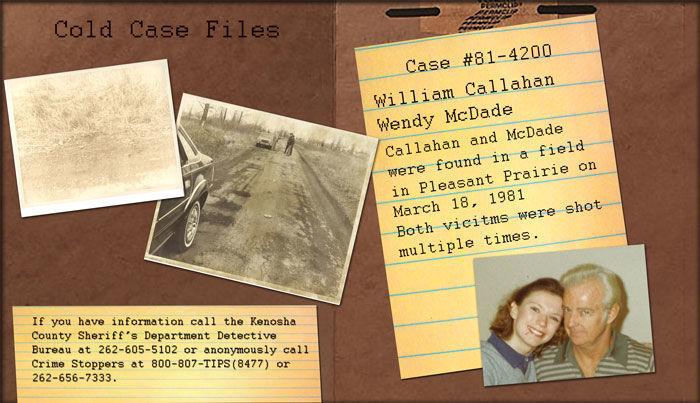 Kenosha News (Kenosha, Wisconsin) · 19 Mar 1981, Thu · Page 1
Sunday News (Kenosha, Wisconsin) · 5 Apr 1981, Sun · Page 1

Sunday News (Kenosha, Wisconsin) · 5 Apr 1981, Sun · Page 5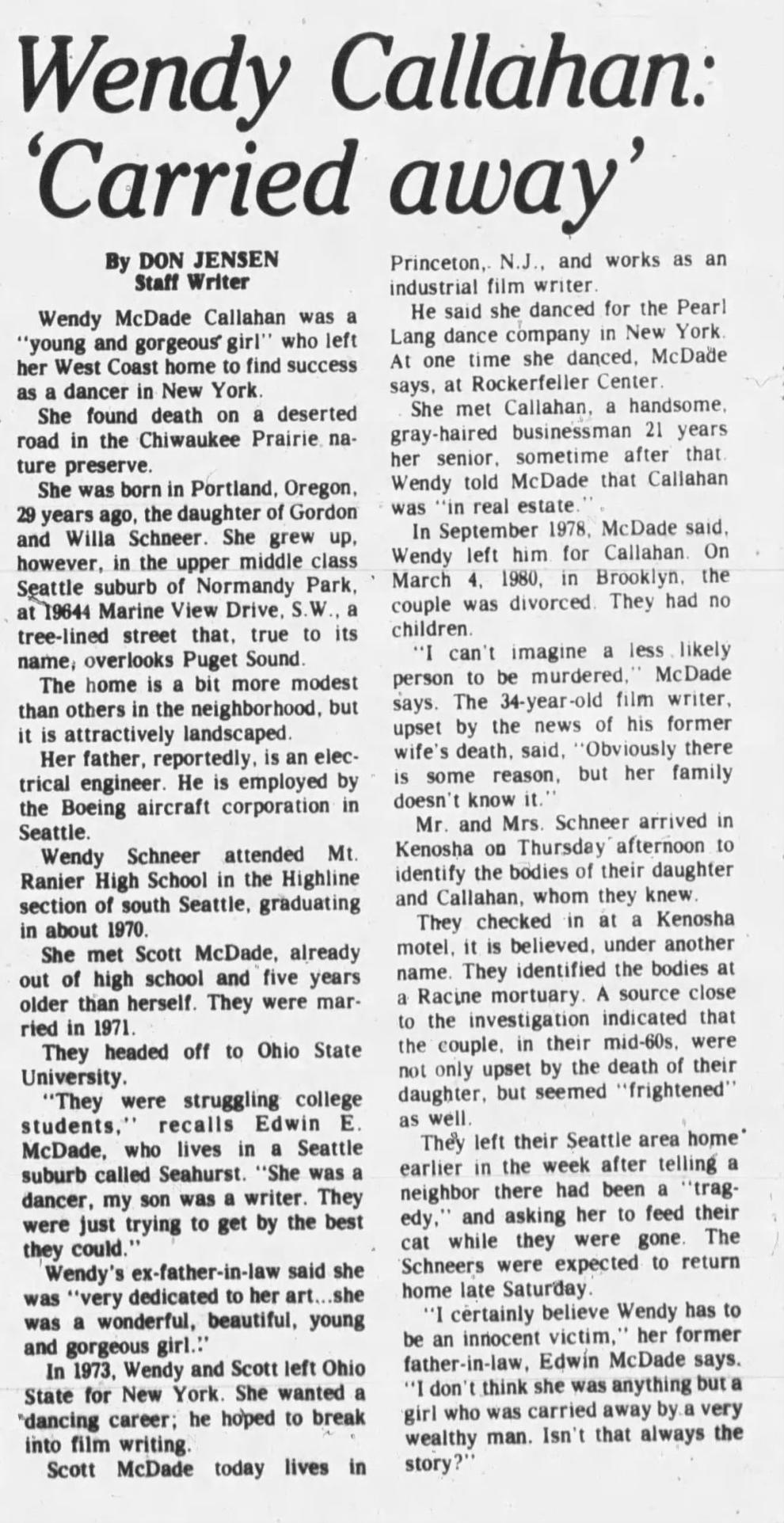 Kenosha News (Kenosha, Wisconsin) · 7 Apr 1981, Tue · Page 1

Kenosha News (Kenosha, Wisconsin) · 7 Apr 1981, Tue · Page 3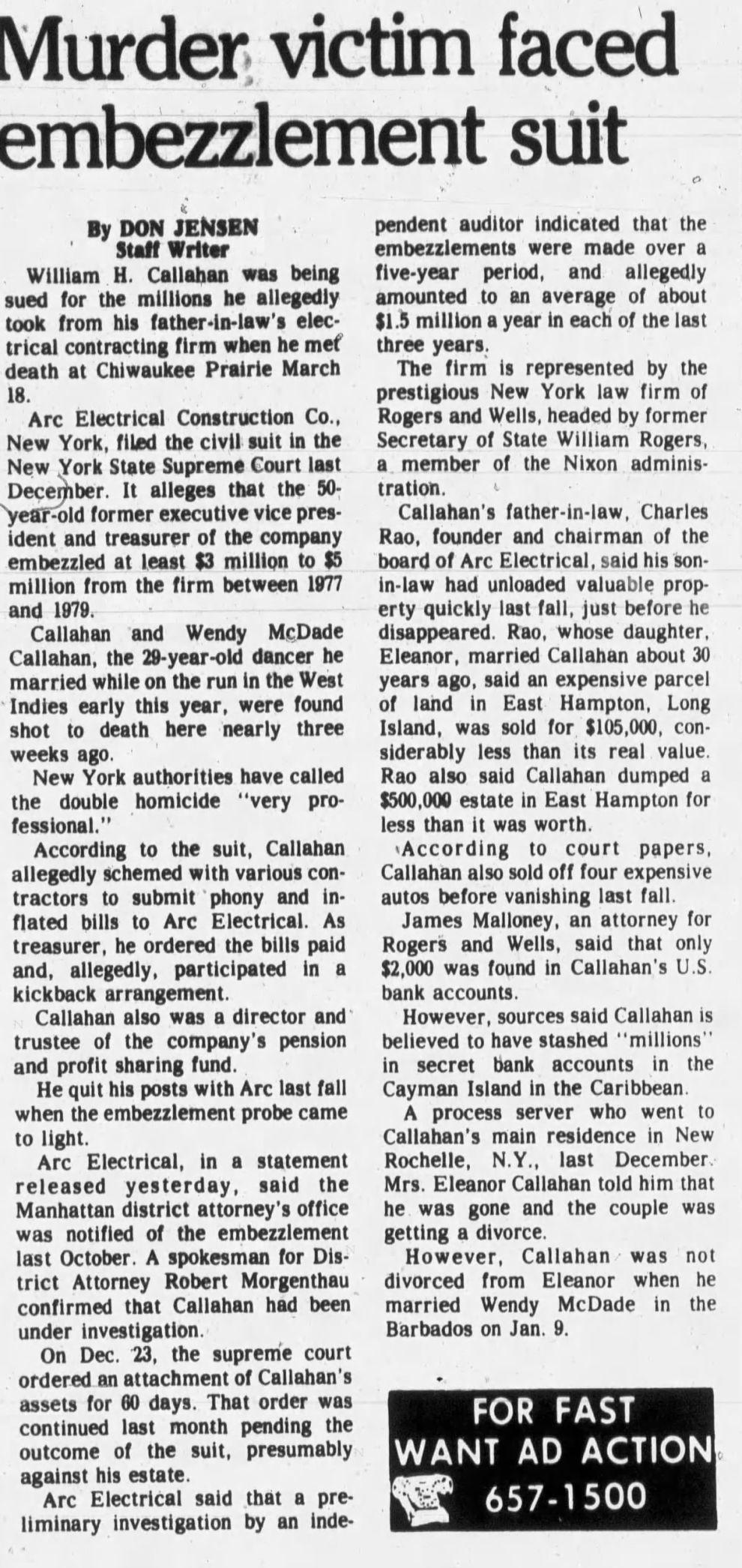 Kenosha News Courier (Kenosha, Wisconsin) · 7 Apr 1981 part 1
Kenosha News Courier (Kenosha, Wisconsin) · 7 Apr 1981 part 2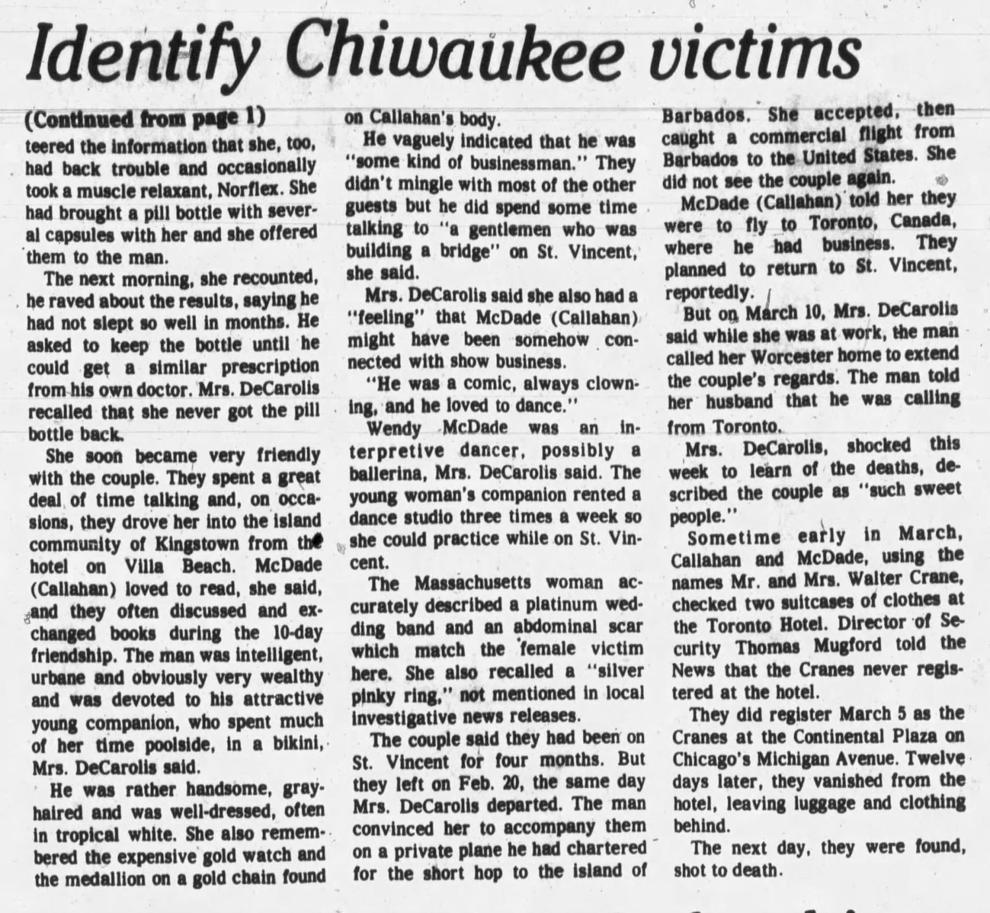 Kenosha News (Kenosha, Wisconsin) · 8 Apr 1981, Wed · Page 6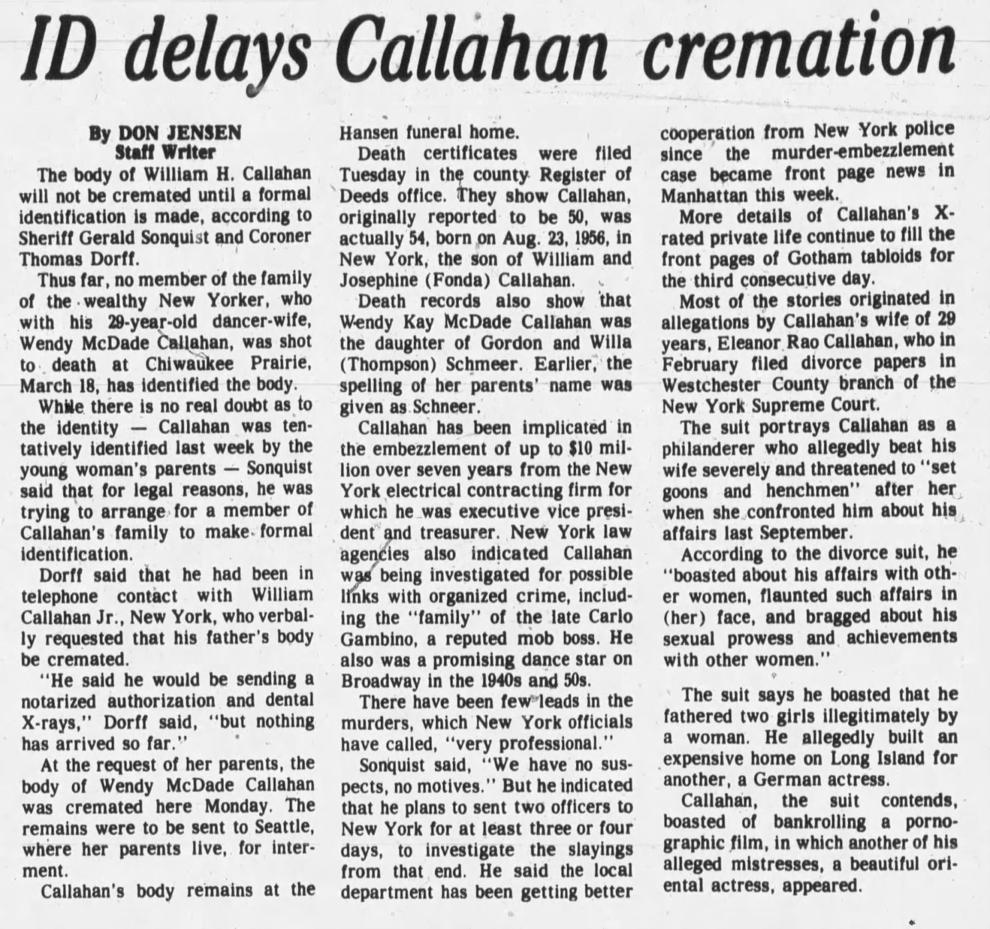 Kenosha News (Kenosha, Wisconsin) · 9 Apr 1981, Thu · Page 18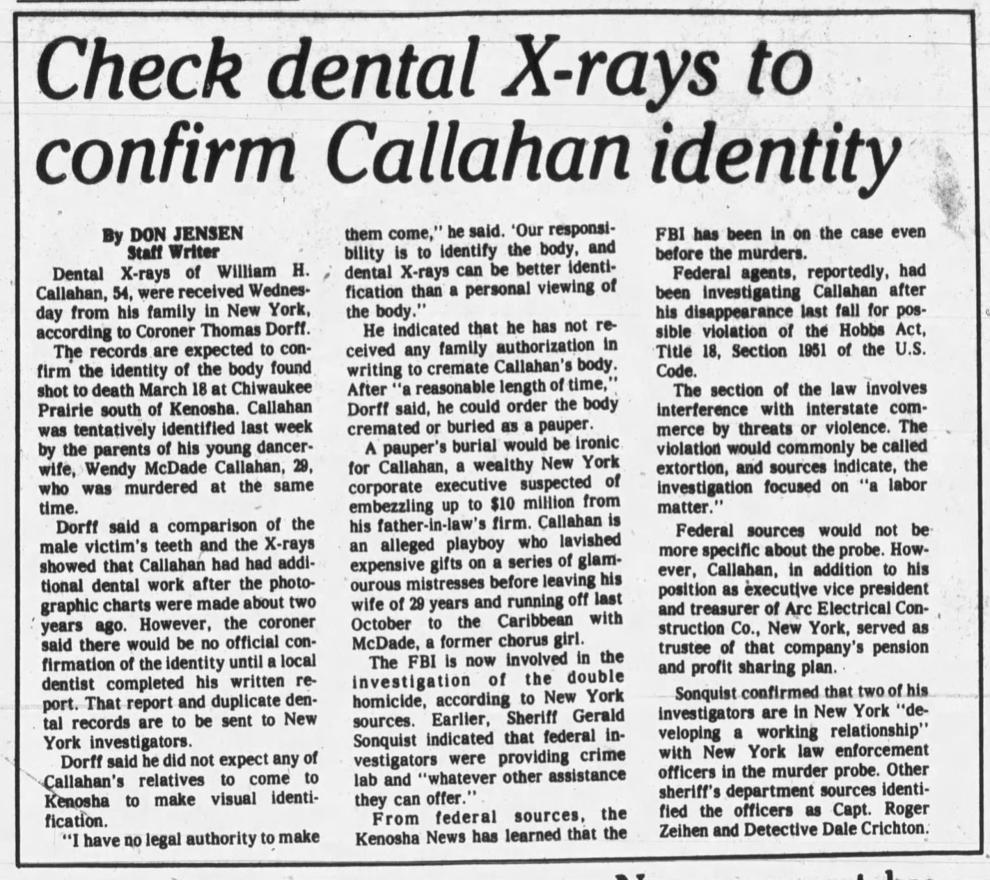 Kenosha News (Kenosha, Wisconsin) · 10 Apr 1981, Fri · Page 1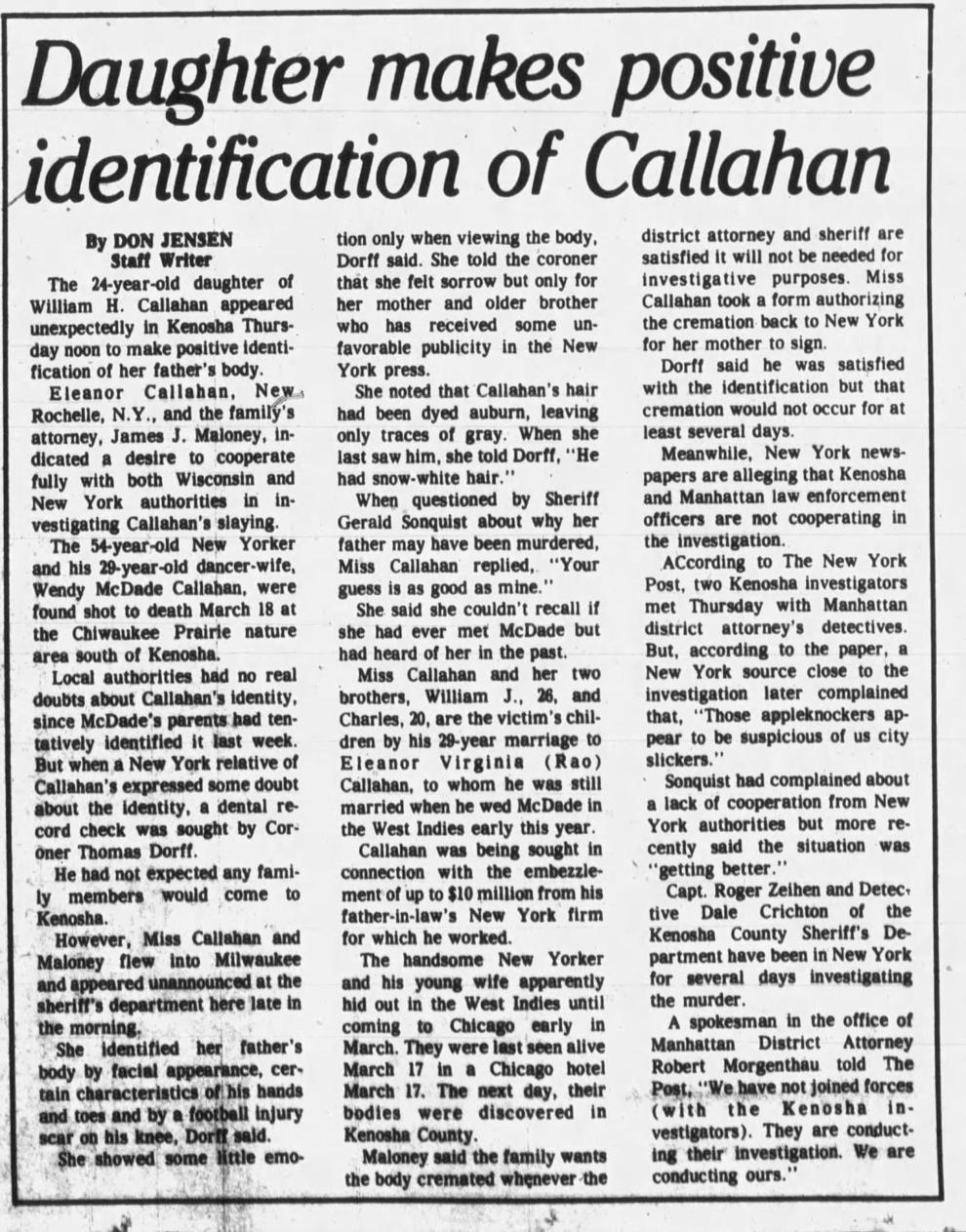 Sunday News - Sunday, April 12, 1981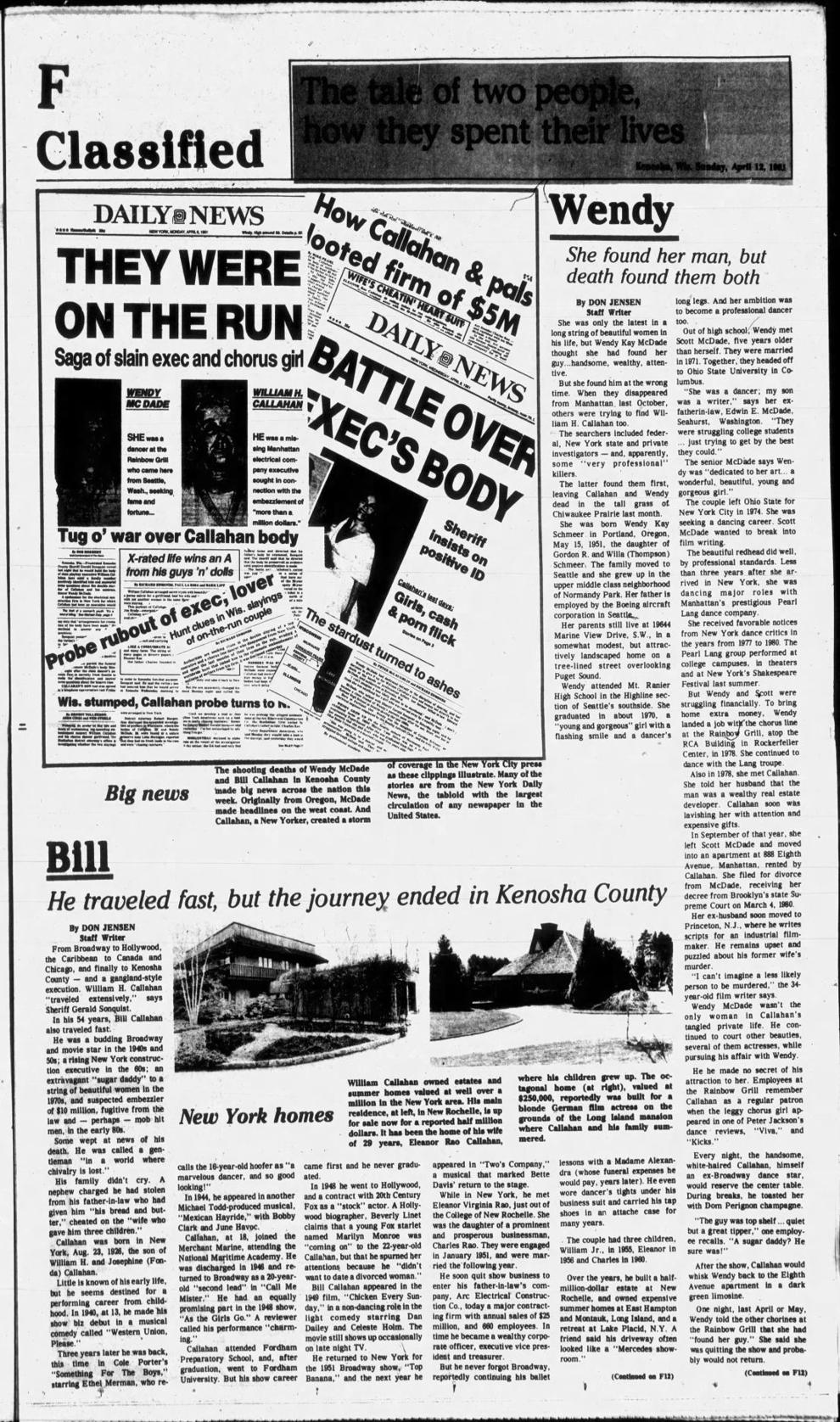 Sunday News (Kenosha, Wisconsin) · 12 Apr 1981, Sun · Page 1
Sunday News (Kenosha, Wisconsin) · 12 Apr 1981, Sun · Page 6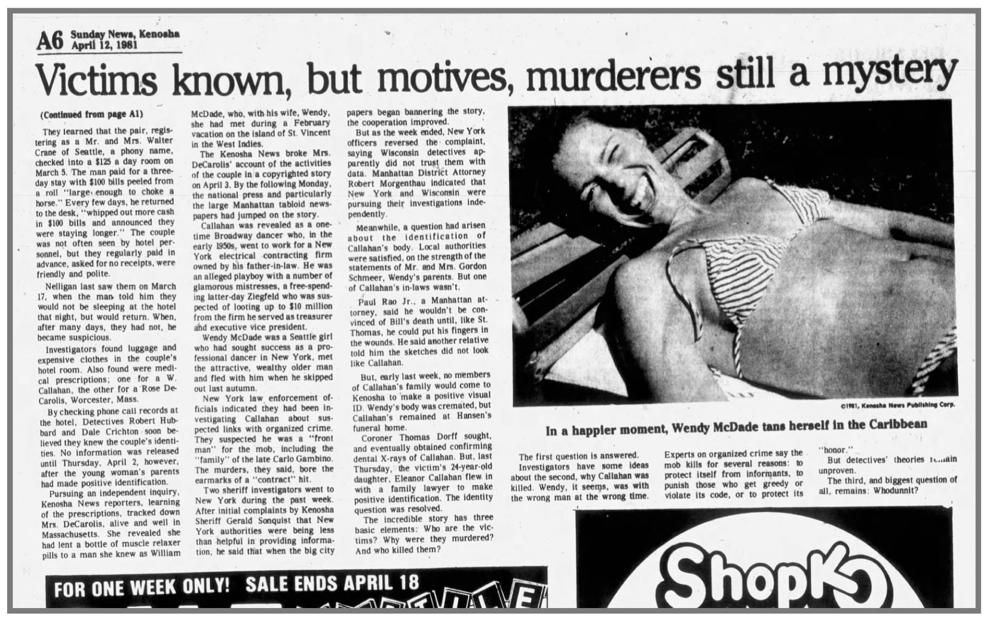 Sunday News (Kenosha, Wisconsin) · 12 Apr 1981, Sun · Page 50

Kenosha News (Kenosha, Wisconsin) · 13 Apr 1981, Mon · Page 6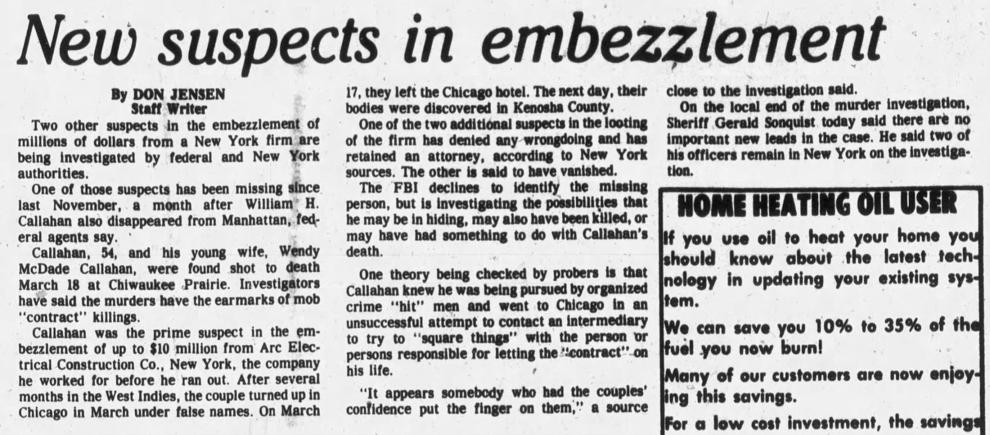 Kenosha News (Kenosha, Wisconsin) · 16 Apr 1981, Thu · Page 19

Kenosha News (Kenosha, Wisconsin) · 21 Apr 1981, Tue · Page 6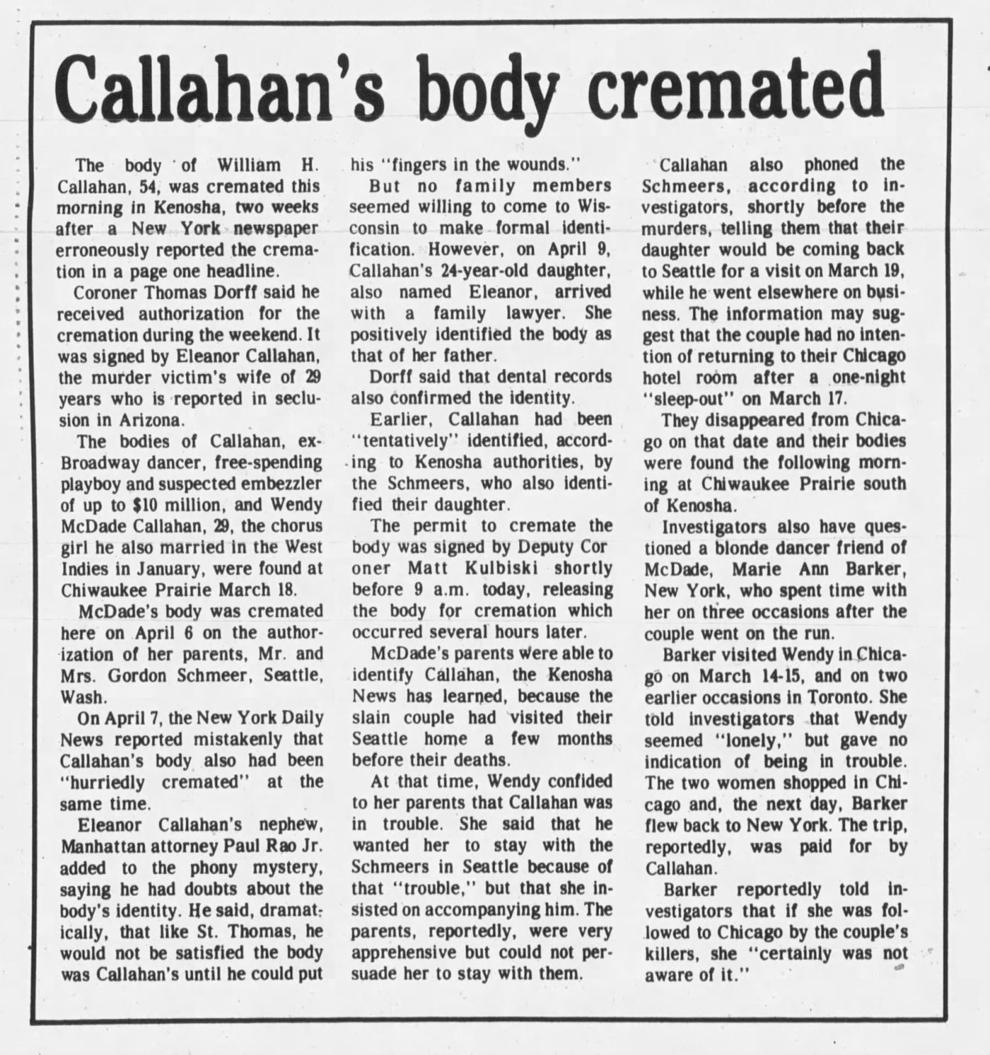 Kenosha News (Kenosha, Wisconsin) · 22 Apr 1981, Wed · Page 6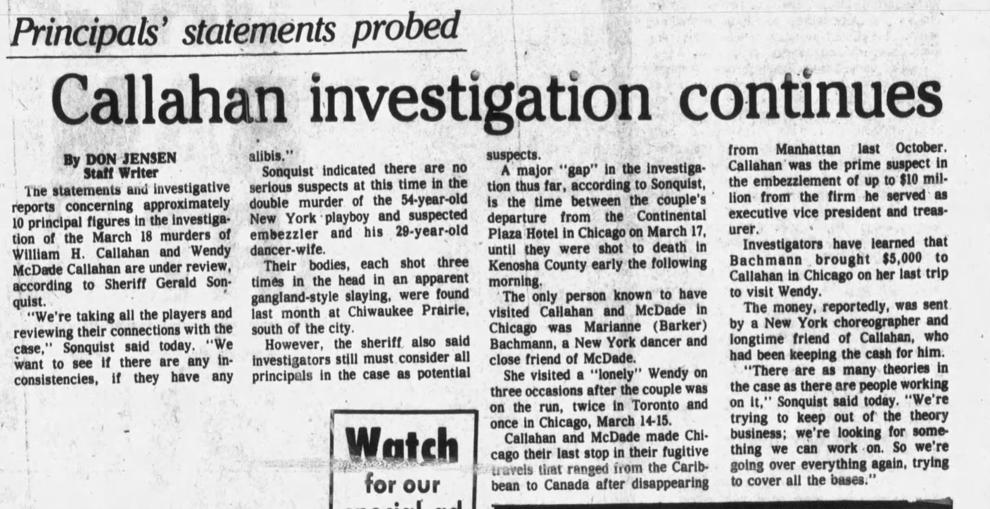 Kenosha News Courier (Kenosha, Wisconsin) · 28 Apr 1981, Tue · Page 6

Kenosha News (Kenosha, Wisconsin) · 18 May 1981, Mon · Page 14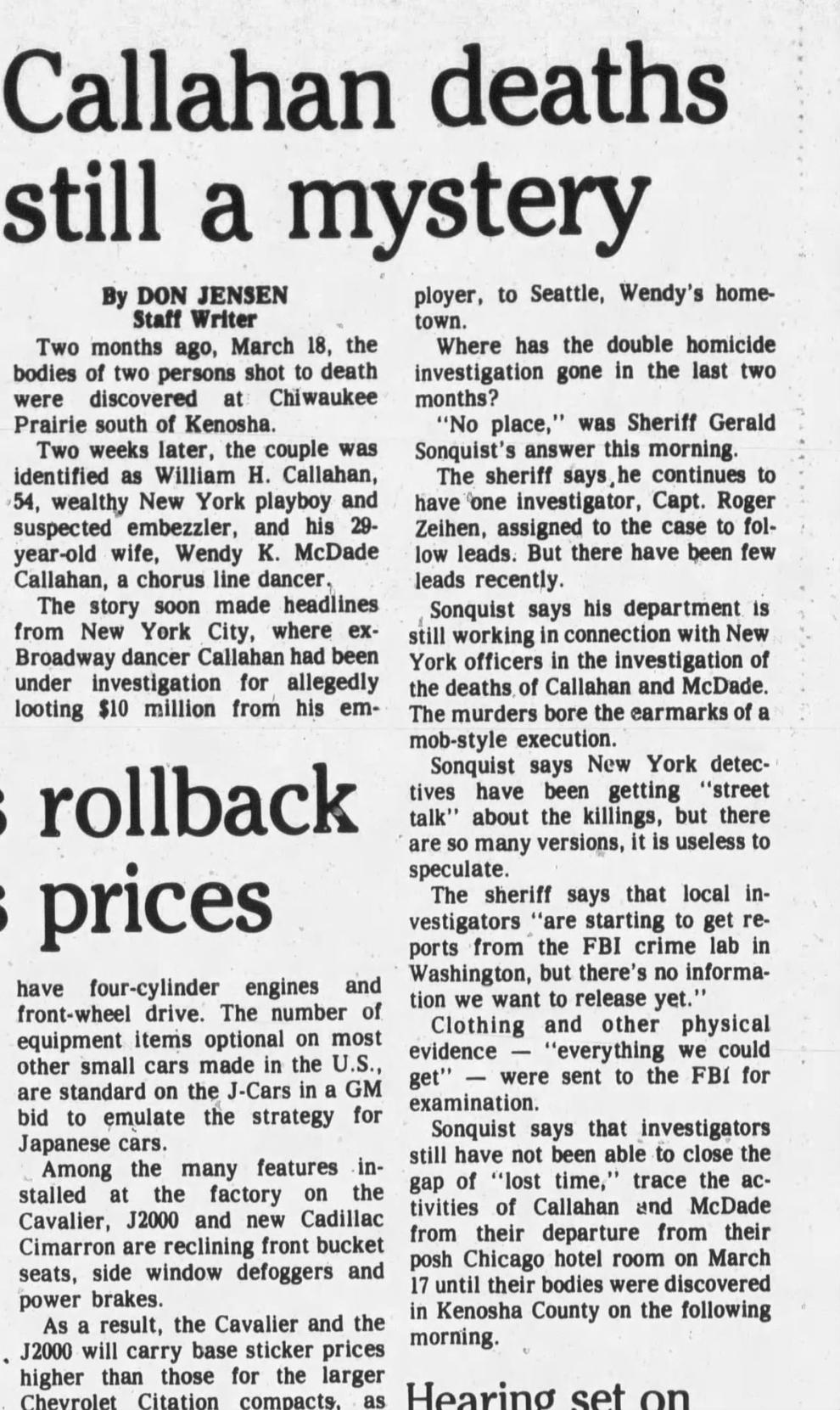 Sunday News (Kenosha, Wisconsin) · 5 Jul 1981, Sun · Page 16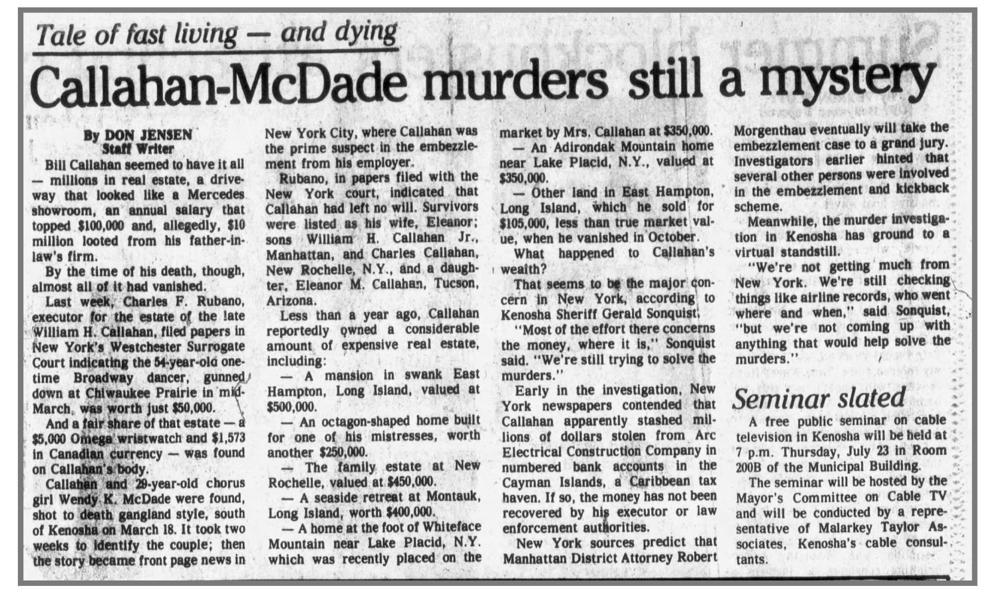 Kenosha News (Kenosha, Wisconsin) · 2 Sep 1981, Wed · Page 1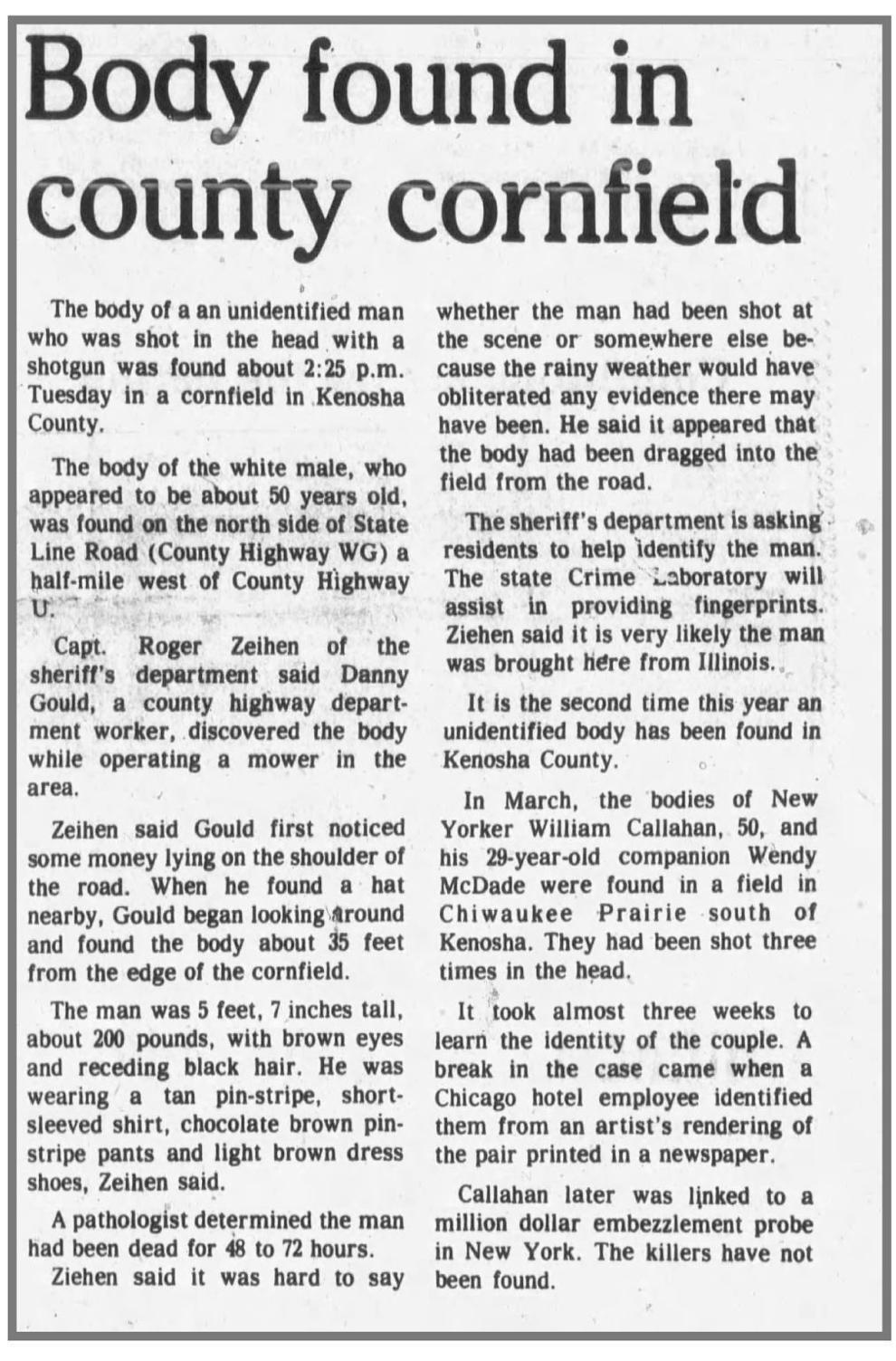 Kenosha News - Thursday, Dec. 31, 1981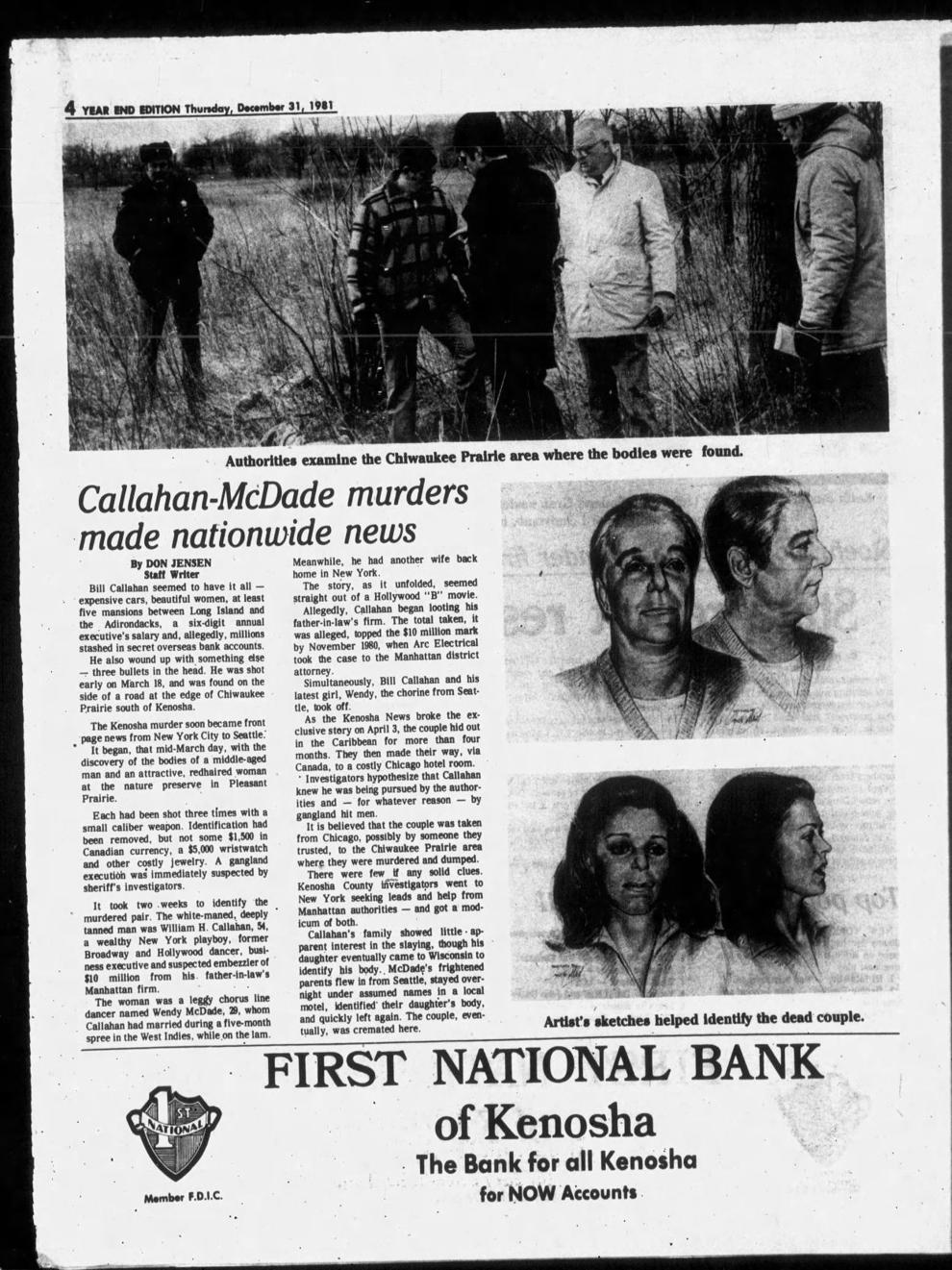 Kenosha News (Kenosha, Wisconsin) · 16 Jan 1986, Thu · Page 6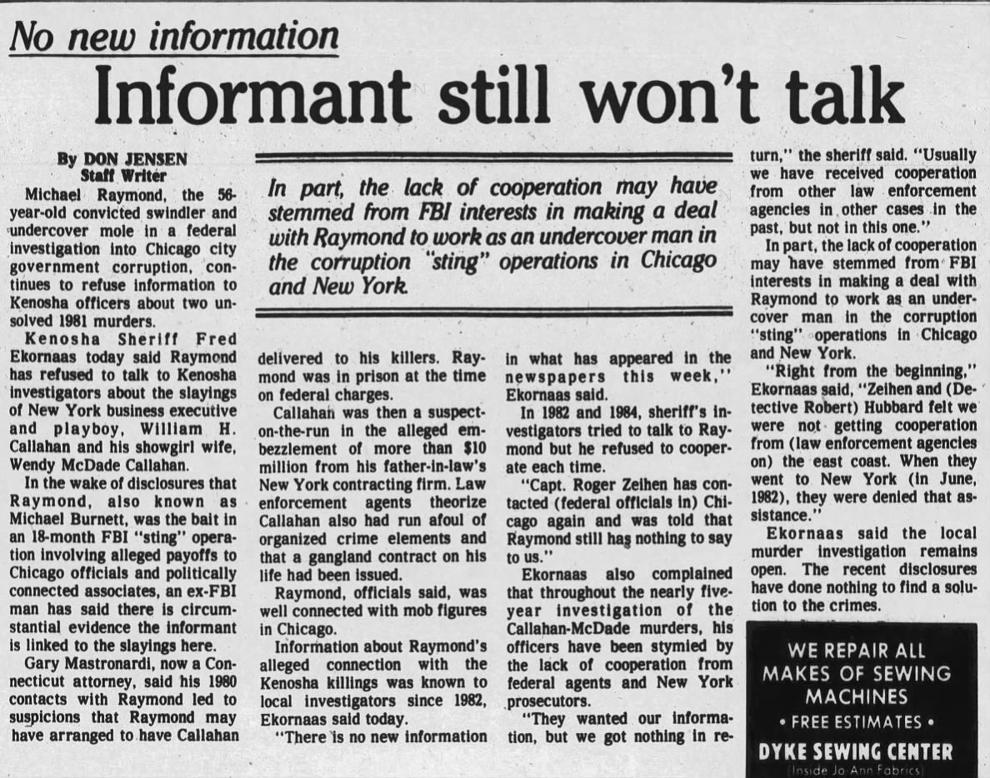 Kenosha News Courier (Kenosha, Wisconsin) · 22 Jan 1986, Wed · Page 8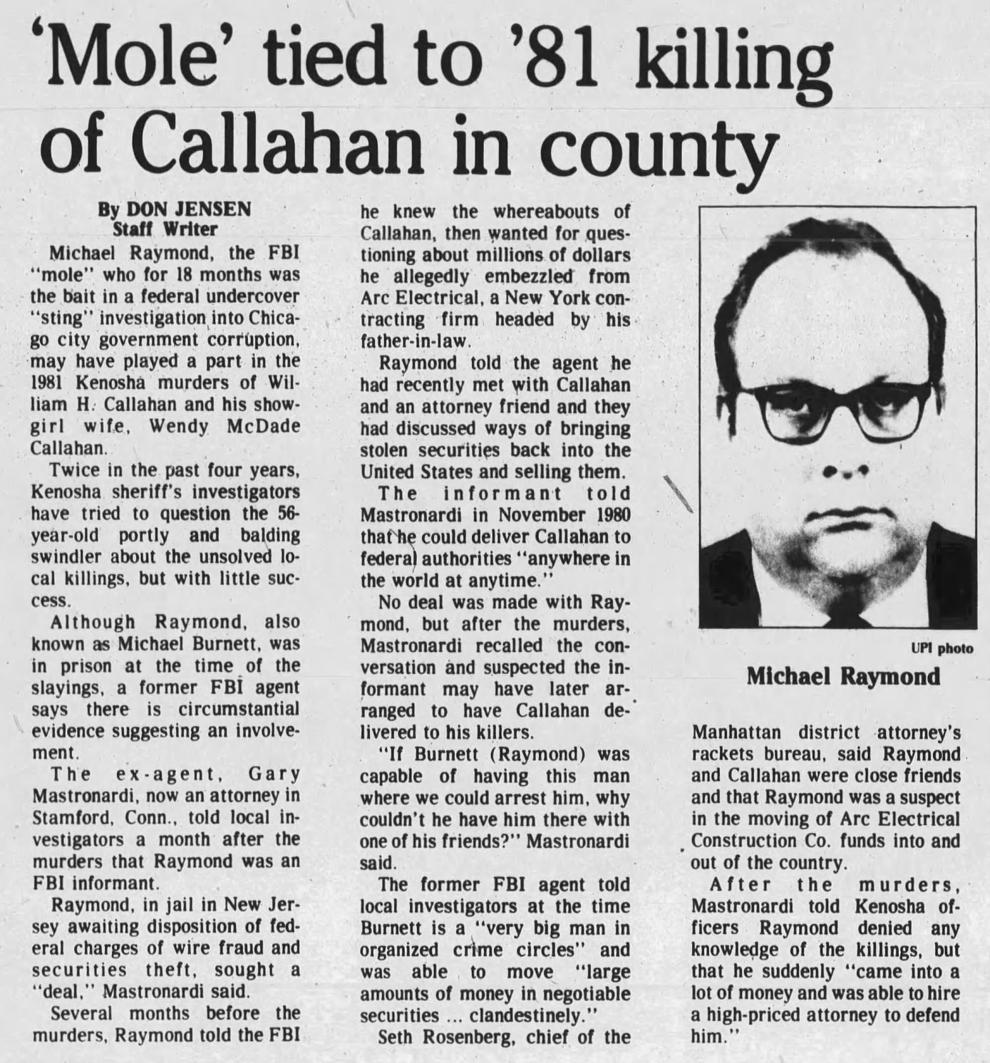 Kenosha News (Kenosha, Wisconsin) · 21 Apr 1990, Sat · Page 45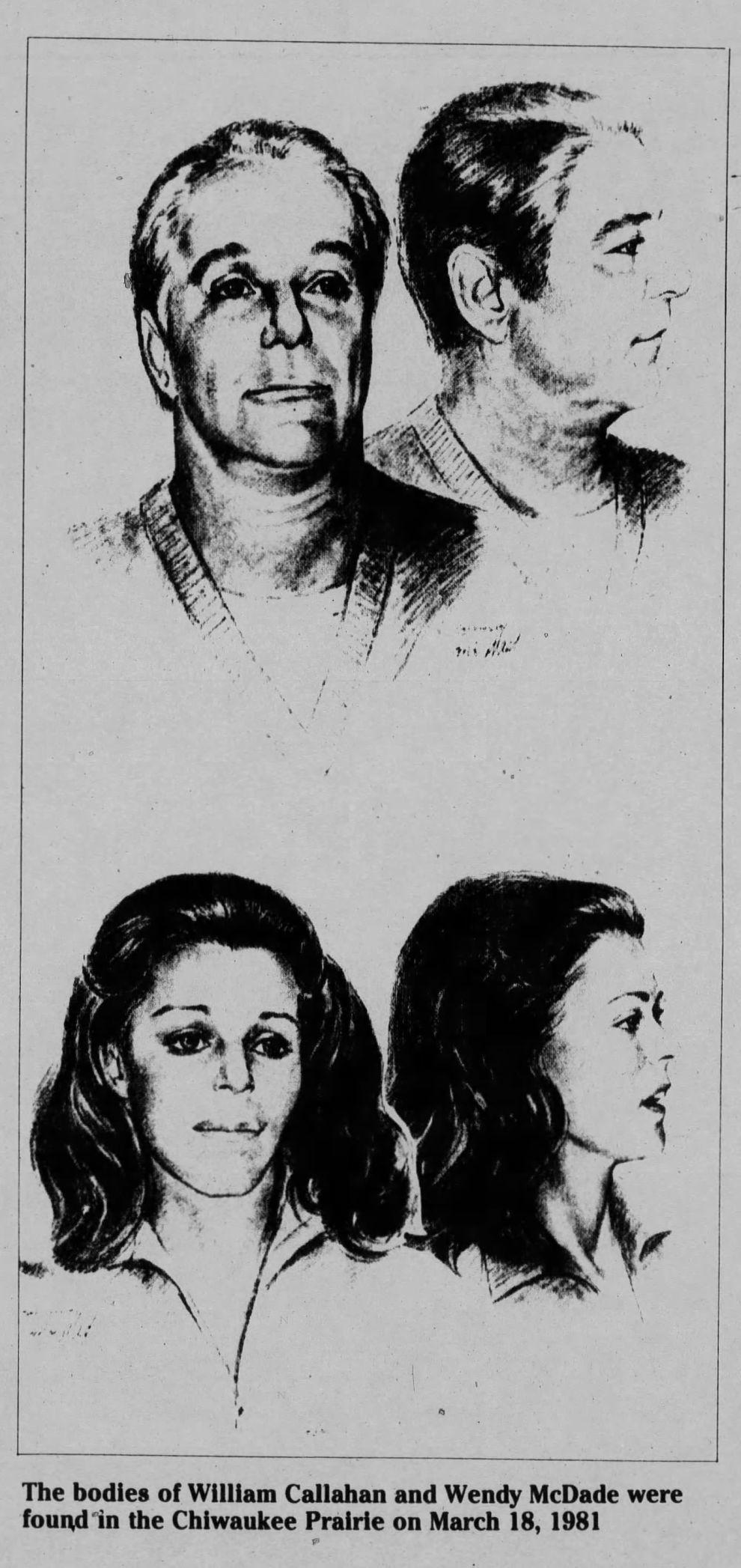 Kenosha News (Kenosha, Wisconsin) · 18 Mar 1991, Mon · Page 3

On this Day, Jan. 14, 1996 - Sunday News - Newspapers.com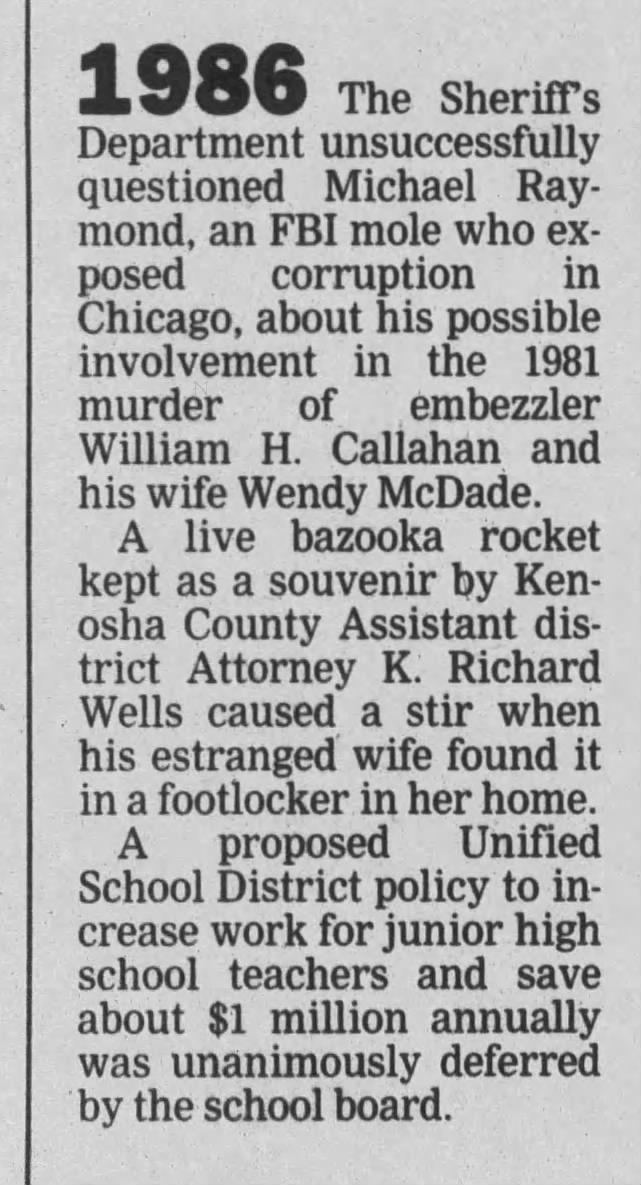 Kenosha News (Kenosha, Wisconsin) · 30 Jun 1997, Mon · Page 25