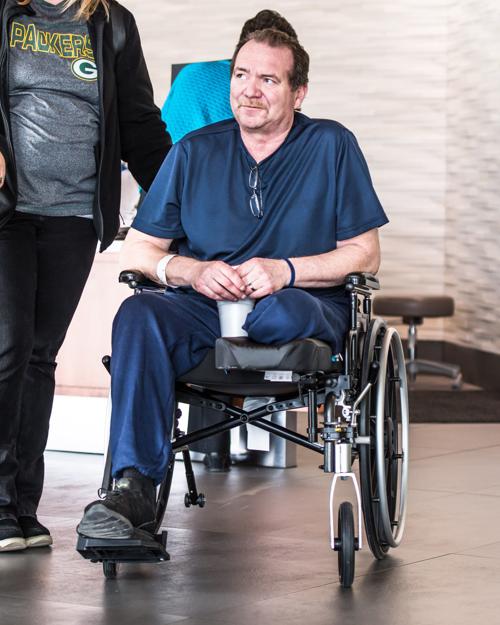 RACINE — The Racine teenager accused of maiming a Union Grove couple in a Jan. 14 crash outside Festival Foods has pleaded not guilty to charges related to the incident.
In court on Tuesday, 17-year-old Isaiah Degroot pleaded not guilty to 19 charges stemming from the hit-and-run crash that resulted in critical injuries to Jeff and Cheryl Coopman.
He was originally charged with 27 felony counts, but eight counts of bail jumping were dropped Tuesday.
Jeff Coopman, whose left leg was amputated as a result of the crash, sat in a wheelchair in the back of the courtroom as Degroot made his plea. Coopman's wife, Cheryl, remains in critical condition at Froedtert Hospital in Wauwatosa. She has lost both her left leg and arm as a result of the crash, family and doctors have confirmed.
The crash occurred just after 10:40 a.m. on Jan. 14. A Racine County sheriff's deputy identified a vehicle traveling north on Highway 31 at Newman Road in Mount Pleasant with a license plate that did not match the vehicle. Degroot is alleged to be the driver.
The vehicle turned north onto Newman Road. The deputy followed and activated the lights and sirens on her unmarked squad to attempt a traffic stop.
The vehicle then abruptly turned left into the parking lot of the Village Center shopping center, near Kohl's department store, 5740 Washington Ave. The vehicle continued past the stores west of Kohl's at a high rate of speed before Degroot allegedly lost control of the vehicle and crashed, striking the Coopmans.
Based on the not-guilty plea, the case is now set to go to trial; a tentative trial date is set for April 30 at 1:30 p.m. at the county Law Enforcement Center, although there is a hearing scheduled for April 16 that could affect the trial date.
Racine County Assistant District Attorney Jennifer Tanck-Adams said that it is "a clear case. It's all on video."
The defense doesn't see it that way and is willing to proceed to trial before Racine County Circuit Court Judge Mark Nielsen.
In the end, Coopman said, "I just want to see justice instead of slaps on the wrist."
"He is lucky he is not facing murder charges," Coopman said about the seriousness of the crash.
In preparation for the sentencing, Coopman said his family is going to write a letter to the judge, and they are expecting many more letters from family and friends who have supported them and witnessed the struggles they have gone through since the crash.
Why out on bond?
Coopman said he remains concerned about why Degroot, of the 2000 block of Hickory Grove Avenue, was out on bond the day of the crash.
According to online records, Degroot was charged with felony charges of discharging a firearm from a vehicle (driver), two counts of first-degree recklessly endangering safety as a party to a crime and a misdemeanor charge for carrying a concealed weapon in connection with a shots-fired incident that took place in the 1600 block of Albert Street at about 1:20 p.m. on Oct. 30.