YORKVILLE — Racine County Sheriff Christopher Schmaling gave an impassioned speech to the Racine County Board on Tuesday evening.
The speech came hours after one of Schmaling's undercover investigators shot and killed a gunman — identified as a 32-year-old from Hartland — who had, just minutes before, shot and killed a 22-year-old man from Elkhorn "for no reason" at the Pilot Travel Center near Interstate 94 in Caledonia.
"Folks, I've never seen anything like this in my whole life," he told the board.
Schmaling called on the County Board to support law enforcement both with words and with funding, specifically for training, wages and equipment.
Schmaling also revealed that the investigator was shot at least twice, and that Schmaling personally picked up the 21-year-veteran deputy's wife and child to bring them to Ascension All Saints Hospital to visit him. Late Wednesday afternoon, the Sheriff's Office said in a news release that the investigator "is in the hospital recovering from multiple gunshot wounds which fractured several bones in the area of his pelvis. The Investigator's injuries are non-life threatening. The Sheriff's Office wishes their friend and colleague a speedy recovery, and we appreciate the support from our community."
Judging by the shooter's actions prior to his death, Schmaling said Tuesday night that it appeared the man had intended to commit a mass shooting but was stopped short by the investigator, who coincidentally was gassing up his undercover vehicle at the Mobil gas station at 10616 Northwestern Ave., 2.3 miles southeast of the Pilot Travel Center, when the shooter arrived.
The Gun Violence Archive defines a mass shooting as "four or more people are shot or killed in a single incident, not involving the shooter." That definition is derived from the FBI's definition of a mass murder, which is when four or more people are killed by any means "during the same incident."
Authorities referred to the shootings as an "active shooter incident" that could have been much more deadly had the shooter not been killed by the undercover Racine County Sheriff's Office investigator.
At Ascension All Saints Hospital after the shooting Tuesday morning, Schmaling said, the wounded investigator only asked one question: "Sheriff, did I hit anybody innocent?"
"That's what he asked," Schmaling continued. "Nothing else. That's what he asked."
If it weren't for that investigator's actions, the situation "probably would have been more of a mass shooting," Schmaling said, predicting that the suspect would've continued shooting other people at the gas station and elsewhere.
According to authorities, the Caledonia Police Department was responding to the shooting at the time but was not on scene when a shootout between the undercover investigator and the gunman occurred.
"It's unfortunate, truly unfortunate," Schmaling said. "But I look back at what happened — I hate to say this — but I am glad that it was him (the investigator), and not a random citizen (who was shot at). Because he was armed and he was trained.
"He knew what to do when somebody came at him. Otherwise, this maniac would've gone on another rampage."
Below, read a full transcript of or listen to Schmaling's speech:
As you can imagine, this has been nothing short of just an unbelievable day for law enforcement. I am pleased to report today that our deputy investigator was involved in this unfortunate tragic incident is alive, and is well, and is surrounded by his family tonight.
I'm not going to disclose his name today, but I will tell you this: He is a 21 year veteran. I've had the opportunity to work with him for, for almost 21 years, shoulder-to-shoulder, on many cases. And I can tell you he is an outstanding investigator. He's done a great job in bringing some of the most ruthless criminals to justice in our community.
Today he found himself, literally pumping gas at a local gas station, but unbeknownst to him, just down the road about a mile and a half was the unspeakable. A horrific incident was occurring. An individual came into our community at 7:30 in the morning at a gas station where most people are just getting gas and getting your morning cup of coffee. We've all done that. I do that daily, literally daily. I get my morning cup of joe if you will. And there's a 22-year-old young man getting his car tank full of gas and getting ready to go to work and along came this, for lack of better words a maniac came in.
I watched that video. And I can tell you that in my 27 years of service, I had never seen — I spent a decade in investigations, I've seen some very horrific things — folks, I've never seen anything like this in my whole life.
He (referring to the suspect) lied in wait. He sat there and waited for the right opportunity. And when he (the 22-year-old) was done pumping gas, he (the suspect) quietly walked up to him and shot him dead.
Then rummaged through his pockets to find a set of car keys to get into his vehicle, to find out he didn't want that car. He got out of that vehicle, and found another random person driving to the gas station — which by the way, could have been any one of us — and he shot at that person. That person got out of there as fast as they could. When he realized there was no other victim that he could attack, he got back into his vehicle and headed eastbound on Highway K, and went into the Mobil station.
What he didn't know is that our investigator was beginning his shift, was loading up. He is an on his undercover officer with my office. He has a very special assignment. He's very talented, very skilled at what he does, and he's filling up his squad car, getting his morning cup of coffee I imagine and doing what he wanted to do. And along came this individual.
This individual, is clear to me after watching the video, had no idea who he is about to encounter. And this, we're splitting seconds here. He came out, gun drawn and approached the investigator, and started to shoot at him. We are again splitting seconds. The investigator immediately began firing back at him, falling to the ground and taking on at least two rounds, and then firing back at him.
At the end of the day, the suspect is deceased. It is unfortunate that anyone had to lose their life today. But my heart goes out to this 22 year old young man at the Pilot Station when this whole incident began, who was going to work, was just putting gas in the car.
I look back, at this I have a 23 year old son, who goes to the gas station and he's got $10 or $15 in his pocket just the top off the tank. Unbeknownst to him, there might be somebody lurking around the corner who wants to end everything that he is about. And that's what happens. It's sad, and it's tragic.
So where do we go from here? We have great partnerships, as the state statutes mandate. We bring in outside agencies. I chose to bring in DCI, Division of Criminal Investigations with State of Wisconsin to come in and handle this very unfortunate event. They handled the officer-involved shooting as you can imagine, and we are taking care of these unfortunate situation at the Pilot station. We have a great working relationship with the Caledonia Police Department, and they are working with that situation as well and working collaboratively with all of us.
So, I bring this to your attention because you are the County Board of Supervisors and when I look back at his entire situation today and look back at the loss of life and what could have happened and what we did prevent, when I went to the bedside of our investigator this morning — just before eight o'clock this morning — there with his wife who I picked up at her home and her child, and talking to him. He wasn't worried about anything, but the person that he had seen what he was firing back at this person who was trying to end his life and the lives of others, and he's seen beyond that, was another innocent person who was getting in their car.
And he was thinking to himself 'As I'm firing, are my rounds going to hit somebody innocent?' And that's what he asked me to hospital, while he lied there with bullet holes in his own body, he said 'Sheriff, did I hit anybody innocent?'
That's what he asked. Nothing else. That's what he asked.
So, those are the county employees that you have here. These are the budgets that you pass, the equipment that we need, and the training that we deserve, and put within and instill within our staff.
So, as you prepare your budget, please look at these situations. This is where the rubber meets the road. This is where the training comes into play. This is where the equipment comes in handy, if I may, right?
We have to think about the mental health for our staff as well. I spent most of my day talking to our staff on second shift, and I will be through third shift tonight talking to our staff tonight, to try to deal with this situation. 'What they want to know: Do I stand for them? Am I going to back them up?' if you will. And will this board, stand with them when they do the right thing? When they protect the community? When they protect themselves in a spirit of public safety?
So I don't need an answer from you tonight but I just ask you to ask yourselves, do we support law enforcement? Do we support public safety? Do we support the fundamental role of government, which I believe is the protection of its people?
Now it's easy for me to say as your sheriff — I've been a sheriff for going on almost 12 years, I've been this job for 27. My hair probably shows that with the gray hair. But at the end of the day, I love this job, and I have a great staff, and everyone in this room should be proud of the staff that we have. They are out there every day, every night, giving selflessly of themselves. They put their lives on the line.
This investigator today, I him personally; I know his family.
He left this morning to fill up his tank of gas, and he was going to go out and do an operation that I knew about — nothing related to what happened. This was supposed to be another day for him, another day of bringing justice to our community. But it ended in tragedy.
It's unfortunate, truly unfortunate, but I look back at what — I hate to say this — but I am glad that it was him, and not a random citizen, because he was armed and he was trained. He knew what to do when somebody came at him. Otherwise, this maniac would've gone on another rampage. He just shot a 22-year-old young man, executed, and he was going to go right down the line. And this was 7:30 in the morning, that this this gas station was flourishing but people are getting their gas and their coffee and all the rest. He would have undoubtedly went right through the line, and probably would have been more of a mass shooting. But our investigator was able to stop that in its tracks.
Yes, he suffered injury injuries. Yes, he put his life on the line. But that is what we do. I don't want you to lose sight of that.
So, today I just make a plea — not only for law enforcement and public safety in general, but you have other items on your agenda as well that pertain to what we do in law enforcement with the corrections or deputies — and I just ask that you give that some consideration when we start looking at somebody's budgets, and some of this equipment.
Now I know there are some people in this room that don't support law enforcement. I know there are some people that vocally said that there should be citizens making traffic stops.
I've heard this. I think it's ridiculous. I think it's insane. Look at what happened today. You want a citizen making a traffic stop of this young man? He just executed a 22 year old, for no reason? There's a family preparing a funeral tonight, for that reason. But we should have a citizen making a traffic stop? That's insane and idiotic, if anything else.
I would just suggest that we just reel things in as a community. We're not Minneapolis. We're not California. We're not New York. We are in Racine, Wisconsin. We're different.
We have a trained professional law enforcement arena here. We can do this job. We have demonstrated this job. But we need your support. Everyone in this room, we need your support. So, that said, that is my update.
I wish I could provide you more information but as you can imagine DCI is leading the investigation. And I think, out of respect to that investigation, and out of respect for the victims in this matter, I'll leave it at that. So thank you for your time and your attention. Thank you.
PHOTOS AND VIDEOS: Scenes from the July 13 gas station shootings
Pilot shooting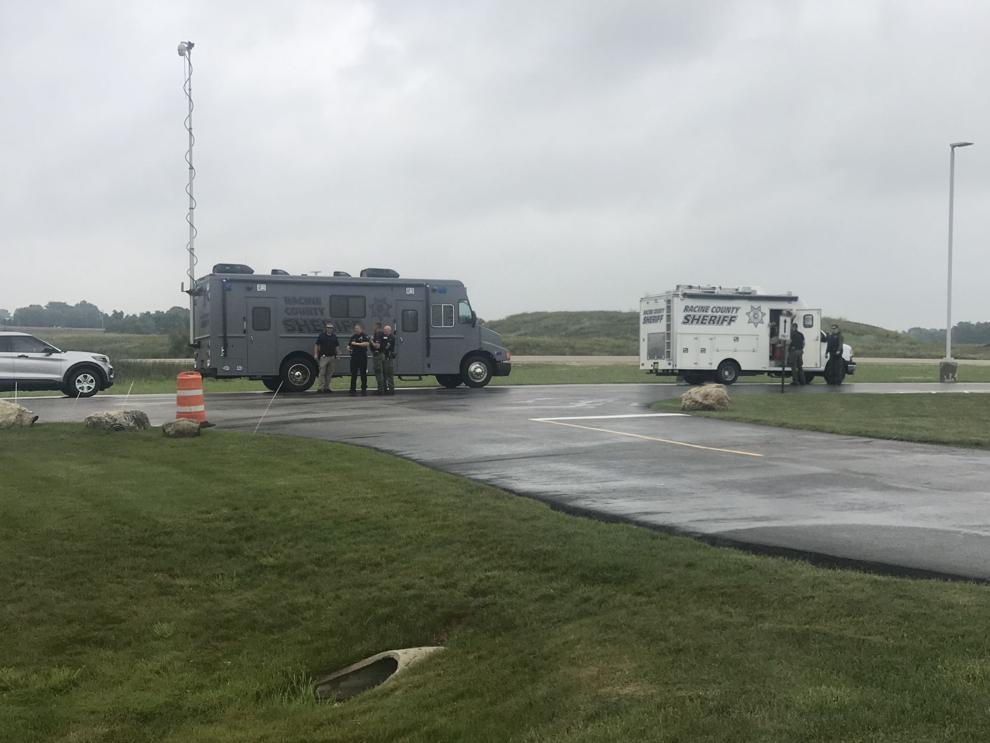 Watch now: The scene at Pilot Travel Center following a reported Tuesday morning shooting
Pilot shooting
Law enforcement restricting traffic in Franksville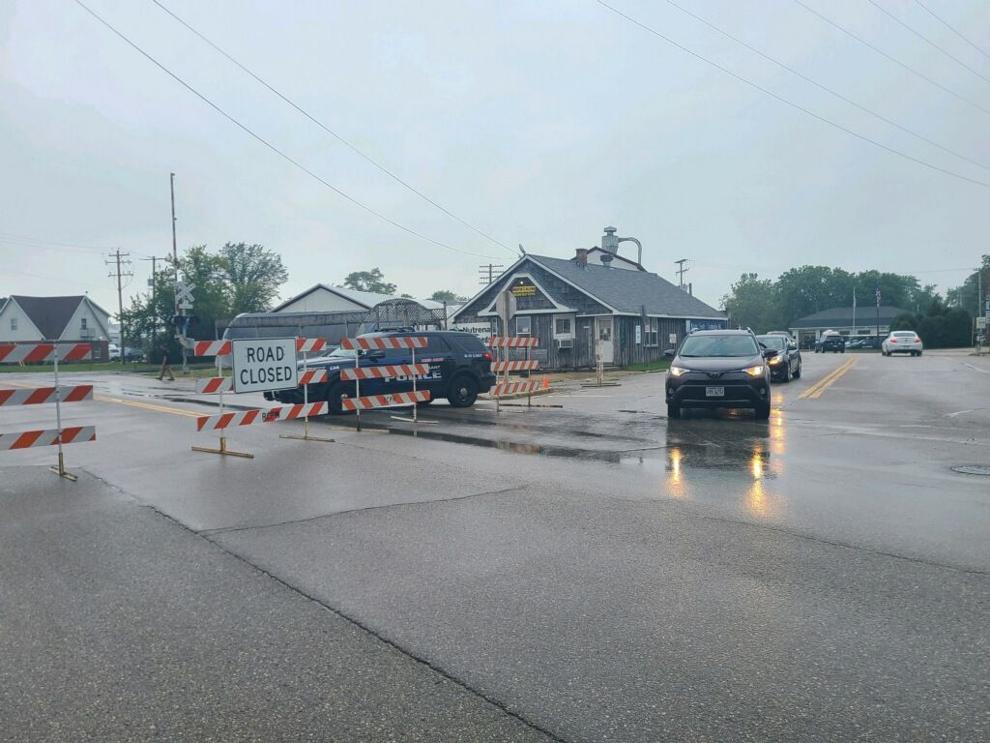 Crime-scene tape at the Mobil in Franksville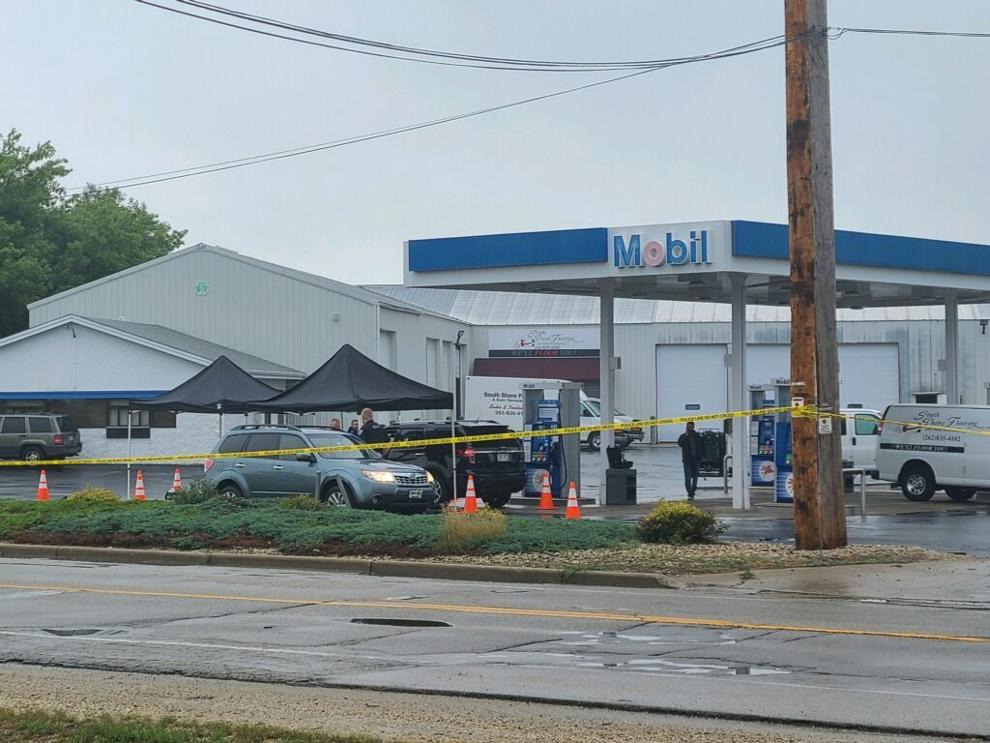 Shooting reported at Mobil station in Franksville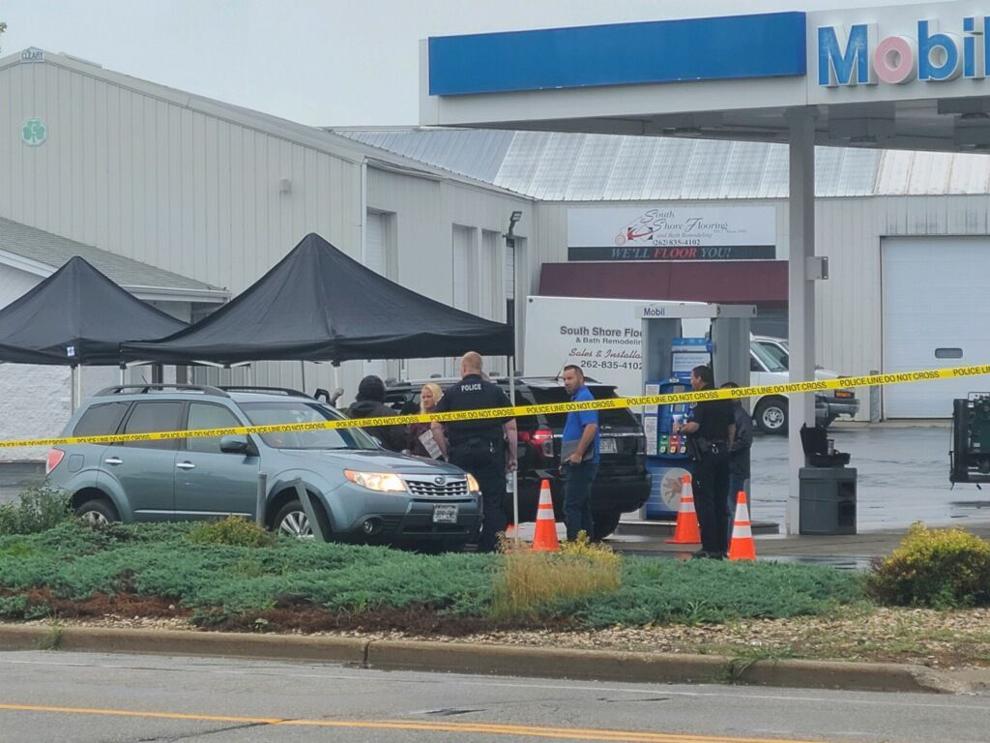 Watch Now: Sheriff Christopher Schmaling gives update on gas station shootings
DA Tricia Hanson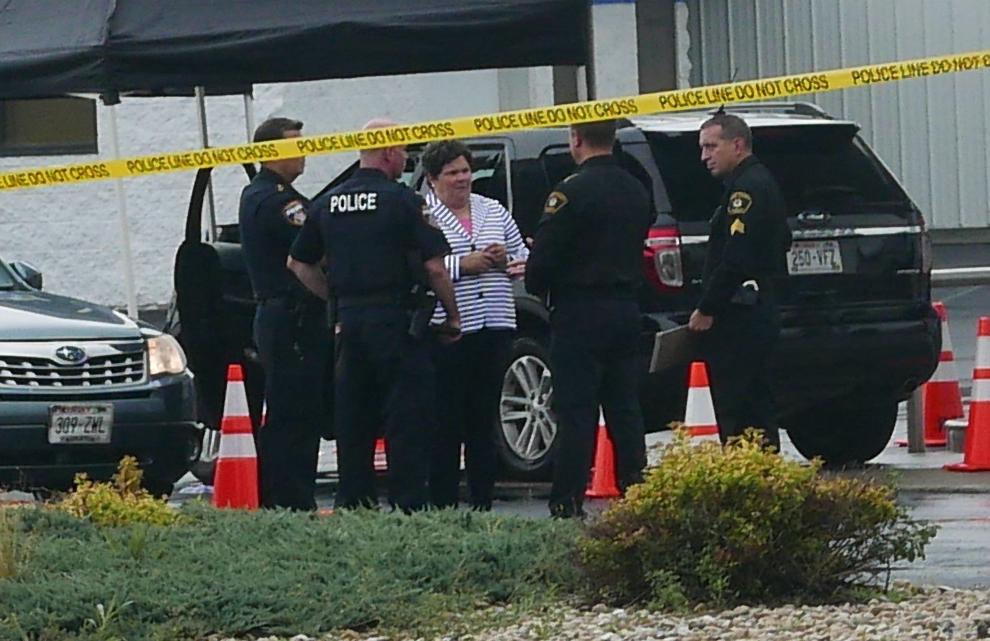 Sheriff Christopher Schmaling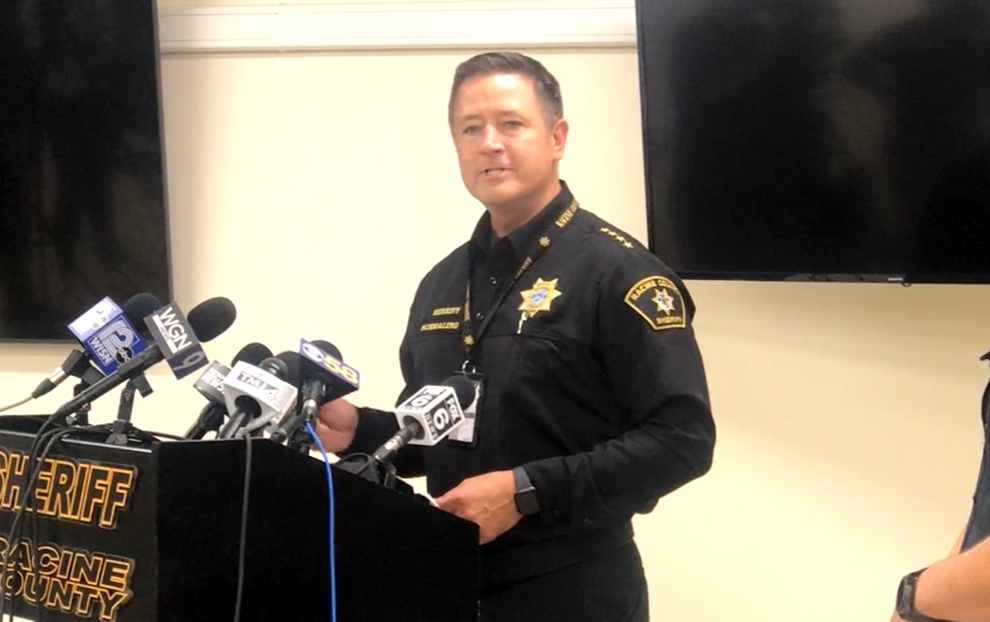 Chris Botsch, Caledonia Chief of Police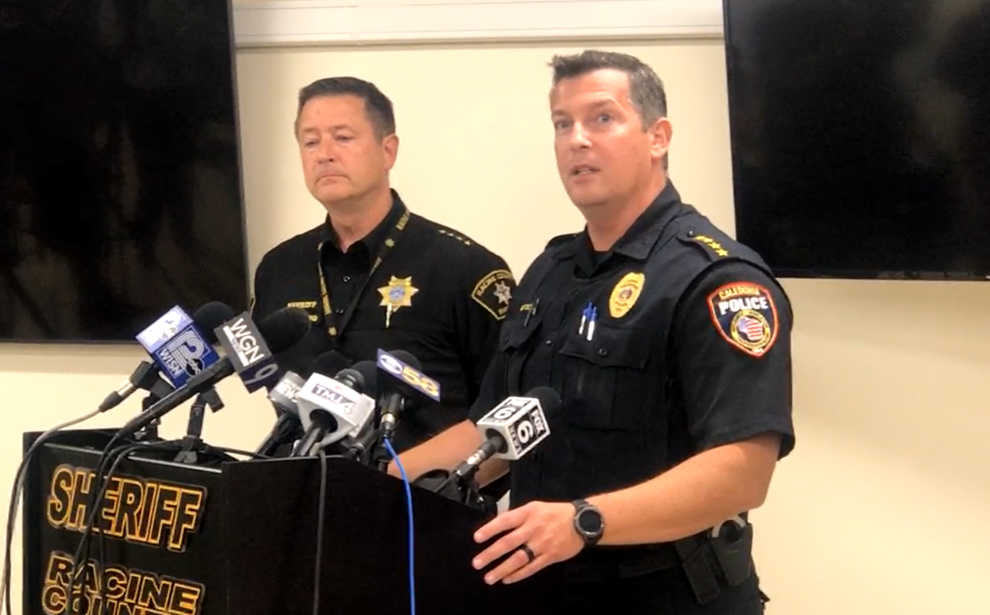 Shooting investigation at the Mobil station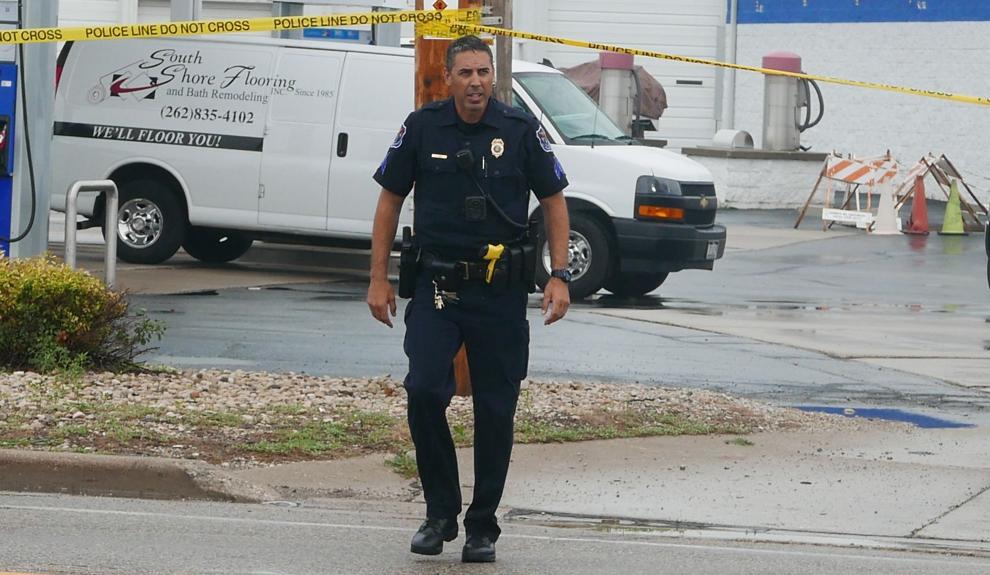 Shooting at Mobil Station under investigation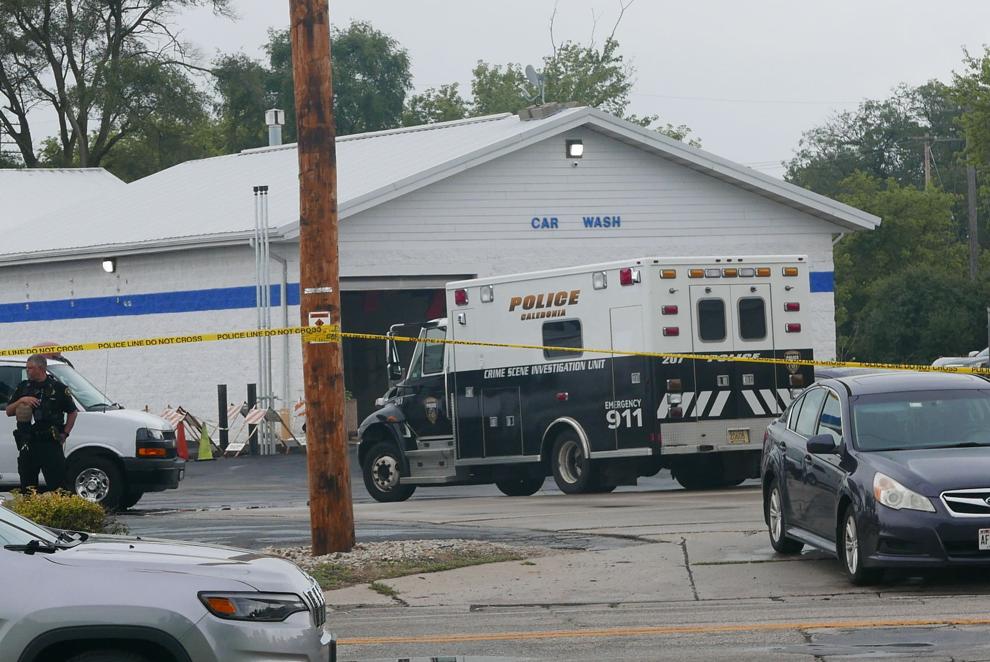 Caledonia Fire Department on the scene after Franksville shooting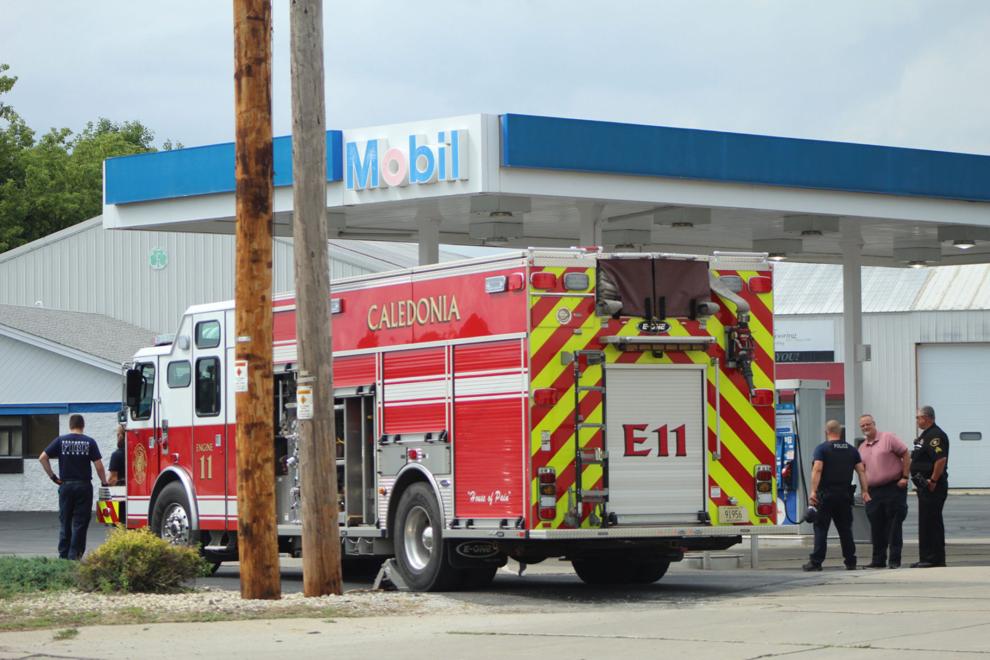 Caledonia Fire Department cleaning up at the Mobil gas station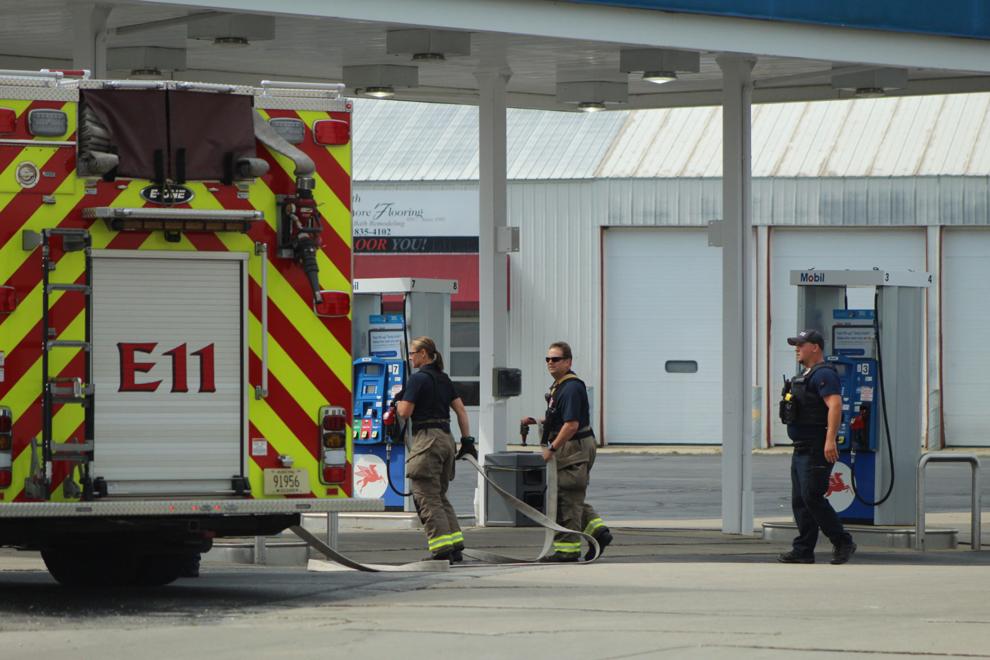 Caledonia Fire Department cleaning up at the Mobil gas station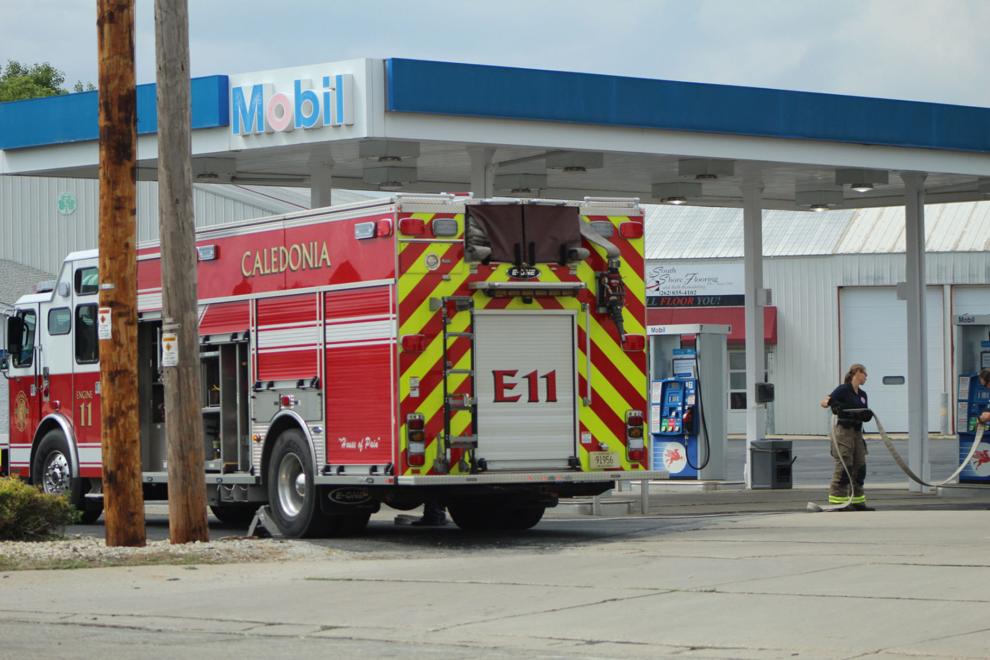 Law enforcement officers leaving the scene