RACINE — A Racine man has been charged in a hit and run after allegedly driving through a red light, then pushing another car into a utility pole, injuring a woman in the process.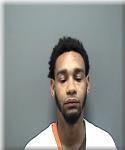 Travon T. Donley, 26, of the 2000 block of Grange Avenue, was charged with a felony count of hit and run causing injury, three felony counts of bail jumping, and misdemeanor counts of obstructing an officer and possession of drug paraphernalia.
According to a criminal complaint:
On Wednesday, an officer was sent to the area of North Memorial Drive and Hamilton Street for a vehicle crash.
Upon arrival, the officer saw a white Ford that had crashed into a wooden utility pole with heavy front-end damage.
A woman was sitting on the curb weeping, saying her head and neck were in pain and she also had pain in her right hip and arm. She said she had been driving on Hamilton Street and had the green light to cross on North Memorial Drive when a car ran through a red light, struck the driver's side of her car and forced her car into the utility pole.
A witness followed the suspect car after the crash and gave the officer a description of the car and driver. Officers then detained the suspect, who was later identified as Donley. The suspect car was found on Albert Street with damage to the front passenger side corner. A key for the car was found in Donley's possession as well as a glass smoking pipe with marijuana residue on it.