RACINE — A Racine man allegedly fired his gun skyward to break up a fight occurring on 16th Street.
Tyree Carter, 28, of the 1900 block of 16th Street, has been charged with a count of negligent handling of a weapon and a count of discharging a firearm within 100 yards of a building.
According to a criminal complaint: On Sunday, officers responded to a report of a fight in the 1900 block of 16th Street. Dispatch had advised them that the fight was in the street and that there was a single shot fired, which ended the fight. A Racine Police Department officer arrived on the scene and observed a single spent 9mm brass shell casing next to the rear driver side wheel of a vehicle parked at the curb.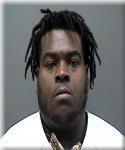 AD United Petroleum had security-camera footage of the incident. The officer watched the video and saw an incident begin between two women that provoked two more to join in and start fighting. Carter then exited from an apartment and pointed a black handgun into the air and fired a single shot. After watching the video, officers returned to the house and spoke to someone who lived there. When asked if anyone else was inside the apartment, they opened the door to reveal two men inside who didn't resemble Carter. When asked again, the woman said that nobody else lived there.
As the two males left the apartment, officers observed one more person hiding in the kitchen area of the apartment. The officer called him out of hiding and he complied. The person was Carter. Carter stated he didn't have a firearm on him and was somewhat evasive during the questioning. At first he denied there being a gun, but eventually showed the officer the location of the unloaded gun in the basement.
Carter was then placed under arrest and admitted to firing the weapon in the air as a way to break up the fight.
A cash bond of $500 has been set for Carter, online records show. A status conference is set for June 18.
Sign up for our Crime & Courts newsletter
Get the latest in local public safety news with this weekly email.