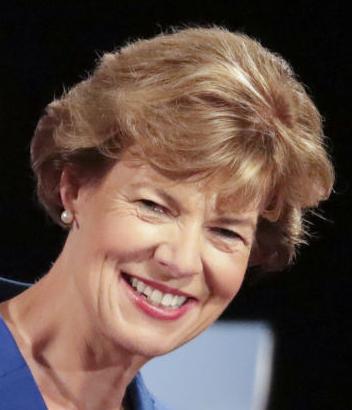 RACINE COUNTY — In the past week, The Journal Times contacted each of Racine County's state and national elected officials, asking why they do or do not support implementing universal background checks for firearm purchases.
Eight responses were received. All followed party lines with four Republicans showing skepticism or direct opposition toward expanding gun control, while four Democrats said they supported more gun control, although to varying degrees.
Definition and stats
Background checks — which look for things like felony or domestic violence convictions, fugitive status, dishonorable military discharges, and mental illness diagnoses — are required for purchases at retail outlets: including specialty gun retailers, sporting good stores and Walmart. But they aren't required for most online purchases, sales at gun shows or person-to-person transfers — such as gifts or inheritance.
According to Politifact, approximately 13% of firearm purchases are carried out without a background check. A total of 22% of all firearm transfers (including gifts, online purchases as well as guns bought from retailers) are carried out without a background check.
Legislators' takes
Breaking from the majority opinion, Assembly Speaker Robin Vos, R-Rochester, and U.S. Sen. Ron Johnson, R-Wis., both believe that expanding background checks wouldn't make a difference in reducing gun violence or mass shootings.
Johnson thinks that the solution to mass shootings lies outside of gun law.
"We also need to seriously re-evaluate how our society treats mental illness to keep firearms out of the hands of people who pose a danger to themselves and their communities. But the long-term solution lies in renewed faith, strengthened families, and less virtual socialization and more genuine human to human interaction in real communities," the senator said in a statement following the El Paso, Texas and Dayton, Ohio shootings that left 31 dead.
You have free articles remaining.
Vos said something similar to The Journal Times on Monday: "There isn't a simple answer" to reducing gun violence and mass shootings.
Last week, Vos tweeted: "I will not entertain proposals to take away Second Amendment rights or due process. Hopefully, we can find common ground on the real problem by addressing the mental health issues facing Wisconsin."
State Rep. Robert Wittke, R-Wind Point, said, "Enforcing current Wisconsin background check laws should be the focus. I support the constitutional rights of citizens and believe we need to continue efforts to address mental health challenges that too often lead to tragedy."
State Sen. Van Wanggaard, R-Racine, said he believes that expanding background checks to every firearm sale wouldn't have prevented recent mass shootings. He added in a statement: "If someone chooses to sell a firearm to a family member or friend, a background check is a needless intrusion and additional cost."
I will not entertain proposals to take away second amendment rights or due process.

Hopefully, we can find common ground on the real problem by addressing the mental health issues facing Wisconsin.

— Speaker Robin Vos (@SpeakerVos) August 6, 2019
But U.S. Sen. Tammy Baldwin and state Rep. Greta Neubauer, both Democrats, think that expanding background checks could help reduce gun violence.
In February, the House of Representatives passed a bill that would require background checks for person-to-person gun transfers. Senate Majority Leader Mitch McConnell, a Republican, hasn't allowed that bill to come before the Senate, despite many senators (including Baldwin) wishing to vote on it.
"The House passed bipartisan legislation to expand background checks to all gun sales," Baldwin said in a statement. "The people of Wisconsin overwhelmingly support this and I have co-sponsored universal background check legislation in the Senate to prevent the easy access of dangerous weapons for those that shouldn't have them. I believe Senate Majority Leader Mitch McConnell must allow a vote in the Senate on gun safety reform so we can take action and start saving lives."
Neubauer, of Racine, said something similar in a statement made to The Journal Times: "Universal background checks are a critical, common-sense tool to reduce gun violence and trafficking in our communities, while protecting law-abiding gun owners … I am proud to support universal background checks, and I am committed to working to close this dangerous loophole in Wisconsin."
Newly elected state Rep. Tip McGuire, a Democrat who represents parts of northeastern Kenosha County and southeastern Racine County, said he supports the legislation touted by Gov. Tony Evers that would require background checks for all gun purchases in the state.
"We already have laws in place that are intended to keep guns out of the hands of felons and other prohibited purchasers," McGuire said. "As a former prosecutor, I support criminal background checks to enforce these existing laws before dangerous individuals obtain a weapon, instead of after they have harmed themselves or others."
State Sen. Bob Wirch, D-Somers, said he supports "the concept of background checks" in part because the majority of Wisconsinites support it and in part because of concerns over safety concerns.
"As legislators, we have a duty to prioritize public safety. That means making sure law-abiding citizens have access to firearms, while doing all we can to keep them out of the hands of criminals," Wirch said. "This is common sense."
Correction: The earlier version of the article incorrectly quoted Rep. Wittke. It has been corrected. 
Caitlin Sievers contributed to this report.
"As legislators, we have a duty to prioritize public safety. That means making sure law-abiding citizens have access to firearms, while doing all we can to keep them out of the hands of criminals. This is common sense."

Sen. Bob Wirch, D-Somers