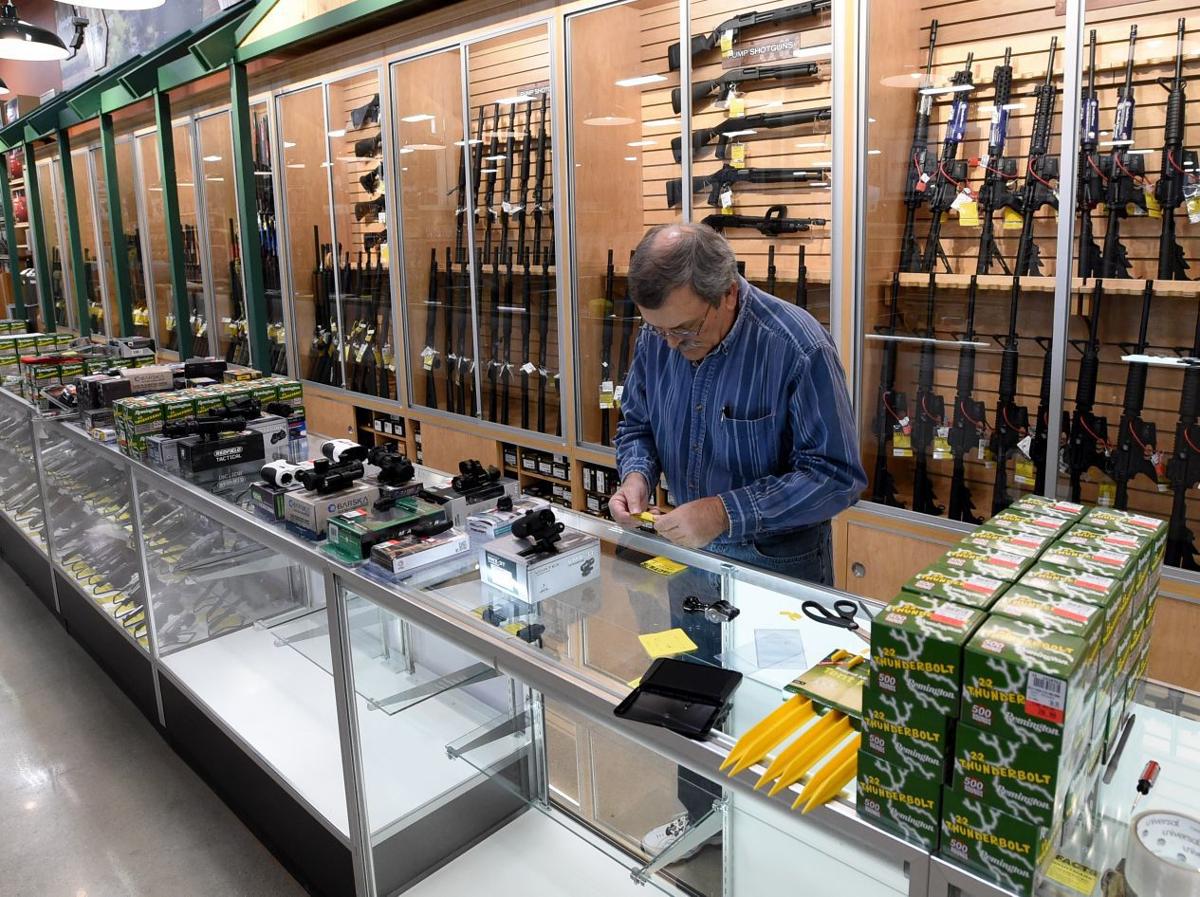 RACINE — On Aug. 13, 2018, Jonathan Shelton placed a $178 down payment on a Remington Arms 1911 R1 .45-caliber handgun at Dunham's Sporting Goods in Regency Mall, 5600 Durand Ave.
Three weeks later, the 39-year-old returned to Dunham's to fill out the rest of the paperwork and paid $10 for a background check.
On one of the forms, Shelton reportedly stated he hadn't ever been convicted of a felony. That was incorrect, according to police. He was convicted of one 20 years ago in Cook County, Ill.
As such, he's not allowed to own or even a handle a gun. He faces charges of possession of a firearm by a felon and felony false swearing, was arrested in September 2018 and has a plea hearing scheduled for next month, with a possible trial scheduled for October.
Dunham's did what it was supposed to in this situation. It conducted a background check, as it is required to under federal law, which led to Shelton's arrest.
But there are a handful of easily exploitable methods that Shelton (or anyone else with a felony on their record) could've gotten their hands on a firearm, without alerting law enforcement. Lawmakers are trying to change some of those methods; others are nearly impossible to stop even with changes in the law.
How gun control is supposed to work
Gun retailers like Dunham's are required to conduct a background check on everyone who wishes to purchase a firearm. This is done through the submission of two primary forms: one for the State of Wisconsin, and the other for the federal Bureau of Alcohol, Tobacco, Firearms and Explosives (ATF).
Both forms are submitted to the Department of Justice's Wisconsin Handgun Hotline, which runs applications to check for inaccuracies and criminal records. The Racine County Communications Center was notified of Shelton's criminal record, which in turn informed the Racine Police Department.
The investigation was handed over to Racine Police Inv. Nicholas Contreras, who issued a subpoena that ordered Dunham's to release security footage of Shelton handling the handgun on Aug. 13, as well as the corresponding application forms Shelton filled out.
"I determined there was probable cause for his arrest," Contreras said in an email to The Journal Times. "Using good ole detective work, I determined where he worked and, with the help of Kenosha Police Department, located Shelton and arrested him on his charges."
Dunham's and the Wisconsin Department of Justice did not reply to requests to be interviewed for this article.
Who conducts background checks? Who doesn't?
In the U.S., it is illegal for anyone who has ever been convicted of a felony or any domestic violence offense, even if it's a misdemeanor, to own or wield a firearm.
From 1998-2018, the vast majority of failed background checks, 77.8%, were because of an applicant's criminal history or because they were currently wanted by law enforcement, according to National Instant Criminal Background Check System records. Only 2.3% were barred because of mental illness, and just shy of 1.6% were undocumented immigrants. Another 9% were considered "addicted to a controlled substance," and thus barred from buying a gun.
"Actual licensed dealers can be brought up on charges for not completing the state and ATF forms when transferring a firearm, as well as losing their ability to possess a Federal Firearms License," Contreras said. "Most legal dealers aren't looking to lose their business or ability to buy and sell firearms by knowingly allowing 'the wrong people' to purchase firearms."
More than half of U.S. gun sales occur at gun stores and retailers, and thus are subject to background checks. However, not all firearm transfers are required to undergo a background check.
"People who make the occasional sale, exchange, or gifting of a firearm are not required to have a Federal Firearms License," according to the website NRABlog. These transfers are known as "private sales."
A study published by Harvard University in 2016 found that roughly four-fifths of legal gun transfers (including both sales and gifts) in the U.S. included a background check. The remaining 20% did not, and background checks were only conducted in about half of all private transfers.
Transfers at gun shows are also considered "private sales," and thus sellers aren't required to complete background checks at gun shows either. Gun control advocates refer to this as the "gun show loophole."
Some states, including California and New York, have stricter laws that require background checks for all firearm transfers, regardless of who is conducting the sale or gifting. Iowa, Michigan and Nebraska, among others, require a state permit to transfer handguns.
Most states, including Wisconsin, have no such restrictions.
Legislators are divided on this. Gov. Tony Evers, Sen. Tammy Baldwin and State Rep. Greta Neubauer support "universal background checks," which would require background checks in virtually every gun transfer. Others, like Sen. Ron Johnson and Wisconsin Assembly Speaker Robin Vos, think that universal background checks wouldn't fix the problem of firearms ending up in the hands of someone who wishes to do harm.
How do criminals get their guns?
Contreras said that the "most prevalent tactic" for purchasing firearms illegally would be the straw purchase, "where a party legally able to purchase a firearm, does so, then hands it to the felon who actually wants the firearm."
These straw purchases can be tough to prevent because, if somebody legally tries to buy a gun, there isn't a reliable way for the seller to know what they're planning to do with it.
Contreras said that he asked a fellow investigator, who also is a federally licensed firearm dealer, how he tries to weed out straw purchasers.
"(My fellow investigator) will ask descriptive questions, such as, 'What make/model? What caliber? Etc.,' and if there's a delay in answering, he may deny selling to them," he said.
A 2004 U.S. Bureau of Justice study found that nearly half of state prison inmates incarcerated for a gun-involved crime said they got their guns legally, or that the gun was a gift from someone else. About 40% admitted to have acquired their gun illegally, whether by purchasing it through illegal means or by stealing it.
As for guns found by law enforcement at crime scenes, less than one-third of them had been stolen, according to a 2016 University of Pittsburgh study. However, more than 40% of the stolen guns found at crime scenes weren't reported as stolen until after police informed the legal owner about the crime.
"Thefts and burglaries play into felons obtaining firearms," Contreras said, "which is why I advocate for not telling everyone you know that you have a firearm or where it's located. And while it's in your house, keeping it locked up and away from children is also a must. Even the most informed children get curious or have curious friends."