RACINE — The four suspects in a late June robbery at Wells Fargo Bank allegedly kidnapped a bank employee and her two young daughters the night prior, holding them in a Milwaukee basement overnight, according to criminal complaints filed Thursday.
Donterious L. Robb, 23, George K. Pearson-Robb, 19, William Q. Howell, 19, and Lamarra Powell, 18, all of Milwaukee, face numerous felony charges in connection to the incident in the night and early morning of June 28-29.
Pearson-Robb, Robb and Howell are each charged with one count of armed robbery with threat of force, three counts of kidnapping, one count of robbery of a financial institution and arson of property other than a building. Powell faces three counts of kidnapping as a party to a crime and one count of robbery of a financial institution as a party to a crime.
Defense attorney Nelida Cortes on Thursday asked that the arson charge that Pearson-Robb, Robb and Howell are charged with be dismissed, because the crime did not occur in Racine County.
Racine County Court Commissioner John Bjelajac denied the motion. "I view everything as one continuous venture," Bjelajac said.
A $2 million cash bond was set for Howell, a $1.5 million cash bond was set for both Pearson-Robb and Robb, and a $1 million bond was set for Powell during the appearance.
Bjelajac called the crime "carefully calculated" and said it was not a "spur of the moment activity."
Kidnapping
According to the criminal complaint:
On June 28, Howell and Robb approached a bank employee — a 25-year-old Kenosha woman — outside her apartment while she was getting her 2 and 5-year-old daughters out her car.
Howell and Robb were reportedly armed and forced the woman into the backseat of her car before getting in her car and driving to an unknown location in Milwaukee. Robb pointed a gun at her for the entire ride, and one of the two took her wallet and cellphone during the drive.
When they arrived at the residence in Milwaukee, Howell and Robb locked the woman and her daughters in the basement. Howell and Robb explained that they kidnapped her so she could give them access to the bank vault the next morning.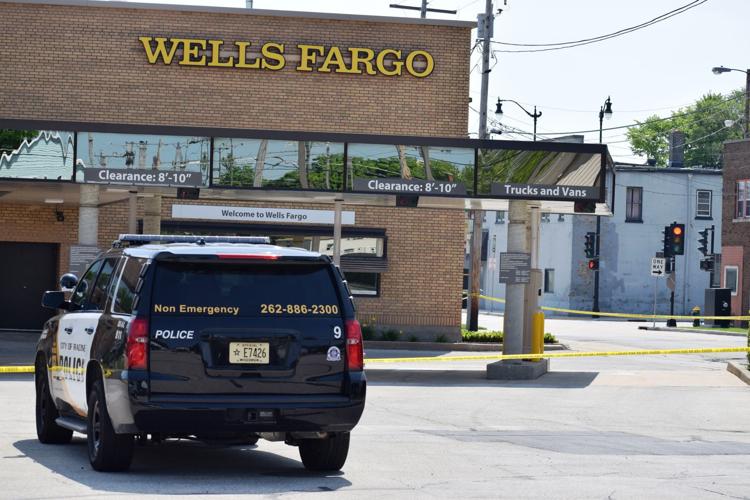 Powell also came down into the basement at some point overnight to throw down blankets and cushions for the woman and her daughters. The alleged kidnappers also gave the woman and her children McDonald's Happy Meals to eat and a bucket to use the bathroom in.
You have free articles remaining.
You're out of free articles
Sign in or create a FREE account to keep reading.
At 5 a.m. on June 29, the alleged kidnappers covered the woman's eyes with an article of clothing and drove her and the daughters to the bank. Pearson-Robb also drove to Racine in the vehicle with them.
When they arrived at the bank branch, 1700 Dr. Martin Luther King Jr. Drive, Howell, Robb and Pearson-Robb entered the bank with the woman and her daughters. The suspects entered the vault and put cash into bags before leaving in the woman's car, leaving the woman and her daughters behind.
The woman activated the bank's alarm system and found a customer at the outside ATM, who called police. Police responded at 6:42 a.m.
After the robbery
At 7:20 a.m. Milwaukee police and fire personnel were dispatched to the 2700 block of North Buffum Street in Milwaukee, where the suspects had allegedly set fire to the woman's vehicle, destroying the car and damaging a nearby garage.
Investigators identified all the suspects by examining security footage from various cameras and worked in coordination with the State Patrol and Milwaukee Police Department.
On July 8, Racine and Milwaukee police executed search warrants at Robb, Pearson-Robb and Powell's house and at Howell's house.
Inside Robb, Pearson-Robb and Powell's house, officers found the woman's driver's license, four fake handguns and $3,900 in cash. In the basement, investigators found the bucket with the woman and her children's bodily fluids still in it and the Happy Meals.
In Howell's house, officers found another fake gun and $2,360 worth of men's clothes that receipts showed were purchased three hours after the bank robbery.
Other people who had been inside Robb, Pearson-Robb and Powell's house told police the three had "a very large amount of cash" on one of their beds. As of the quartet's initial appearance, authorities had not yet released the amount of money taken from the bank.
Robb reportedly admitted to planning the robbery with Pearson-Robb and Howell for two weeks before the kidnapping. Pearson-Robb identified himself in surveillance photos but did not give any further statement after police showed him video from inside the bank.
Powell and Howell denied any knowledge of the robbery or kidnapping.
A preliminary hearing for each of the four was set at 8:30 a.m. July 18 at the Racine County Law Enforcement Center, 717 Wisconsin Ave. All four remained in custody as of Thursday night at the County Jail.