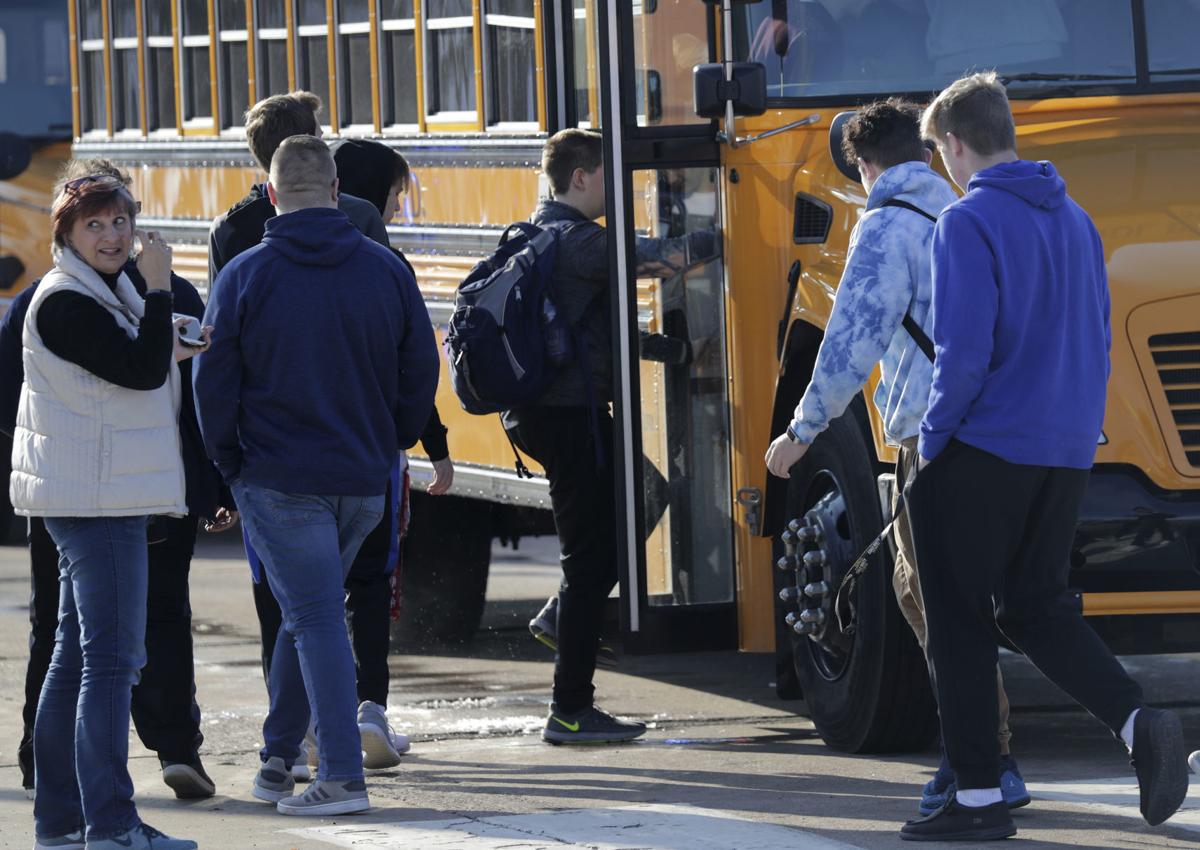 Just a day after an officer-involved shooting at a Waukesha high school, another officer-involved shooting took place in Wisconsin, this time at Oshkosh West High School, according to the Oshkosh Police Department.
Oshkosh Police Chief Dean Smith said in a news conference that at 9:12 a.m. Tuesday, Waukesha West's school resource officer contacted authorities.
A 16-year-old student armed with an "edged weapon" reportedly was in the office of the school resource officer when a confrontation occurred. The student allegedly stabbed the officer with the weapon and the officer shot at the student, police said.
The school was placed on lockdown after the incident, but was proclaimed secure at 11:18 a.m., Smith said.
Both the officer and student were transported to a local hospital. Smith said that neither the officer's nor the student's injuries were believed to be life-threatening.
Smith said that approximately 75 police officers responded to the school. "The safety of our students is paramount to us," Smith said.
The incident has been turned over to the state Department of Criminal Investigations, which will conduct an investigation.
Oshkosh Area School District Superintendent Vickie Cartwright said that all Oshkosh schools will be closed today.
"Our student safety is our No. 1 priority," Cartwright said. "Today's tragic event shows that school resource officers can save lives."
'It's terrifying'
The mother of two boys who attend Oshkosh West says a school shooting is a parent's worst nightmare.
Stephanie Carlin, who also sits on the Oshkosh School Board, told The Associated Press Tuesday that one of her sons texted her to say "it was crazy" but that both of them are safe.
Carlin said "it's terrifying" as a parent when something like this takes place.
Gov. Tony Evers said that Tuesday's shooting had a personal aspect.
You have free articles remaining.
"What happened in Oshkosh today hits especially close to home for Kathy and I — two of our kids graduated from Oshkosh West when our family lived in Oshkosh, and our hearts go out to all of the folks at Oshkosh West and the Oshkosh community as they grapple with today's events," Evers said in a statement.
Waukesha incidents
The incident was the second officer-involved shooting at a Wisconsin high school in 24 hours. On Monday, a 17-year-old Waukesha South High School student was shot by a school resource officer after allegedly pointing a gun at an officer, Waukesha Police Chief Russell Jack said Monday morning.
The school resource officer — an 11-year veteran of the Waukesha Police Department — then shot the student, Jack said. Several students told media outlets on the scene that they heard three gunshots.
The student was transported by ambulance to a hospital and was reportedly in stable condition Monday afternoon, Jack said.
Shortly before 2 p.m. Monday, Waukesha North High School, 2222 Michigan Ave., also was placed on lockdown. However, that lockdown was lifted about 10 minutes later, according to reporting from WITI-TV in Milwaukee.
At 2:20 p.m., the Waukesha Police Department tweeted "There was a report of a student possessing a firearm at North High School." A search of the school was then conducted, police said, followed by a student being taken into custody at a City of Waukesha home.
Sparta school closed
In the western part of the state, the Sparta Area School District canceled classes Tuesday after school officials learned that a student might be in possession of a missing handgun. Sparta is approximately 30 miles east of La Crosse.
Sparta High School went into a secure perimeter and classroom hold around 2:45 p.m. Monday, when the potential threat was first reported.
Officials canceled classes, practices and all other district activities for Tuesday in what officials described as a precautionary measure.
"It's impossible to ignore the fact that in addition to today's officer-involved shooting at Oshkosh West, the Sparta School District is closed due to security threats, and that this happened just a day after we had another school shooting at Waukesha South," Evers said.
Today's mugshots: Nov. 27
These are images of people charged with a crime in Racine County. Booking photos are provided by Racine County law enforcement officials. A defendant is presumed innocent unless proven guilty and convicted.
Andrai A Barrios
Andrai A Barrios, 300 block of Edward Street, Burlington, robbery with use of force, possession of narcotic drugs, possession of drug paraphernalia, felony bail jumping. 
Salvador Chiler
Salvador Chiler, 200 block of East Market Street, Burlington, disorderly conduct (domestic abuse). 
Jeffery Deon House
Jeffery Deon House, 1000 block of Eleventh Street, Racine, possession of THC, resisting an officer. 
James E Hudson
James E Hudson, 3600 block of Washington Avenue, Racine, resisting an officer, disorderly conduct, misdemeanor bail jumping, misdemeanor theft. 
Clayton R Naylor
Clayton R Naylor, 100 block of Waters Edge Circle, Burlington, misdemeanor bail jumping. 
Calista S Smith
Calista S Smith, 29400 block of River View Parkway, Burlington, robbery with use of force, possession of narcotic drugs, possession of drug paraphernalia, felony bail jumping. 
Luis A Garcia
Luis A Garcia, 1200 block of South Memorial Drive, Racine, possession of THC. 
Alejandro Roman
Alejandro Roman, 1800 block of Blake Avenue, Racine, felony bail jumping, misdemeanor retail theft (intentionally take less than or equal to $500), obstructing an officer, hit and run (attended vehicle). 
The Associated Press contributed to this report.