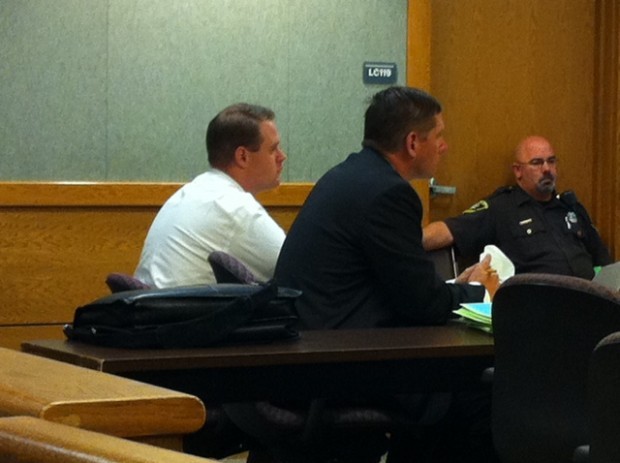 RACINE — A seizure patient heading for a Racine hospital from a Kenosha County Girl Scout camp site never saw the person who allegedly sexually assaulted her in the back of the ambulance, an investigator testified Wednesday.
But Somers Fire and Rescue Emergency Medical Technician Jodin D. Froeber was the only person in the back of that rescue squad last summer with the 20-year-old woman, Racine County Sheriff's Investigator Brian Vanscyoc testified during Froeber's preliminary hearing Wednesday.
The woman didn't see her alleged attacker "because usually after a seizure, she is tired," Vanscyoc said during the hearing, adding she also had received medication.
But Vanscyoc testified "she said only one person was providing care in the back of the (ambulance)."
Racine County prosecutors charged Froeber last month with one count of second degree sexual assault. The 37-year-old Kenosha area man is accused of sexually assaulting the woman July 19, 2011, on the way to Wheaton Franciscan-All Saints hospital, 3801 Spring St. They were coming from Trefoil Oaks Program Center in Kenosha, where summer day camp programs are offered, according to Froeber's criminal complaint and the Girl Scouts of Wisconsin-Southeast.
There have been no accusations of wrongdoing occurring at the camp site, from which the woman was transported.
Vanscyoc testified the woman told him that while in the ambulance heading for the hospital, the person in the back of the ambulance with her lifted up her shirt. That's when "she heard the distinct 'click' of a (camera) shutter or camera phone," he said.
Then, he changed positions in the ambulance and fondled her, Vanscyoc testified.
"She advised she wasn't able to talk at the time," he said.
Vanscyoc said the driver told him he could only see Froeber moving around the patient during that trip, but not what Froeber was doing. Vanscyoc said the driver didn't say he heard a camera shutter firing.
But Froeber's attorney expressed doubt that Racine County prosecutors even had jurisdiction to charge Froeber, questioning how anyone could know where the ambulance was when the alleged assault occurred.
"She didn't tell you how many seconds or minutes after the ambulance started moving (the touching occurred)?" defense lawyer Jonathan LaVoy asked.
The camp is one-quarter mile from Racine County, Vanscyoc testified.
LaVoy argued the charge should be tossed out, contending there was no proof any crime occurred in Racine County.
Court Commissioner Alice Rudebusch rejected LaVoy's argument.
"There's no evidence this occurred in Kenosha County," Rudebusch said. "There's sufficient evidence to establish a felony's been committed."
During a preliminary hearing, prosecutors must prove that a crime has been committed and that, more likely than not, the defendant committed it.
Vanscyoc said when he later questioned Froeber about the allegations, "He did not deny it. In fact, he didn't say anything at all."
Rudebusch set Froeber's arraignment for Sept. 5.
"I've got no comment," Froeber said quietly to reporters after the hearing.
LaVoy also declined to comment after the hearing.
Froeber was placed on paid administrative leave after he was charged Aug. 16.
Assistant District Attorney Jeremy Arn said the woman now is 21. He also declined further comment on the case after the hearing.
Toni M. Letizia, a spokeswoman for Girl Scouts of Wisconsin-Southeast, said she couldn't comment on whether the woman was a volunteer at the camp, or why she was there that day.
If convicted of the Class C felony, Froeber faces up to 25 years in prison, a maximum of 15 years on extended supervision and a fine capped at $100,000.