Below is a commentary from Racine Mayor Cory Mason explaining why health care cuts are needed. The City Council is set to vote Tuesday on the proposed changes. 
Many City employees are asking, why would I propose such dramatic changes to our employee health care benefits? In short, because all of the other options are worse.
When I decided to run for Mayor, I did so because I have a vision for our City. I envision a place that celebrates our diversity and addresses our disparities, a City that embraces smart technology and environmental sustainability, a City that ensures everyone has the opportunity to get into – and stay in – the middle class, and a City that is a tremendous, vibrant, thriving place to live, work, invest, play, and raise a family.
After a year and half on the job, I know we have made progress towards achieving this vision: among other accomplishments, we are providing our residents with education and skill training opportunities for the jobs of the future, we are leading the state in implementing Smart Cities technology, we are stabilizing and revitalizing our historic neighborhoods, we are reducing our carbon footprint, and we are bringing new housing to the City.
As you know, Racine is at a crossroads: for the first time in decades, we have incredible opportunities that we are all working diligently to seize, but we also have significant challenges that require tough decisions. As we head into the 2020 City budget deliberations, we face a roughly $5 million structural deficit.
With a total operating budget of about $84 million, finding an additional $5 million to fill that hole is not an easy proposition. Choices made by previous City Administrations and by the state Legislature have left municipalities like Racine with very few options. The revenue we receive from the state is and has been flat. State-imposed levy limits mean we cannot raise property taxes even if we wanted to – which we do not. So our revenues are flat, and our expenses continue to grow. For example, the cost of providing health insurance to all City employees and retirees is now more than $22 million annually, and it increases by more than $2 million each year.
Over the past few months, we have spent hundreds of hours confronting these realities as we have pored over the City's finances, discussed all possible options with City Departments, and agonized over our limited choices as we put together next year's operating budget.
You have free articles remaining.
Many of our employees have worked for the City long enough to recall that in the not too distant past, tough budgets meant that many City employees lost their jobs. I do not want to reduce employee positions; we have 80 fewer employees than before the recession. I place too high a value on the work our City employees do every single day to serve, protect, enhance, and enrich this City. I also know that cutting positions will reduce services to our City's residents.
As Mayor, I have to make decisions based on what is best not only for our employees, but also for the residents and taxpayers of the City of Racine. These health care changes are the least bad option in front of us. We are required to approve a balanced budget every single year. The proposed changes to health care will save the City about $2 million in 2020 and reduce the structural deficit in health care for years to come. These proposed changes to health care also ensure that retirees are paying their fair share of health care premiums, so that the cost burden is not borne by only the active employees.
If the Council votes no on this change to our health care benefits structure, they will then have to vote for a budget that will cut services, jobs, and even potentially entire departments. For example, eliminating the entire Transit System would only save $1.47 million. Cutting the entire Health Department would save $2.3 million. Eliminating the community centers would save $1.4 million. Defunding the Library gives us $2.6 million. Closing the Zoo and Wustum would save about $1 million. Eliminating 10 police officers and 10 firefighters would save the City about $1.8 million.
I do not believe that our residents will support losing the amenities and services that institutions like the Library, the Zoo, the Health Department, or the Transit System provide in order to subsidize City employee health care. We must be able to justify our votes to our constituents who use the Library daily to search for jobs or a workers who use the bus every day to get to work. Again, if the Council votes no on this health care plan, those will be the tough choices and conversations in front of them.
These are not the kinds of decisions I was hoping to have to make as Mayor and I know the Council feels the same way. I know that the choices we make will have real impacts on all of our residents.
I am doing everything I can to address our budget deficit in a way that is fiscally responsible. We must be fair and equitable to our employees, both active and retired, but we also must prioritize the residents and taxpayers of the City of Racine.
SOLIDARITY
Marching outside of City Hall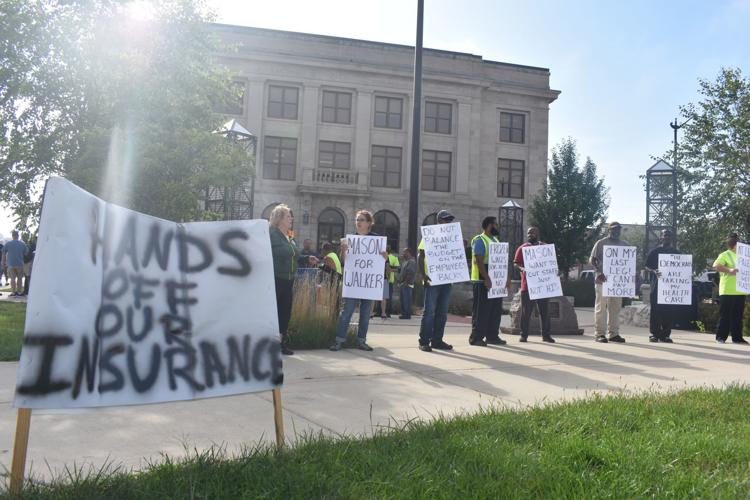 'Cut spending not jobs'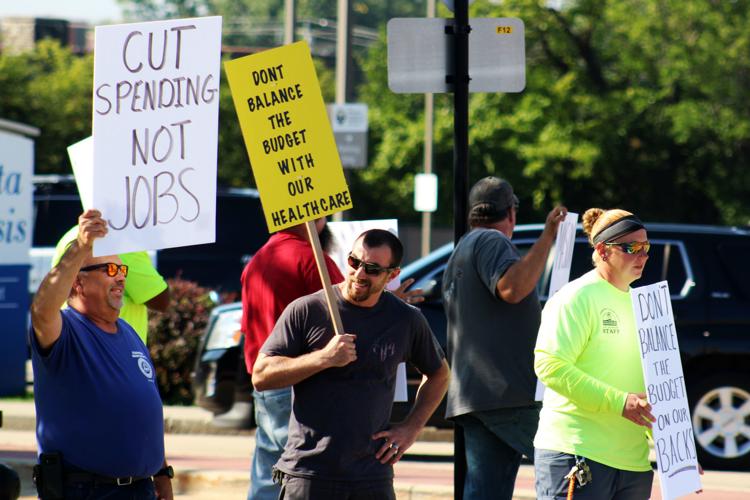 'At least Palenick will get a raise'
'Stop spending save my health care'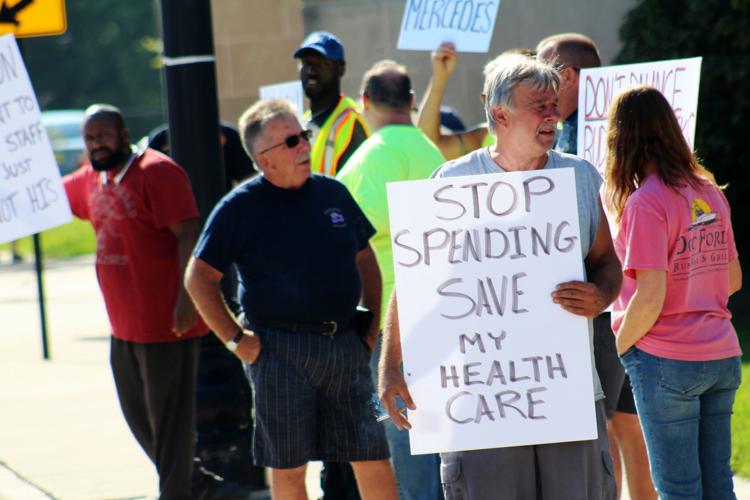 'Frozen wages now no insurance'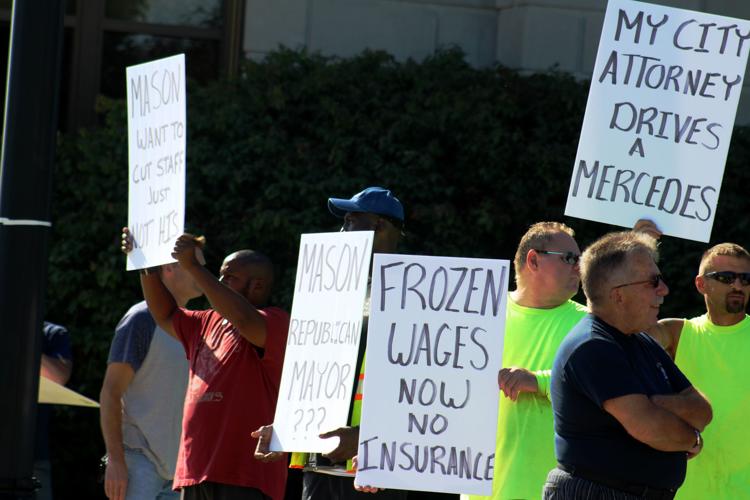 Calling out Mason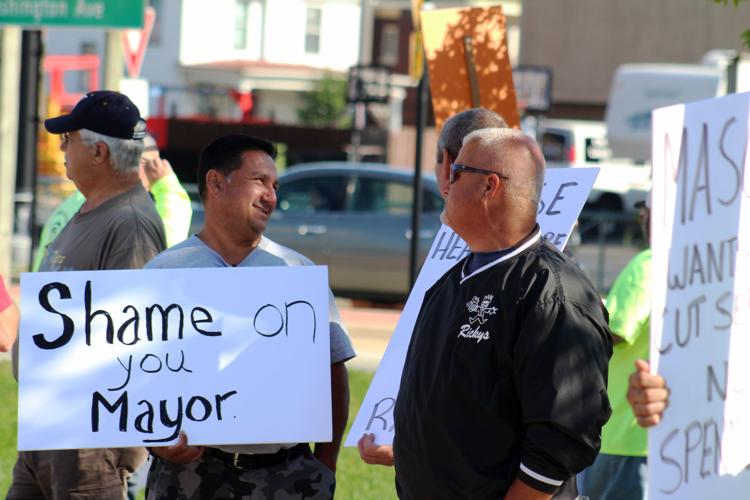 JaJuan Harris Sr.
Joe Burinda, Racine Police officer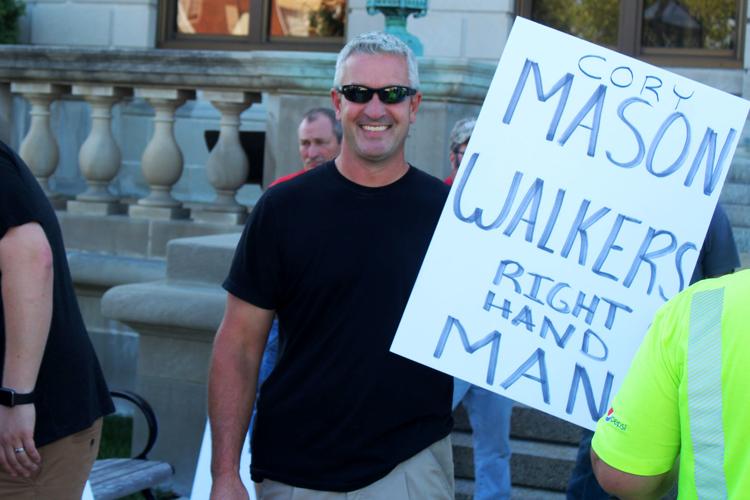 Firefighters show opposition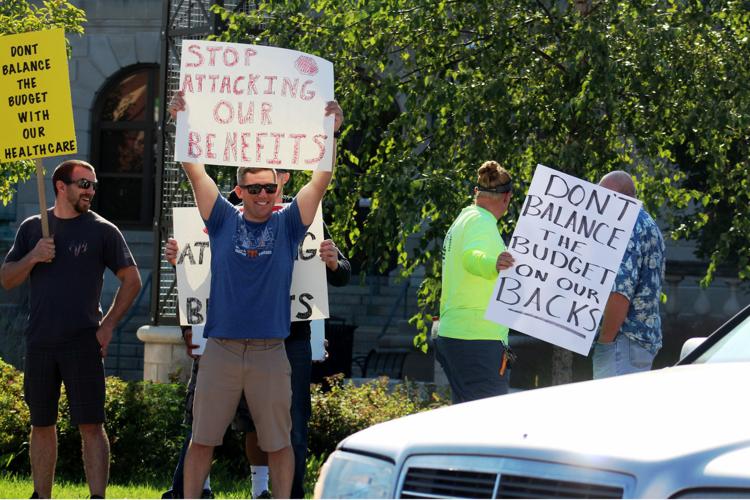 'Stop attacking our benefits'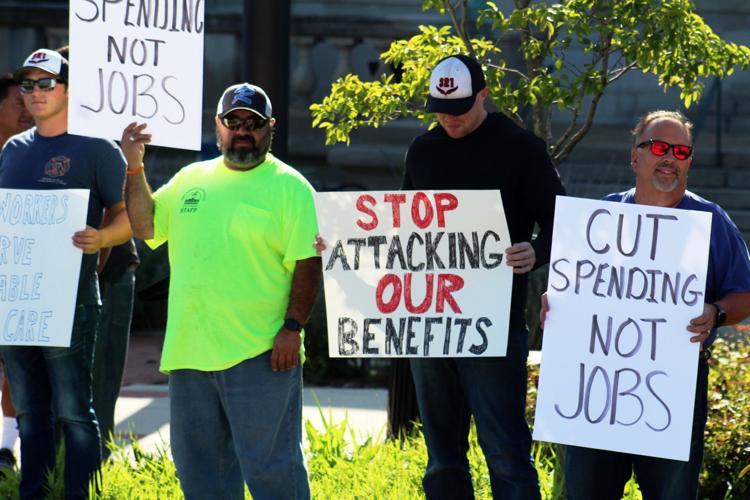 Protesting at the roundabout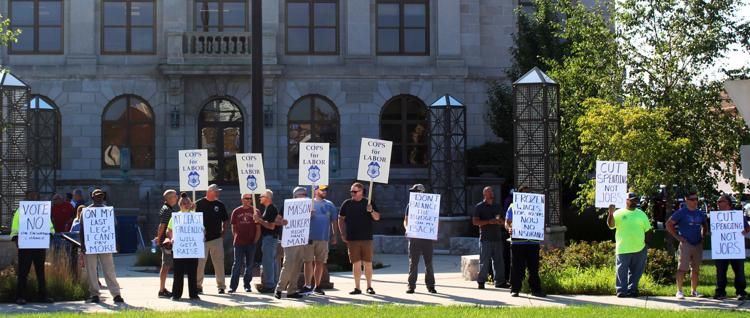 Side by side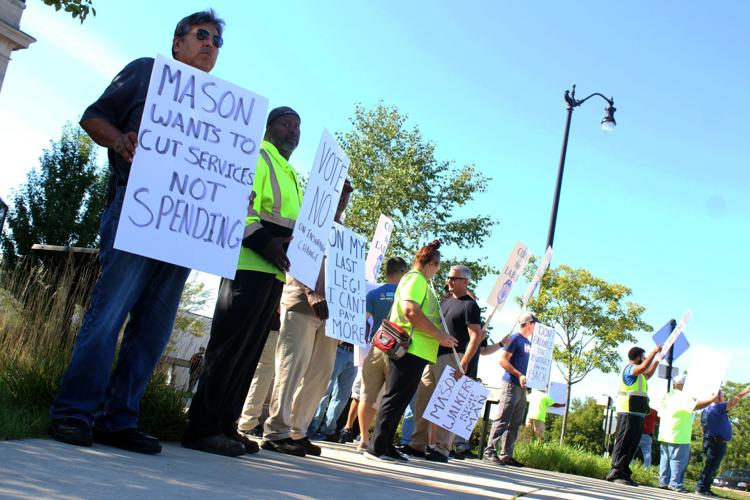 'Mason wants to cut services, not spending'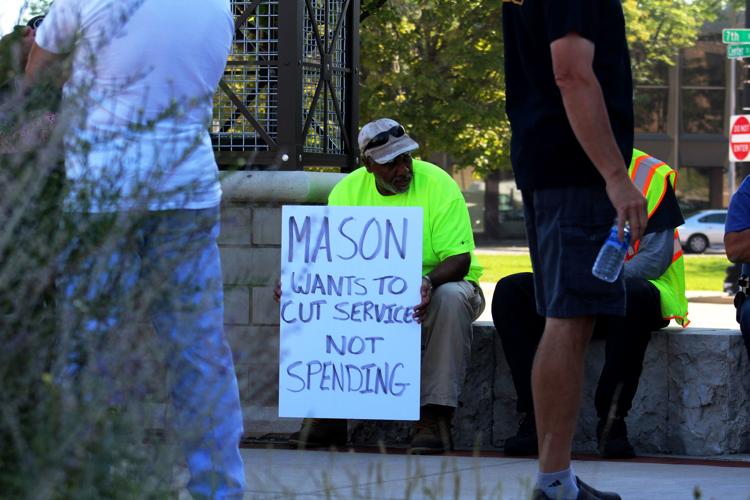 City employees organize on health care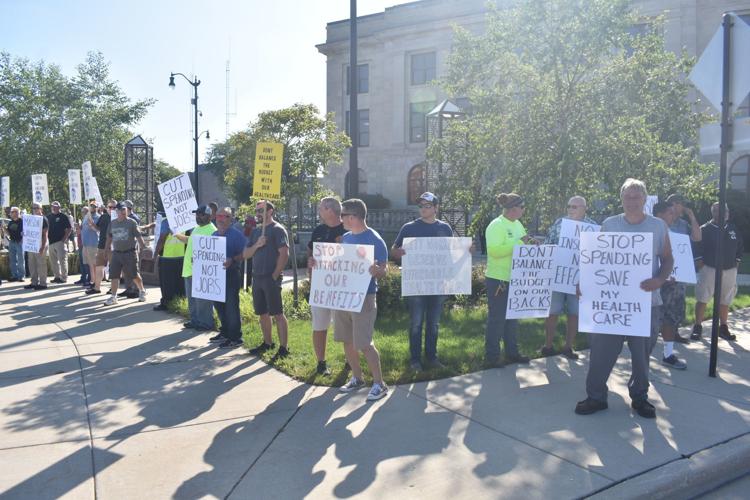 City employees outside City Hall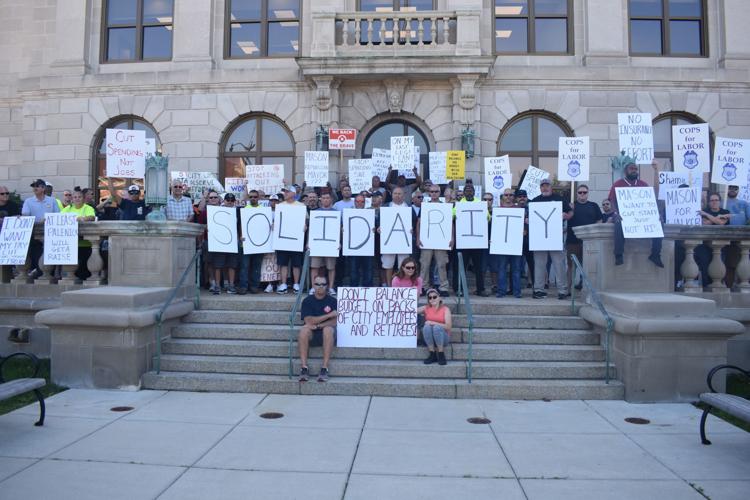 City employees march on health care issues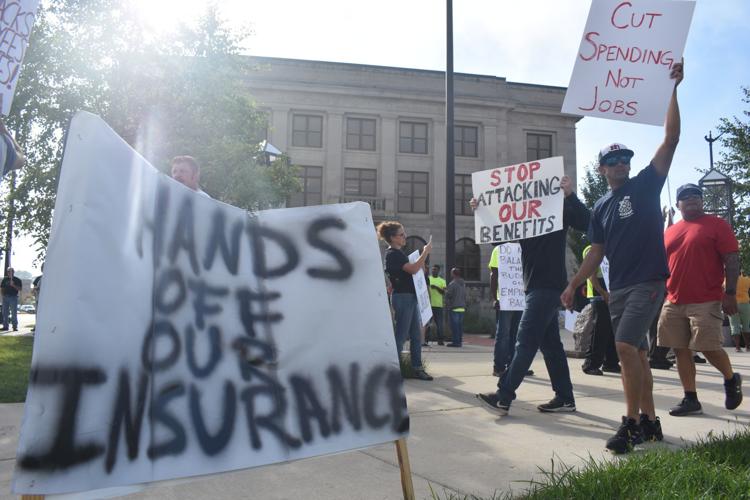 Cory Mason is the mayor of Racine and a former member of the state Assembly.