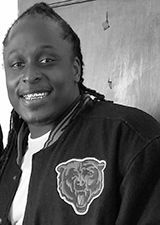 RACINE — More than eight months after the fatal shooting of 34-year-old Lavelle Monroe, a Racine man is now in custody, facing a homicide charge.
Joshua I. Morris, 30, of the 4500 block of Taylor Avenue is charged with felony counts of first-degree intentional homicide with use of a dangerous weapon and possession of a firearm by a felon.
According to the criminal complaint:
A witness said that she and Monroe had rented a hall in the 2000 block of Mead Street for a birthday party that extended into the early morning hours of Sept. 2.
During the party, a fight broke out outside between Monroe and Morris' cousin. The witness believed Morris was upset with Monroe for fighting with his cousin. Morris then reportedly pulled out a handgun and shot it in the air.
The witness said that once everything was broken up, Monroe, Morris and his cousin walked away. Around two minutes later, at around 1:30 a.m., Monroe was fatally shot in a nearby alley.
Two days after the shooting, police spoke with Morris' cousin who echoed what the previous witness had said about Morris shooting into the air. Morris' cousin said he and Monroe reportedly asked Morris what he was doing, but Morris did not respond.
Morris' cousin reportedly said the two were walking and there did not "appear to be any tension or arguing taking place." Morris' cousin said he was approximately 10 feet behind Monroe and Morris when they turned to face each other and appeared to be "having words."
You have free articles remaining.
Morris' cousin said Morris then shot in Monroe's direction. The cousin said he thought he heard Monroe say something like "What are you going to do, shoot me?" Morris then shot Monroe several times, the cousin said.
After the shooting, Morris' cousin reportedly panicked and left the area, fearing for his own safety. A few minutes later he called Morris, who sounded "as though it was no big deal and he didn't care." Morris reportedly said, "I got a ride. I'm good." The cousin said that was the last time his cousin talked to him.
On Sept. 7, Morris was formally charged with Monroe's homicide and an arrest warrant was issued. On Wednesday, he was taken into custody and appeared in court.
As of Wednesday afternoon, Morris remained in custody on a $100,000 cash bond, online records show. A preliminary hearing is scheduled for May 22 at the Law Enforcement Center, 717 Wisconsin Ave.
Vigils held
On Sept. 9, dozens gathered at the 2000 block of Howe Street and the 1100 block of Grand Avenue to remember the lives of Lavelle Monroe and Matthew Young, another young man who died from injuries in a stabbing incident on Sept. 4 in the 1100 block of Grand Avenue.
Some of Monroe's family and friends attended, including his aunt, Linda Peet. "Lavelle always had a smile," the 58-year-old Peet said in September. "You could be having a bad day and one conversation with Lavelle would have you back on your feet."
Peet recalled a time that Lavelle was hit by a car; she said that nothing slowed him down. "He was fearless," Peet said. "Even in a full body cast, he was ready to get back outside and play again."