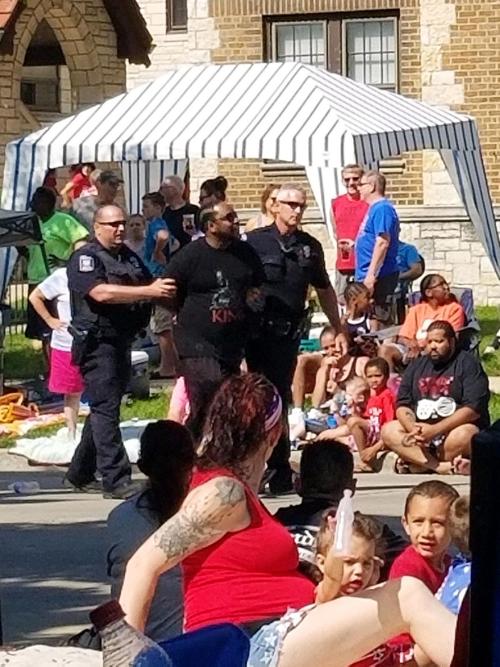 RACINE — One demonstrator was apprehended by police during a demonstration at Fourth Fest against the killing of Ty'Rese West by a Mount Pleasant Police sergeant.
According to intake records on the Racine County Sheriff Office's website Tory Lowe, 43, was arrested with recommended charges for disorderly conduct and causing a disturbance.
Lowe was arrested on the 1000 block of Main Street around 10 a.m. during the Fourth Fest Racine parade on Thursday.
Lowe posted on his Facebook page Thursday afternoon and said, "I was arrested in Racine Wisconsin today at the 4th of July parade. I'm out now. Justice for Tyrese West."
Lowe was with a group of around 15 demonstrators who wore shirts and carried signs remembering West.
You have free articles remaining.
According to a Facebook video Lowe posted, at one point the group walked down Main Street while the parade was stalled shouting chants such as, "What do we want?" "Justice."
Racine Police warned them multiple times that if they did not move to the sidewalk they would be arrested.
After the arrest the group mostly walked quietly along the sidewalks of the parade, though occasionally members would call out "Justice for Ty'Rese West." Some parade attendees reached out in support.
"We came out to celebrate the 4th (of July) like you all did," said one demonstrator.
West, 18, was shot and killed by a Mount Pleasant Police sergeant in the early-morning hours of June 15.
The incident is still under investigation.