RACINE — A Racine man allegedly sexually assaulted a teenager and later claimed he was "tweaking."
David A. Canady, 23, of the 2000 block of Superior Street, was charged with a felony count of second-degree sexual assault.
According to a criminal complaint:
On May 26, an officer was sent to Ascension Hospital ER for a sexual assault report.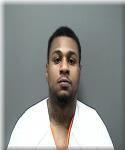 Upon arrival, he spoke to the victim who said she had gone to bed and was awakened by Canady rubbing the area around her waist. He said he was looking for his phone charger and stopped. She went back to sleep and woke up again later to find Canady behind her, sexually assaulting her. This continued for 30 to 60 seconds, the victim reportedly said, and then Canady stopped and said "I'm sorry, I was tweaking."
Canady was given a $5,000 cash bond in Racine County Circuit Court on Wednesday. A preliminary court hearing is set for Jan. 21 at the Racine County Law Enforcement Center, 717 Wisconsin Ave., online court records show.