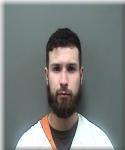 RACINE — A 24-year-old Racine man who allegedly shot a gun about 20 times in a residential park on Tuesday night is facing felony charges. The man was reportedly intoxicated at the time of the incident.
In the criminal complaint, the responding officer wrote, "the live rounds the defendant fired could have easily struck a person or residence nearby that was occupied by people."
Brian P. Bublitz Jr., 24, of the 1500 block of North Street, faces a felony charge of first-degree recklessly endangering safety with the use of a dangerous weapon and misdemeanor charges of carrying a concealed weapon and disorderly conduct with the use of a dangerous weapon.
After being apprehended, Bublitz reportedly told police he had shot two rounds, aiming at trees in Colonial Park, 2300 W. High St. He said that day was not the first time he had shot his gun at the park.
Colonial Park — located immediately west of the intersection of Spring and State streets, and south of Quarry Lake Park — is surrounded by homes where people frequently walk on the trails in the woods there.
Racine Police received reports of about 20 shots fired at Colonial Park at about 10:30 p.m. Tuesday and another report of shots fired at about 1:30 a.m. Wednesday.
Following both reports, a small black pickup was seen leaving the park. When police stopped the vehicle following the second incident, they found that Bublitz was the driver. A preliminary breath test showed that Bublitz had a blood alcohol content of 0.136, well over the legal limit to drive.
In the truck, police reported finding two handgun magazines and a black semiautomatic 9mm handgun as well as marijuana paraphernalia that Bublitz's passenger said belonged to him.
Bublitz's passenger allegedly told police that Bublitz had been shooting into the woods at the park.
Police reportedly found 21 spent 9mm shell casings in the park, in addition to one live round of 9mm ammunition. They were the same brand as the ammunition in the magazine found in the truck.
A $5,000 cash bond for Bublitz was set in Racine County Circuit Court on Wednesday. As conditions of his bond he was ordered not to possess any firearms and to stay away from Colonial Park.
A preliminary hearing is set for 9:15 on Dec. 2 at the Law Enforcement Center 717 Wisconsin Ave.
Today's mugshots: Nov. 24
These are images of people charged with a crime in Racine County. Booking photos are provided by Racine County law enforcement officials. A defendant is presumed innocent unless proven guilty and convicted.
Joshua K Mitchell
Joshua K Mitchell, Milwaukee, Wisconsin, possession of a firearm by outstate felon (firearm mandatory minimum enhancer), second degree recklessly endangering safety, vehicle operator flee/elude officer causing damage to property, obstructing an officer, carrying a concealed weapon, possession of a controlled substance, possession of THC, possession of drug paraphernalia.
Jeffrey Gerald Werk
Jeffrey Gerald Werk, 1800 block of 12th Street, Racine, disorderly conduct (domestic abuse assessments).
Angel Britton
Angel Britton, Decatur, Illinois, manufacture/deliver heroin (less than or equal to 3 grams).
Sirquan D Jackson
Sirquan D Jackson, 2600 block of 17th Street, Racine, manufacture/deliver THC (less than or equal to 200 grams), possession of a firearm by a felon, obstructing an officer.
Gregory Scott McClose
Gregory Scott McClose, 1600 block of Yout Street, Racine, disorderly conduct, strangulation and suffocation, burglary of a building or dwelling, knowingly violating a harassment restraining order, criminal damage to property, stalking resulting in bodily harm.
James D Hankins
James D Hankins, 1000 block of Roosevelt Avenue, Racine, misdemeanor battery.