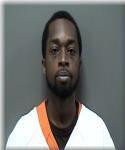 MOUNT PLEASANT — A Racine man who was arrested after allegedly coughing on people, yelling "I am COVID!" at Walmart in Mount Pleasant and swinging a stick was taken into custody at least twice in the month of March.
David Earl Berryhill, 35, of the 400 block of Seventh Street, is now facing charges for three separate incidents: misdemeanor disorderly conduct in 2018, drug possession in mid-March, and resisting an officer and disorderly conduct in the March 25 Walmart incident.
According to a criminal complaint and online court records:
On March 19, Berryhill appeared via Zoom in Racine County Circuit Court, facing felony repeater charges for possession of cocaine and possession of marijuana. Soon after, a $250 cash bond was posted and he was released from jail.
On March 25, Berryhill allegedly went to Walmart and was "swinging a stick at customers and 'cussing' at people," according to a criminal complaint.
A Walmart manager reportedly told officers that Berryhill was "screaming 'I am COVID!' while coughing at people."
An officer told Berryhill to drop the metal pole he was carrying, which he did, and then Berryhill was handcuffed and placed in a squad car.
But then Berryhill, according to officers, got one of his hands out of the cuffs and started punching a window. After being re-handcuffed, Berryhill started kicking the window, police reported, and he continued being "extremely belligerent" and threatening the life of one of the officers.
Berryhill has prior convictions for manufacture/delivery of cocaine in 2006, possession of marijuana in 2010, possession with intent to deliver cocaine in 2013, and possession of marijuana and possession of a narcotic drug in 2016.
Mugshots: Racine County criminal complaints, April 1
Today's mugshots: April 1
These are images of people charged with a crime in Racine County. Booking photos are provided by Racine County law enforcement officials. A defendant is presumed innocent unless proven guilty and convicted.
Kenneth Johnson
Kenneth Johnson, 1400 block of Washington Avenue, Racine, obstructing an officer, possession of drug paraphernalia.
Cory Marie Alvarez
Cory Marie Alvarez, 6600 block of Mariner Drive, Mount Pleasant, possession of narcotic drugs.
Peter A Humphrey
Peter A Humphrey, 1600 block of Thurston Avenue, Racine, possession of THC, possession of drug paraphernalia, disorderly conduct.