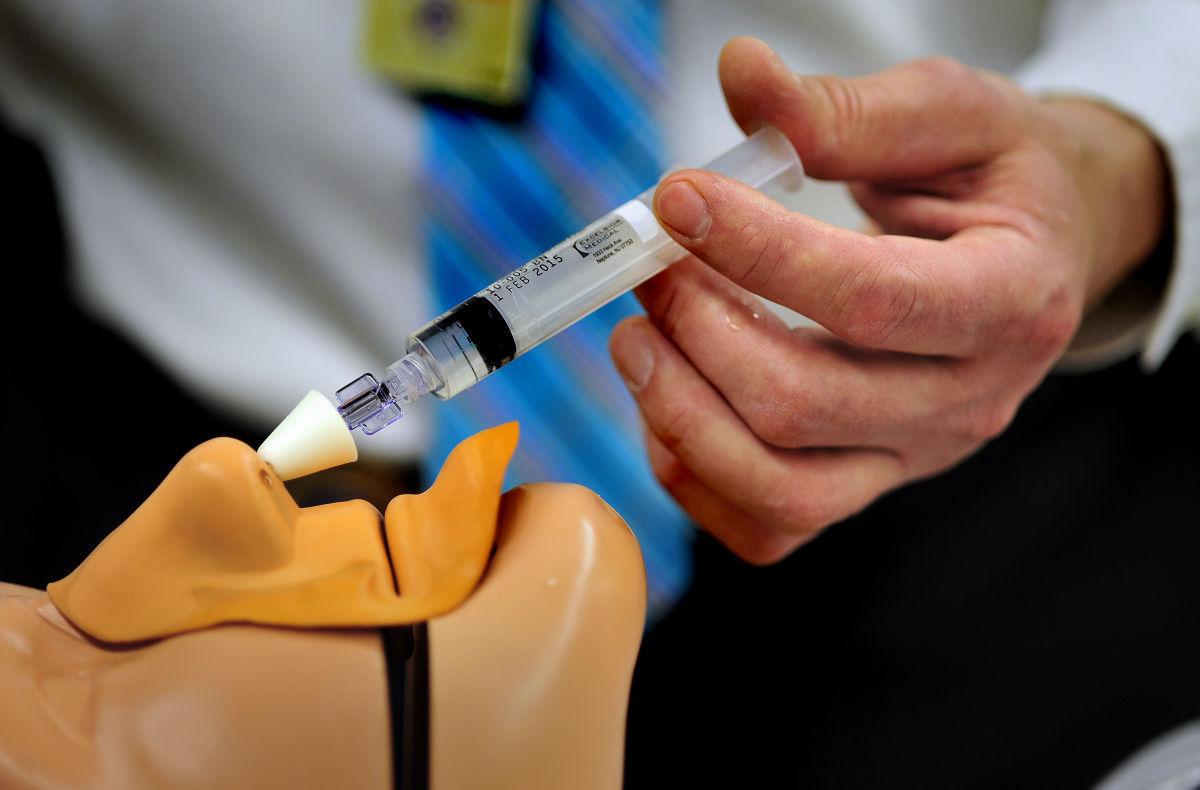 RACINE COUNTY — As early as 2013, Racine County Medical Examiner Michael Payne said the county was dealing with "a heroin epidemic." He said that because in 2012, at least nine people in the county died from heroin overdoses.
That problem only got worse in the following years, peaking at 19 deaths in 2014 and reaching 16 in 2015. However, due to a crackdown on abuse of prescription opiates — which often leads to heroin addiction — on both legal and governmental levels, Racine County may start to see a significant drop in heroin and drug-related overdoses.
According to Payne, three people have died from heroin overdoses in the county so far in 2016, with another dying from a combination of heroin and cocaine, according to numbers as of Friday. At the same time last year, six people had died in the county from heroin overdoses.
"Between (drug awareness) campaigns like The Fly Effect and first responders carrying Narcan, that could contribute to these numbers decreasing," Payne said.
However, the number of fatal overdoses overall in 2016 has remained on track with 2015 numbers. Seventeen people have fatally overdosed in the county on various prescription pills and other drugs since Jan. 1, while at this time last year 16 people had fatally overdosed.
Through aggressive law enforcement and legislation, there's reason to believe both numbers will continue to fall.
Operation Orange Bottle
Last month, Racine County Sheriff Christopher Schmaling addressed the media with several prominent county officials at his side. He told the story of a Racine drug abuser who sold an entire prescription to an informant immediately after getting it filled.
"The ink wasn't even dry on the orange bottle yet, and they were already selling their entire scrip," he said.
That day, Schmaling announced that 50 people had been charged with prescription-drug-related offenses since his office had initiated a crackdown in fall 2015, and that those charges were just the tip of the iceberg. His agents, led by Metro Drug Unit head Sgt. Scott Krogh and in collaboration with the federal Drug Enforcement Agency, are buying prescription drugs almost daily.
"The goal of this operation has been to identify those sources of supply and to stop them from obtaining these very prescriptions and selling them to our children in our streets."
County Executive Jonathan Delagrave, who stood by Schmaling's side at the news conference, said the Sheriff's Office deserves all of the credit for the operation's early success.
"The county and myself want to make sure he has all of the resources to proactively deal with this issue," Delagrave said. "You can see by the results of Operation Orange Bottle that it's been a really good thing for Racine County.
As the list of those charged and educated through the operation grows, Delagrave thinks the number of overdoses will go in the opposite direction.
"I think with all of those things in total, you'll see a huge drop," he said. "We're really proud of the collaboration we have."
National legislation
While local law enforcement has cracked down, Congress has been busy passing bills to quash the nationwide opiate epidemic, an issue about which House Speaker Paul Ryan, R-Wis., is acutely aware.
According to Ryan's press secretary, Ian Martorana, the House has passed 18 bills since 2015 that specifically deal with opiate abuse. Those bills address everything from addiction treatment to prescription regulation.
In a meeting with The Journal Times Editorial Board on Friday, Ryan explained that the bills cover a wide variety of issues related to opiate abuse.
"It involves prevention, it involves laws, it involves coordinating government, streamlining the FDA, getting the VA to know what the heck they're prescribing somebody," Ryan said.
It also involves hitting the issue at its source, preventing traffickers from bringing opiates into the country.
"There's issues on the border with trafficking," Ryan said. "That's a big part of the problem."
Ryan said the Senate has also past several opiate bills, and his goal is to reconcile those with the house bills to pass legislation before the Republican National Convention in July.
"I think there's broad acknowledgement that this is a serious problem and we better get on top of it," Ryan said. "Lots of members of Congress, with different backgrounds and experiences, have really taken this on as their priority issue."
One of the House bills, H.R. 5046, was proposed by U.S. Rep. Jim Sensenbrenner, R-Wis. According to Ryan's office, the bill will establish a "streamlined, comprehensive opioid abuse grant program" that will train first responders and law enforcement and aid investigators and drug courts with enforcement.
"Addiction is a problem that affects all Americans, and it has been pushed to the back burner for too many years," Sensenbrenner, of Menomonee Falls, said in an emailed statement.
Sensenbrenner, who represents Wisconsin's Fifth District, hopes his bill will positively affect the lives of millions of Americans.
"The swift and bipartisan actions by Congress not only signal the seriousness of the situation, but also the fervor to find and implement meaningful solutions," he said.
And it's that bipartisan effort that encourages Ryan about the possibility of developing a comprehensive solution to the epidemic, which he says effects everyone.
"This is a scourge," he said. "This is hitting everybody."