RACINE — Anti-Semitic graffiti was found Sunday spray-painted on the Beth Israel Sinai Congregation, 3009 Washington Ave.
The graffiti — which included a swastika, the rune "S" symbol associated with Nazi Secret Service (or Schutzstaffel), and the word "JUDE," which is the German word for Jew — was found by members of the congregation on Sunday.
As of Monday morning, the red paint still remained on the building, including on the glass back entrance and brick outer walls.
Rabbi Martyn Adelberg, who has served the Beth Israel Sinai Congregation for almost 20 years, told The Journal Times that "to the best of my knowledge, nothing like this has ever happened before."
The synagogue was first established here in the 1920s, according to its website. It's a small congregation with only 25 to 30 members, said Congregation President Joyce Placzkowski.
"I think whoever did this is just stupid," Placzkowski, who was one of the first people to find the graffiti, told The Journal Times on Monday afternoon. "I was just angry at the beginning. Now it's just sadness. How can any person have such hatred for people they don't even know?"
Placzkowski said that, in the 24 hours since she found the vandalism, she has received only positive responses from friends and neighbors, with several people offering to come over to help clean it off. The congregation is also considering changing its security measures as a result of the incident.
Event planned
The Beth Israel Sinai Congregation is planning a service at 6:15 p.m. on Sunday, Sept. 29. In a Facebook post encouraging the public to attend, the Racine Interfaith Coalition called on those in the community to "show support for our brothers and sisters of faith."
Prentiss Robbins, RIC's full-time organizer, said in a statement to The Journal Times: "Sad men often hate each other because they fear each other, because they don't know each other. (And) they don't know each other because they cannot communicate," Robbins said.
"I'm afraid that we're heading to a new dimension of hate and violence. You must learn to communicate. I also pray that this town will lead the nation in how we communicate...
"I really believe that we're better than this."
Gang-related?
The graffiti may have been gang-related, the Racine Police Department reported.
"We are looking into it," Sgt. Adam Malacara said in an email to The Journal Times.
Placzkowski said that the words "I Jude KOS" were written on the building in Sharpie. She said that the officer who responded to the synagogue told her that the letters KOS could stand for "Knights of Satan," which is a gang that may have a presence in Racine.
To share information with police regarding the incident, contact the Racine Police Detective Bureau at 262-635-7756. To remain anonymous and be eligible for a cash reward, contact Crime Stoppers at 262-636-9330.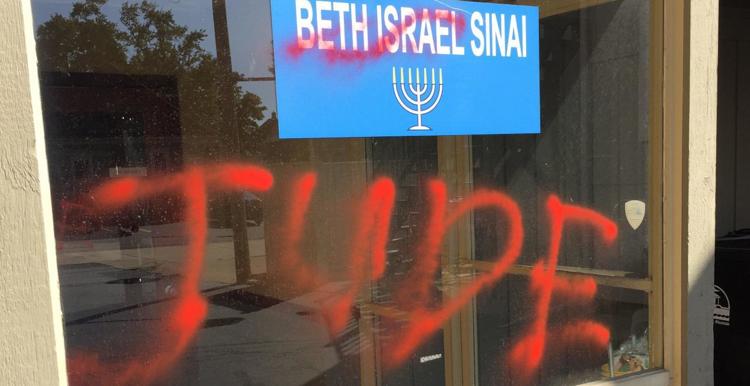 You have free articles remaining.
You're out of free articles
Sign in or create a FREE account to keep reading.
On the rise
Multiple other synagogues across the U.S. were vandalized over the past weekend in a similar manner to what happened in Racine.
In 2014, there were 609 anti-Jewish hate crimes in the U.S., the fewest there had been since tracking began in 1996. But in 2017, there were 938, the most there had been since 2008; that's a 54% increase in only three years.
Anti-Semitic incidents and vandalism are on the rise in Wisconsin, too, according to the Milwaukee Jewish Federation. In the MJF's 2018 Audit of Anti-Semitic Incidents, published in March, the federation reported a 20.5% increase in incidents across the state and a 166% increase in vandalism, with 45% of all incidents taking place on the internet in 2018.
"What's most alarming is the change in tenor and tone," Ann Jacobs, chair of the Jewish Community Relations Council, said in a news release. "The anti-Semitic incidents of 2018 were meaner, scarier, more personal and unsettling."
Response
David Goldenberg, the Midwest regional director of the Anti-Defamation League, issued a statement on Monday, saying: "ADL is appalled by the discovery of anti-Semitic graffiti targeting Beth Israel Sinai Congregation in Racine, Wisconsin. These words and symbols invoke the painful history of the Holocaust and are intended to intimidate and spread fear ... This incident, just a week before the Jewish High Holidays, is part of a disturbing nationwide trend in vandalism targeting Jewish houses of worship."
"I stand with our Jewish community during this troubling time."
U.S. Rep. Bryan Steil, R-Wis., said in a statement: "Anti-Semitism has no place in our country. The perpetrators must be found and held responsible. I stand with Racine's Jewish community against these hateful acts."
Late Monday afternoon, Mayor Cory Mason issued a statement that read: "It's deeply disturbing that this horrendous act was committed the week before Jewish people will celebrate the High Holy Holidays of Rosh Hashanah and Yom Kippur, which are intended to be a time of reflection and celebration. This is a clear act of hate, and antisemitism of any kind has no place in our city. I hope the congregation at Beth Israel Sinai knows that this ignorant act is not reflective of the inclusive community Racine strives to be. It is my hope that the perpetrator of this crime will swiftly be brought to justice and atone for their actions."
Updated: The original version of this story stated that the special service scheduled for 6:15 p.m. Sunday at the synagogue would be hosted by the Racine Interfaith Coalition. The RIC is not actually hosting the event, although it is promoting it and encouraging members of the public to attend.