MOUNT PLEASANT — Mount Pleasant Police are investigating Jim Svoboda, the former co-chairman of Kraut Music Fest and former director of Caledonia-Mount Pleasant Memorial Park, according to Caledonia Village Administrator Tom Christensen.
"I am aware of an ongoing criminal investigation," Christensen said.
Christensen declined to comment further but did confirm that Kraut Music Fest is canceled for this year. He referred any further questions related to the investigation to the Mount Pleasant Police Department.
"We can't legally discuss an ongoing criminal investigation; however, once the investigation is concluded we will release further information," an email from Matthew Soens, interim police chief of the Mount Pleasant Police Department, stated.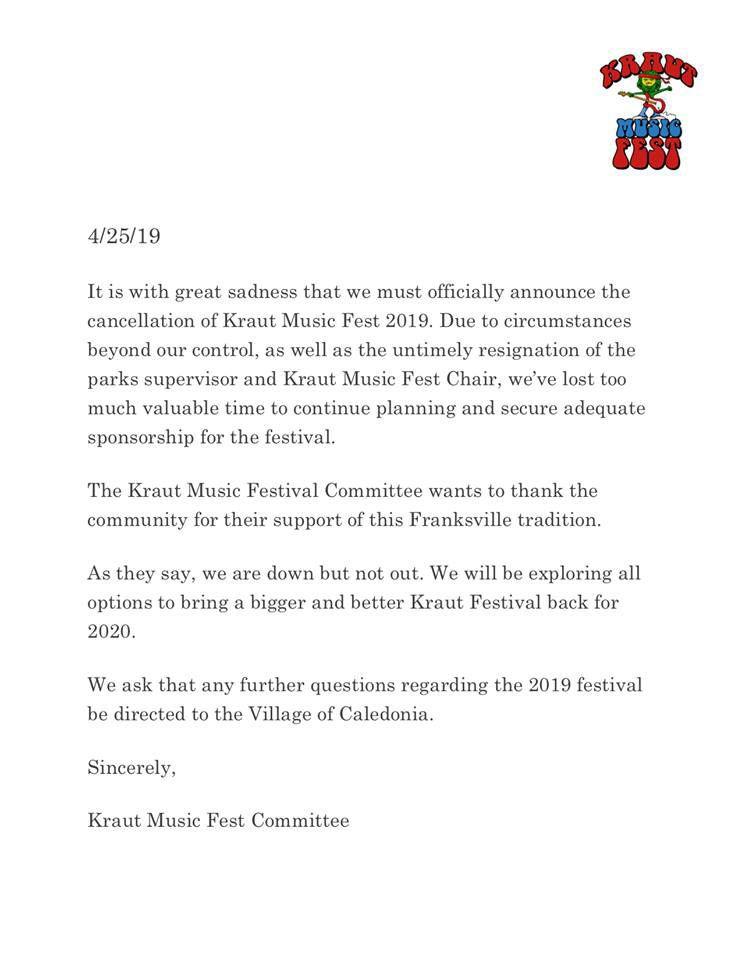 During a special meeting of the Joint Park Commission on March 21, commissioners put Svoboda on unpaid leave and converted his pay to "an hourly rate when needed and designated by the Joint Park Commission President or Caledonia Village Administrator or designee," according to meeting minutes. The commission then voted to terminate Svoboda's employment effective March 25. He resigned as Memorial Park's director on March 22.
When asked about Svoboda leaving the village and involvement with Kraut Fest, Maureen Murphy, Mount Pleasant village administrator, stated: "The village cannot legally discuss ongoing criminal investigations."
Village President Dave DeGroot said Svoboda did resign from the village and added Svoboda was a big part of the organization of Kraut Fest.
"It's kind of a delicate situation," DeGroot said.
Kraut Fest's website appears to have been largely erased, and the festival's Facebook page has been wiped of any mention of Kraut Fest 2019, other than a post made Friday afternoon announcing this year's cancellation.
"Due to circumstances beyond our control, as well as the untimely resignation of the parks supervisor and Kraut Music Fest Chair, we've lost too much valuable time to continue planning and secure adequate sponsorship for the festival," the post read.
It continued, "As they say, we are down but not out. We will be exploring all options to bring a bigger and better Kraut Festival back for 2020."
You have free articles remaining.
Any mentions to Kraut Fest 2019 have also been removed from Memorial Park's Facebook page.
Founder: Svoboda dismissed me
Ray Stibeck, who brought Kraut Music Fest back in 2015, said Svoboda dismissed him in the latter part of 2016, after that year's event. Svoboda was then chairman of the Joint Caledonia-Mount Pleasant Parks Commission. Since Svoboda's March 22 resignation as director of Caledonia-Mount Pleasant Memorial Park, Stibeck said he has been talking with trustees of both villages about the Svoboda/Kraut Fest situation.
At the time, Stibeck was the founder of the resurrected event and chairman of the Kraut Fest Committee.
Stibeck said Svoboda had ousted him from the music fest that Stibeck restarted by telling the Parks Commission "that Ray didn't want to do it anymore."
"He wanted to handle everything," Stibeck added.
Knowing now that Svoboda is under investigation for possible embezzlement, Stibeck said, "It adds up."
"I'm hearing tens of thousands of dollars (are involved)," he said.
As of midday Monday, Stibeck said he had not yet been interviewed by police, but he was expecting that may be likely.
"All my money and investment was basically for nothing," said Stibeck, owner of the Route 20 bar, restaurant and concert venue.
"The worst thing," Stibeck said, "is that a good event that I started is going to be shadowed by this scandal."
Lori Giese, co-owner of Perfecturf Lawn Care, one of Kraut Fest's sponsors, said she sent a sponsorship check to the festival in February. She said that as of two weeks ago, the check had not been cashed, but it has not been returned to her.
Festival officials never contacted Giese to alert her to any ongoing issues, she said, and she only found out about the cancellation through Facebook. Svoboda also did not reply to an email she sent in March, she said. The Journal Times has also not been able to contact Svoboda.