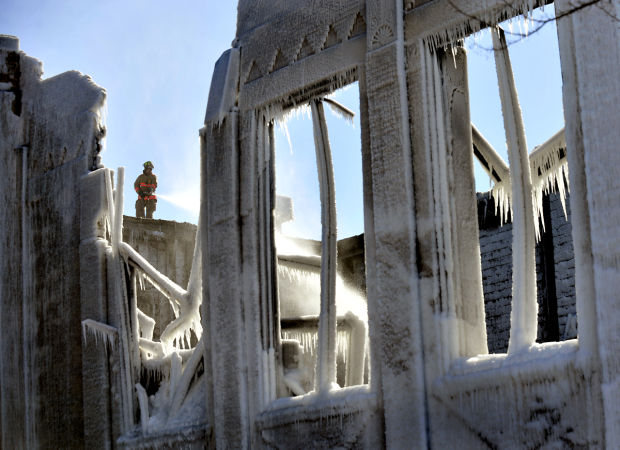 RACINE — A fire early Thursday morning severely damaged Mitchell Elementary School and caused the gymnasium roof to collapse.
School was canceled Thursday and is out of session again today for about 1,100 students who attend the elementary school, 2713 Drexel Ave., and its adjoining middle school, 2701 Drexel Ave.
As of Thursday evening, Racine Unified officials had not decided what to do about resuming classes, or where to put students.
Unified spokeswoman Stacy Tapp said district officials hope to be able to finalize a plan and share it with families in a meeting set for this afternoon (see below). "We are still assessing the extent of the damage and when/if we will be able to get back into the building," she said.
The fire's cause remains unknown and under investigation currently, said Racine Fire Department Lt. Mark Villalpando.
"This is crazy," Mitchell Middle School sixth-grade teacher Dave Sura kept repeating Thursday morning. It was 7:30 a.m. and he was standing on a street corner across from the school watching firefighters extinguish a few remaining hot spots. "My room is, see the four windows next to the gym, my room's right across from that.
"This is crazy," Sura, 43, of Racine, said again. "I don't know how long it's going to take to get back to school here."
Standing next to Sura, Mitchell Elementary Parent-Teacher Association Vice President Teresa Miranda watched the firefighters too.
"We just bought 150 pounds of popcorn" to sell on Fridays to raise money for a new playground, she said. "Now it's burnt popcorn."
Miranda, 42, works as an educational assistant at the middle school and she has two children that attend the elementary and middle schools.
"They're at home crying," she said into the cold morning air.
Miranda, who lives about a block from the school, saw the blaze before firefighters got it under control.
"You could see the glowing inside and all the embers falling and the smoke was just barreling out," she said.
Racine police were called to the school very early Thursday morning for a burglar alarm. They saw fire alarms going off and smelled smoke so they called the Racine Fire Department, police department spokeswoman Jessie Metoyer said.
Bill Rodenberg, Unified's maintenance supervisor, later said the fire likely set off the burglar alarm by melting the wiring.
Firefighters arrived at 1:44 a.m., entered the elementary school from the south end and found smoke in a hallway, said Racine Fire Chief Steve Hansen.
"They advanced a hose line (into the building) to fight a potential fire," he said. "They got up to the (elementary school) gymnasium doors where a fire was burning, when there was a structural collapse inside the gym. The ceiling came down."
Luckily, no firefighters were injured in the collapse, he said.
They evacuated the building and began fighting the fire from the outside, using aerial ladders, Hansen said.
The fire was so large that every fire apparatus the city owns was brought in to fight the blaze and 42 firefighters, including a few from the South Shore and Caledonia fire departments, were on hand, he said.
The fire was brought under control by about 4:30 a.m. Crews continued treating hot spots until about 8 a.m., according to Hansen.
The near-zero outside temperatures complicated the process. Some hose lines were freezing and water was making streets and sidewalks slick, Hansen said.
One firefighter slipped and fell. He was taken to the hospital and released, Hansen said.
Other firefighters experienced frostbite symptoms and had to spend time inside to warm up, Hansen added.
Firefighters' efforts were also complicated by smaller than normal water mains. Because the area is an older neighborhood, water mains have a 6-inch diameter instead of 8 or 10 inches. That means "with so many engines hooked up" water pressure and volume are reduced, Villalpando said.
The fire's cause is not yet known, Hansen said.
"The walls of the school gymnasium are too unstable to access the area of origin," a fire department press release said. "Heavy equipment may have to be called in to excavate the scene."
"We're waiting for Unified to come up with their game plan," Villalpando added.
The gym was used as a lunch room and had an adjoining warming kitchen, but "don't read into that," Hansen said. "We do not know (the) cause. It is way too early."
Fire damage was mostly contained to the elementary school gym, though there is likely smoke and water damage elsewhere, Hansen said. Parts of the gym walls are gone and the building was covered in a white, icy glaze.
Hansen said it will likely be a couple days before the extent of damage — and an estimate of its cost — is known.
Unified personnel must try to section off and preserve non-damaged portions of the building, heating them to keep pipes from freezing and bursting, Rodenberg said.
Today workers will try to dry the main electrical service coming into the school and test it, he said.
"Without power, we can't check the boilers," he added.
Before the middle school can be used, Rodenberg said, "A lot of testing has to happen first, and cleaning."
Today, he said, "A lot more people are coming."
As for the burnt popcorn, that's apparently not going to be a problem. Mike Anton, president of the Racine Unified PTA Council and treasurer for the Mitchell Elementary School PTA, said a man called him after reading the fire story online.
"After talking to him, he realized the plight we were in," Anton said, and the man offered to donate $2,500 to cover the cost for popcorn machines and supplies of popcorn so the school can restart their fundraising for playground equipment.
Reporter Michael Burke contributed to this story.
---
Information for students, families and staff
Racine Unified School District spokeswoman Stacy Tapp provided this information late Thursday:
- Mitchell Elementary and Mitchell Middle schools will remain closed Friday.
- Unified (and Arbor Management) will provide free school breakfast and lunch to Mitchell Elementary and Middle School students at Lutheran Church of the Redeemer, 2417 Drexel Ave., Friday and continuing until students are back in school. Breakfast will be served from 7:30-8:30 a.m. and lunch will be served from 11 a.m. to noon. All Mitchell students are welcome and will not be charged for breakfast or lunch.
- Unified and Mitchell school staff will hold an informational meeting on Friday for Mitchell Elementary and Mitchell Middle School families at Park High School, 1901 12th St., from 4:30–5:30 p.m. All Mitchell families are encouraged to attend.
"We thank our school families and staff for their patience and cooperation during this difficult time," Tapp stated.
"We also want to thank local fire, police and other emergency personnel who braved the dangerously cold weather in responding to the fire (Thursday) morning."