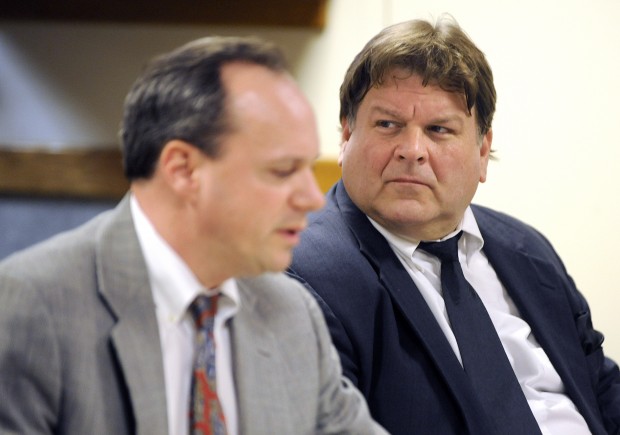 RACINE — A Racine man said he let his "emotions run wild" in the "toxic political environment in the state of Wisconsin" and that's why he forged more than a half-dozen signatures on recall election petitions.
Mark S. Demet, 60, tried during his sentencing hearing on Friday to explain the reasons he forged those signatures in 2011 and 2012 during the super-charged political climate of the recall election.
"I let my emotions run wild and you know, sometimes hatred blinds you to what's right or wrong. I knew what I did was wrong, but I was so filled with hatred I did it anyway," Demet said during his sentencing. "But I learned a valuable lesson, that hatred really doesn't benefit anybody. It certainly didn't benefit me in any way, and I truly apologize for my actions."
But Racine County Circuit Judge Charles Constantine retorted that Demet's reasoning "is almost teenager-ish. You're an adult."
Demet, who was dressed in a dark suit and tie for Friday's hearing, was sentenced to pay $2,500 in fines within six months.
Demet pleaded guilty March 1 to two counts of election fraud. In exchange, prosecutors dropped seven identity fraud charges.
Defense attorney Patrick Cafferty said during Friday's hearing that Kenosha County prosecutors agreed not to charge Demet with similar offenses in Kenosha County. But, Constantine could consider those alleged crimes in determining Demet's sentence in his Racine County case.
Demet told a Racine County sheriff's investigator he circulated those pages of the petition packet to recall then-state Sen. Van Wanggaard and signed some people's names. Six residents whose names were listed on those recall petitions reportedly told the investigator they didn't sign their names, according to sheriff's reports and the criminal complaint. And one of those six people said a seventh name written on the recall petition belonged to her husband, who was dead.
The petition sheets also bore Demet's signature, according to sheriff's reports and court records.
Racine County prosecutors charged Demet last year with nine felony charges: two counts of election fraud and seven of felony identity theft for personal gain.
Assistant District Attorney James Newlun on Friday called for jail time for Demet, plus counseling. He said Demet, basically, told the investigator "since they're evil, it's OK to cheat. It's OK to cheat because he's right.
"He's so blinded by partisan malice he even accused the DA of doing this (filing criminal charges against him) because he was appointed by a Republican and he's a Republican," Newlun said. "Yeah, the defendant scares me a little bit. And because of that, he could use a little supervision and counseling to address that. I do think he needs time in the county jail. (His case) certainly shows there are people willing to cheat because they believe in their cause."
But Cafferty argued against jail time, saying Demet has no prior criminal record and already has learned his lesson.
"For someone like Mark — who's never been in the newspaper before — this has been a very embarrassing process, shameful," Cafferty said. Demet "let his emotions get the best of him."
The pre-sentencing investigation report recommended probation, Cafferty added.
In sentencing him, Constantine said jail would serve no purpose, nor, really, would mandatory counseling.
However in ordering Demet to pay these fines in 180 days, Constantine said he would not grant any extensions. If the honorably discharged Army veteran now on disability cannot pay within six months, he faces up to 60 days in jail on each of the two charges.