RACINE — Two families sat quietly, nervously, within arm's reach of one another. They were all watching the same trial, but hoping for opposite results.
There were more people in the gallery of Racine County Court Branch 4 last week than there were jurors — generally 15 or more spectators in the six rows of pews throughout more than 12 hours of jury selection, witness testimony, lawyers' objections, statements and presentation of evidence.
Those sitting in the front rows were there supporting Dominique Knight, the 27-year-old who was found guilty Wednesday for first-degree intentional homicide in the killing Harry Canady Jr. almost two years ago. The others, usually sitting further back, were there to represent the deceased, Canady. Knight's family was hoping for freedom; the others, a conviction.
"He can't be here to speak for himself. I'm here to speak for him," Canady's father, Harry Canady Sr., said.
Why was it important to be in the courtroom for more than 15 hours to listen and observe? Members of both families used the same word: "Support."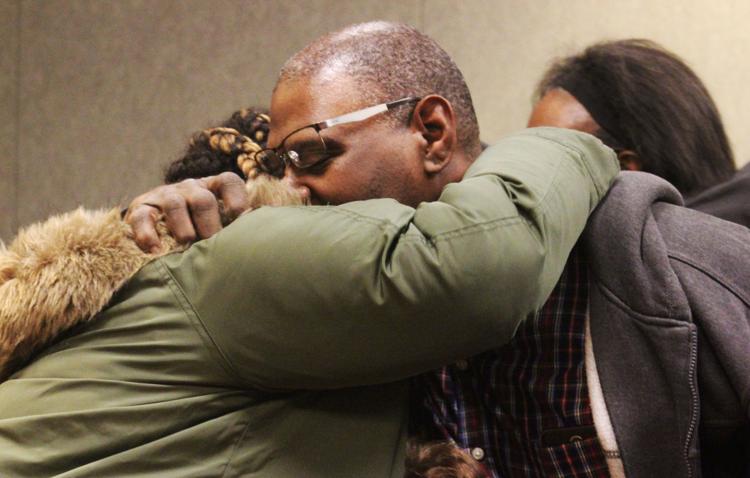 A need to know
On the afternoon of Monday, March 11, ahead of jury selection, some of the spectators even had to leave the room to make room for potential jurors as the attorneys whittled down who would decide the fate of Knight.
Canady's family members were there largely to see justice served against the man they believe killed Harry. But the trial also provided some closure, and revealed more information, about how it appears their friend died.
Harry's mother, Tanya Wooden, said she wasn't given the opportunity to identify the body after the homicide and had not seen any police reports. Sitting in the courtroom last week, it was the first time she got to learn how her son's killing went down — at least as it's been reported by investigators and witnesses.
"I didn't know how close the gun was, nothing," she said. "All I was told was that my son had been shot in the head."
On Tuesday, when Milwaukee County Chief Medical Examiner Brian Peterson testified about Canady's autopsy, Wooden began to cry. Photos of the bullet wound in Canady's head — Peterson said the gun was fired from less than 2 feet away — were shown to the jury, but Wooden didn't have to look.
"The truth is always important. I have to know. It's my son," Wooden said. "This is the last thing I can do for him."
Canady's older sister, Mikaela Ghani, said "I still don't know why" my brother died, but watching the trial and seeing the evidence helped satiate some of the questions she had about his demise.
Waiting
A couple of infants were brought into the gallery over the days of the trial, their caretakers struggling to keep them quiet so as not to disturb testimony or distract jurors.
Relatives of Knight were able to joke and smile with one another on Monday and Tuesday, despite the fact that Knight was facing the possibility of life in prison. Late Wednesday afternoon, while waiting in the courtroom lobby while the jury deliberated on what would eventually be a guilty verdict, there weren't as many smiles.
Desire Knight maintained her brother's innocence throughout the trial, and was there every day.
"I'm here to be support for him," she said. "He knows his family is behind him."
When asked what was going through her head across the two-day trial, Desire Knight said, "A lot."
Being there for family
The proceedings still interrupted the families' days.
Wednesday morning, one of Canady's relatives had just finished a night shift at work, but came to the courtroom for a couple of hours. Phyllis Canady, Harry's aunt, filtered through a stack of mail during a court recess, making the most of her time in the Racine County Law Enforcement Center.
Phyllis said she was there mainly to support her brother, Harry Canady Sr.
She has lost two of her sons to gun violence — Markey Canady was killed in a drive-by shooting in August 2005 and Marcellus Martinez Jr. was killed last November. Phyllis said that her brother has been by her side through those losses, and she wanted to do the same for Harry Sr.
"That's my nephew, at the end of the day. I have to be there for my brother … He's been there for me. He's going to be there for me," Phyllis said. "My nephew needs justice."
"He can't be here to speak for himself. I'm here to speak for him." Harry Canady Sr., father of murder victim Harry Canady Jr.