RACINE — The Department of Justice has denied an open-records request filed by The Journal Times for evidence in the case of 18-year-old Ty' Rese West.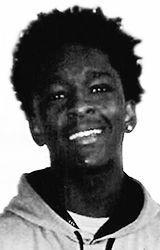 At about 1:30 a.m. on Saturday, June 15, West was fatally shot by Mount Pleasant Police Sgt. Eric Giese in the 2500 block of Racine Street (Highway 32) after police officers tried to stop West while he was riding his bike.
Mount Pleasant Police Chief Matt Soens issued a press release that afternoon stating that the officer — identified by the DOJ on June 23 as Giese — was forced to discharge a service weapon at West. Racine Police said West was being "uncooperative."
Since then, the Racine Police Department, which is the lead investigative agency in this case, has said that West was stopped because he did not have a light on his bicycle and because thefts, committed by people on bicycles, had occurred in the area.
A recent news release issued by the DOJ, which is assisting the Racine Police Department in an investigation of the case, states that a gun was found at the scene.
Last week, The Journal Times filed an open-records request to the Racine Police Department and DOJ, seeking the following:
All audio and visual evidence of police interaction with Tyrese West on Saturday, June 15. This includes dispatch tapes, any body camera footage and radio traffic.
Police reports documenting the narrative of police interaction with Tyrese West on Saturday, June 15.
The DOJ responded, declining to release "any records related to that case at this time." The denial cites that the investigation is ongoing and releasing any information could potentially jeopardize the investigation.
"Release of the records while an investigation is still in progress could compromise the ability of the Racine Police Department to gain cooperation from potential witnesses and jeopardize their ability to conduct additional or follow-up interviews or obtain accurate and truthful information in those interviews," the denial states.
It remains unclear whether Giese was wearing a body camera, which under the Mount Pleasant Police Department's policy is encouraged but is optional at officers' discretion.
The DOJ denial encourages The Journal Times to make another request once the investigation is complete.
Family seeks evidence
In the wake of West's shooting, Tory Lowe, a community activist acting as a representative for the family, said that the family is requesting all audio and visual evidence of the events leading up to the fatal shooting of West.
After West's body was released to his family, Lowe said that they learned that West's body had multiple gunshot wounds, including two to his head. West was buried after funeral services on Friday.
Sign up for our Crime & Courts newsletter
Get the latest in local public safety news with this weekly email.